Styx's James Young Says He, Dennis DeYoung Were "Competitors"
By Andrew Magnotta
January 7, 2019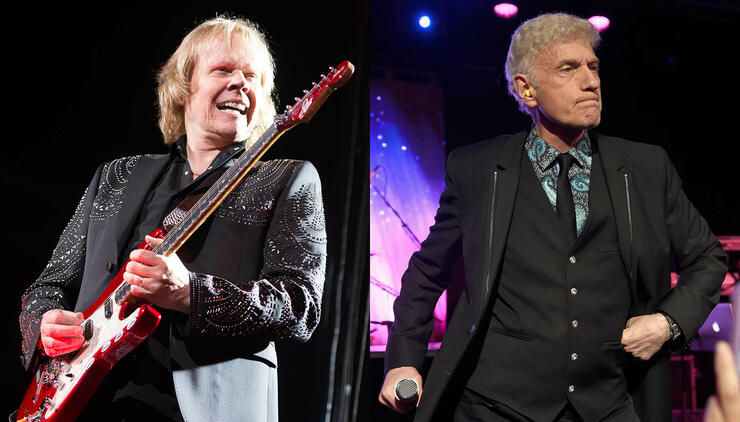 Styx guitarist James "J.Y." Young described his band's "Beatle-esque" songwriting partnership prior to its 1983 breakup in a recent interview.
Young says his band thrived in the early days when the members were working together on material, but not unlike The Beatles, Styx eventually suffered from having too many great cooks in the proverbial kitchen.
The odd man out was front man Dennis DeYoung, the primary writer on some of Styx's biggest pop hits, but also the member whose "balladeer" creative vision was most contrary to his harder rocking band mates.
While the two parties, Styx and DeYoung, have long sparred publicly, J.Y. recently acknowledged in an interview with AZCentral that DeYoung's contributions to Styx went beyond his album credits.
DeYoung "contributed to making my songs great," Young explained. "...Tommy Shaw did the same and John Curulewski, as the writer and singer who preceded Tommy for the first five albums. I helped their songs get better as well. We wound up being broader and more Beatlesque. I've come to view that as a great strength as opposed to a weakness. Dennis and I were always competitors, but when we chose to work together we were a powerful force."
The band's 1983 album, Kilroy Was Here, which DeYoung led from a creative standpoint, was a watershed moment in Styx history both because it marked a significant departure in the band's heavy rock sound and because it spelled the eventual demise of DeYoung's relationship with the band.
Styx broke up due to creative differences as soon as its Kilroy Was Here tour was completed.
Young added that the lesser known story of that period is how Kilroy and the song "Mr. Roboto," in particular, affected the band's audience at the time.
"So we were gonna go with his idea about this robot thing, I said, 'We run the chance of really alienating our male audience.' ... And it all went band," Young said. "It cut our album sales in half because the male audience was absolutely alienated by 'Mr. Roboto.' Not all of them but a large chunk. And our concert tickets were down from sold-out arenas in 1981."
It may be that "Mr. Roboto" did more good for Styx than harm, by bringing in a new generation of fans, but it didn't look that way at the time to the band, Young said. Styx only recently brought "Mr. Roboto" back to the setlist after decades of declining to perform it live.
The guitarist concluded that "the work really stands up 30 years later, so I think that has to be the ultimate yardstick by which it's all measured."
Photos: Getty Images