Halsey Nabs Juice WRLD For New Remix Of 'Without Me'
By Hayden Brooks
January 8, 2019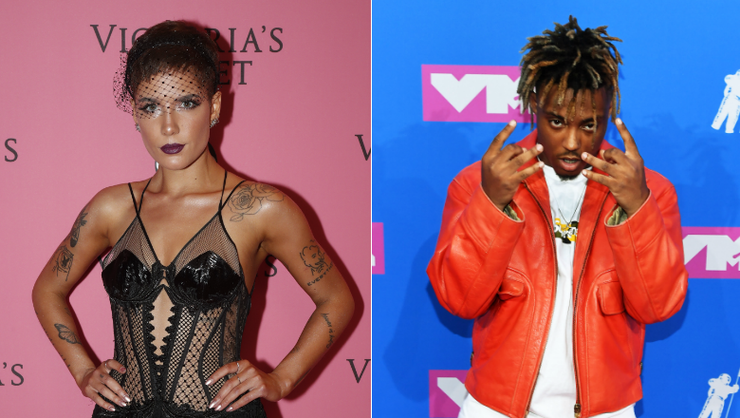 Halsey has nabbed her first Billboard Hot 100 No. 1 as a solo artist with "Without Me" and she's celebrating the just-announced the accolade with a brand-new remix of the track with Juice WRLD.
"Nothing quite like celebrating a #1 by having one of your favorite artists ask to jump on it," the 24-year-old pop star captioned a shot of the new single artwork via Instagram on Tuesday (January 8), revealing announcing the sudden team-up will arrive at midnight tonight. "Without Me" sees Halsey dethrone Ariana Grande's break-up anthem "thank u, next," which has stayed steady at the No. 1 spot for seven consecutive weeks since its arrival in November. If you've been following the star, you already know that she's shown her support for the rapper time and time again, including a BB1 Radio 1 Live Lounge cover of "Lucid Dreams."
After it was announced that the track took to the top of the chart, Halsey hopped on Instagram to rejoice about the big news. "#1 on billboard. wow. very overwhelmed and confused and so very very very VERY happy. this song came from a very lonely place, and brought me to one of the most loved and supported moments of my lifetime," she wrote in a post. "This achievement is completely beyond my means of comprehending right now so I'll get back to you guys when I find more eloquent and compelling things to say. Right now my brain is a washing machine of emotion. On a very high cycle. I love you very much."
In our recent interview with the star, the pop star explained why the record has much more meaning beyond just a break-up record. "'Without Me' started as a breakup record. As I started diving deeper into my feelings and started playing the record for people, it even changed after I'd already made it," she told us. "I was looking at my life and looking at my relationships and friendships and stuff, and I realized that I was putting in a little bit more effort than everybody else, which is a really nice thing sometimes to be effortlessly compassionate. Just wanting to help everyone around you and give them all of you all the time, but it can be really exhausting."
Chat About Halsey Nabs Juice WRLD For New Remix Of 'Without Me'