The Strumbellas Show Off Fancy Footwork In New Video For 'Salvation'
By James Dinh
January 8, 2019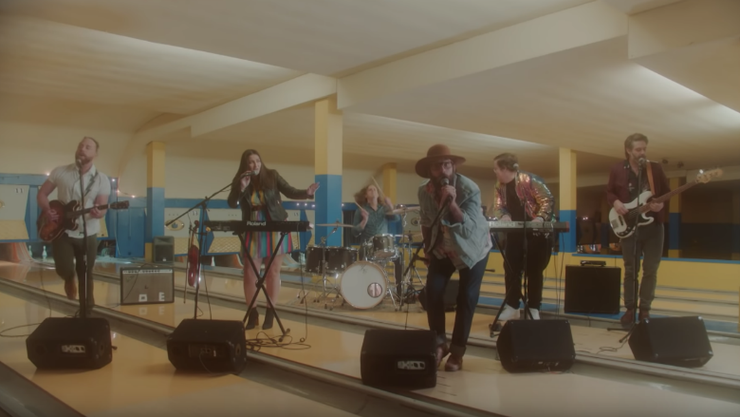 The Strumbellas are kicking off 2019 on the right note with the release of their new music video for "Salvation," which dropped on Monday (January 7).
In the almost-four minute clip, the Canadian folk/pop rockers preface the plot of the project with an introductory note informing viewers that they gave families 30 minutes to come up with a dance routine for the song. Shot in a retro-looking bowling alley, the clip sees the six-member band perform the track in the middle of the lanes as scenes of families and their fancy footwork fill the video. "Hey now kid, you're my salvation/ Just put it all out, don't let your head down/ All my life, they never told me/ They never said that it'd ever be so hard," the group sings during the hook.
"Our whole dream has been to make cool, small-town music with just a fun, poppy feeling," lead singer/guitarist, Simon Ward, said in a statement of the track. "Every record we do, we get closer to that. 'Salvation' is exactly what we wanted to do, what we were hoping to get out of this song and record: fun, poppy songs that are sad and weird."
"Salvation" was co-produced by Brian Phillips and Tim Pagnotta, and serves as a taste of the band's latest studio session as they complete their fourth LP. The collection, as well as a new tour, is set to drop later this year.
Photo: YouTube/The Strumbellas
Chat About The Strumbellas Show Off Fancy Footwork In New Video For 'Salvation'