Muse Plan to Bring 'More Humanity' to Their 'Simulation Theory' Tour
By Katrina Nattress
January 9, 2019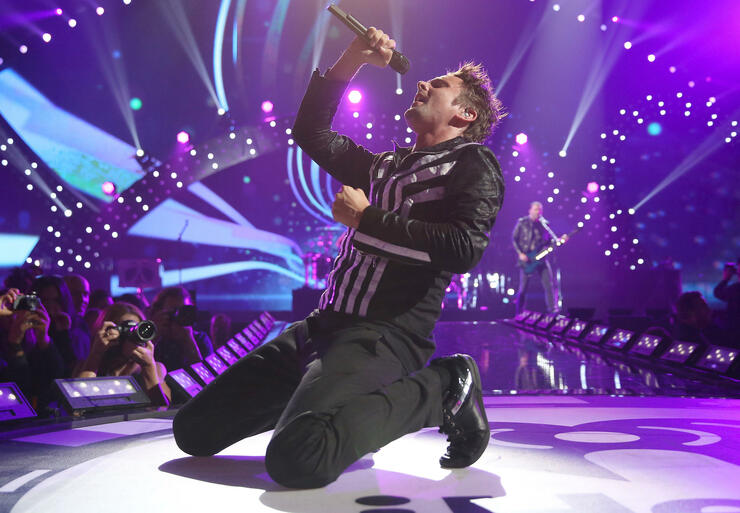 After an awe-inspiring show at the iHeartRadio Theater in New York last November, Matthew Bellamy mentioned that Muse was looking to incorporate more people into the band's generally technology-reliant live show when they embark on their Simulation Theory tour in February. Now, he and drummer Dominic Howard are expanding on that idea.
"We want to try to make the show have more humanity with it rather than purely technology. The Drones Tour it was all so tech with the drones flying around and stuff like that, which is cool but we want to try to move away slightly from the big screen with a bunch of visuals in the background, which every single artist does — and we've obviously been doing for years as well," Howard recently explained to Billboard. ""But this time we want to try to have more humanity in the show, incorporating more performers but also performance art-type stuff. It's almost like live art on stage, so there'll be people playing with us and doing other things."
However, that's not to say Muse won't use videos during their sets as well. After all, their latest album was heavily promoted with visuals. "It's the most videos we've ever made for an album," Bellamy noted, "and we've created this visual world for this album. They videos are very continuous — that's where the concept can be seen more so than in the music. So we're going to take that visual world and try to translate it into the live show, with the other performers who will be on stage with us."
The English alt-rockers are never ones to disappoint with their live shows, and from the sounds of it they'll once again outdo themselves with the Simulation Theory tour.
Photo: Getty Images
Chat About Muse Plan to Bring 'More Humanity' to Their 'Simulation Theory' Tour