President Trump Walks Out Of Meeting With Democratic Leaders
By Bill Galluccio
January 9, 2019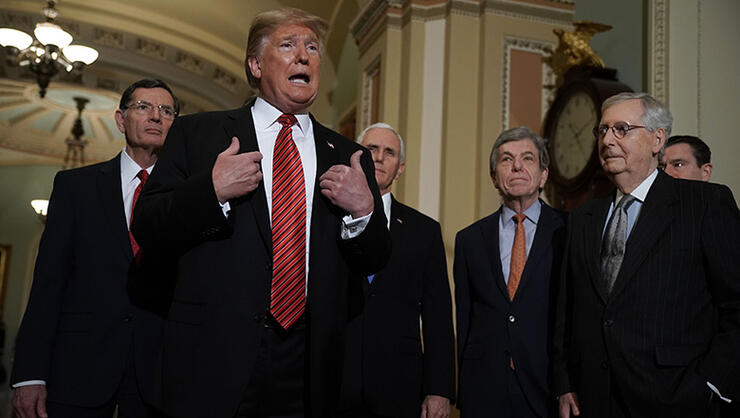 President Donald Trump stormed out of negotiations with House Speaker Nancy Pelosi and Senate Minority Leader Chuck Schumer over ending the partial government shutdown. Trump called the meeting "a total waste of time" and said he decided to leave after Pelosi told him that Democrats would not agree to fund a border wall in the future.
Just left a meeting with Chuck and Nancy, a total waste of time. I asked what is going to happen in 30 days if I quickly open things up, are you going to approve Border Security which includes a Wall or Steel Barrier? Nancy said, NO. I said bye-bye, nothing else works!
Following the brief meeting, Schumer told reporters that Trump's behavior was "unbecoming of a presidency." He accused Trump of throwing a temper tantrum and angrily slamming his fists down on the table, something that other Republican leaders in the room denied.
"I just listened to Senator Schumer," House Majority Leader Kevin McCarthy said. "I know he complained the time that you had cameras in the meeting. I think we need to bring them back because what he described the meeting to be is totally different than what took place."
With the negotiations stalled, and the government shutdown in its 18th day, the likelihood that Trump declares of a national emergency to build a wall along the U.S.-Mexico border increases. He has hinted that he is considering the drastic move, but during a nationally televised prime time address on Tuesday (January 8) he called on Congress to fund the wall and re-open the government.
Photo: Getty Images
Chat About President Trump Walks Out Of Meeting With Democratic Leaders