Rob Kardashian Dines With Alexis Skyy After Her Fight With Blac Chyna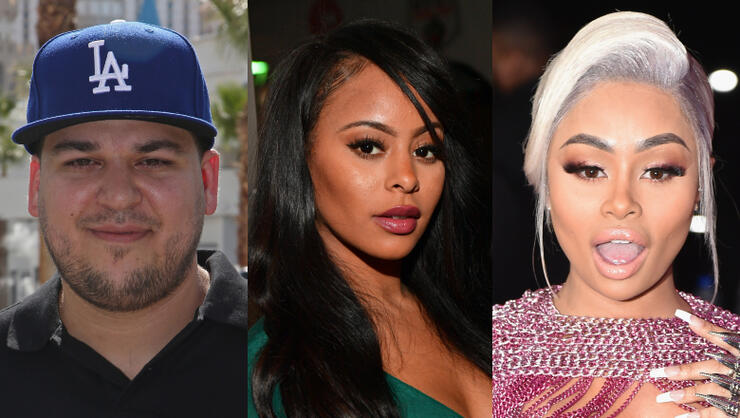 There's being petty, and then there's being Rob Kardashian level of petty.
Less than 48 hours after Blac Chyna and Alexis Skyy got into a physical altercation at a Los Angeles party, Rob, Chyna's ex, made his allegiances known by sharing videos and photos of him spending time with Alexis. Unable to miss the opportunity to shade his daughter's mother, Rob first declared on Instagram that Alexis was his "WCW" (to note, it was a Monday when he posted that), adding, "I've been wanting you for so long." He then took his shade one step further sharing photos and videos of Alexis making him dinner at what appeared to be Kris Jenner's home.
After fans blasted Rob for hanging out with Alexis to spite Chyna, he took to Twitter to defend their friendship, saying, "Me and Alexis known each other for 5 years so stop with that."
As previously reported, Chyna and Alexis got into a physical fight while at a private party in Los Angeles Saturday (January 12) night after Chyna allegedly threw a drink on Alexis. "I am like the nicest person in the world. I'm sitting down, minding my business, somebody said, 'Yo, Chyna is at the party, she want to kick it with you. So I went over there, I sat with her, we kicked it, we had a drink or two," the Love & Hip Hop star recalled on an Instagram Live video after the altercation. "After the second drink, we had some Red Bull, and out of nowhere this b*tch starts, 'Bitch, you gotta get the **k up out of my section.' I said, 'Who the f**k are you talking to?' She's like, 'You gotta get up right now.'"
"So at that point, she starts throwing a drink … so when you want to throw a drink, we start throwing hands," Alexis continued. "So from there on, whatever happened, happened...I got kicked out."
Following the incident, Alexis wrote that she was waiting for Chyna to come outside to continue the fight that was broken up before it really ever began. "@BLACCHYNA COME YA PUNK A** OUTSIDE !!!!!I'M B*TCH YOU TRIED THE RIGHT B*TCH BUT RAN!!! I PROMISE U I'M NOT LEAVING THIS B*TCH UNTIL IT [YOUR] PUNK CRACK HEAD A** COME OUT SIDE," she wrote on Instagram. Fetty Wap's ex's name calling, and drug accusations continued in a later Instagram Story post: "NOT LEAVING LA UNTIL U SEE ME!!! I DON'T HAVE SH*T ELSE TO SAY.... @BLAC CHYNA DROP THE PIN.... PLEASE TRYING TO MAKE ME LOOK LIKE I'M CRAZY .. I'M NOT EVEN THE TYPE TO START A FIGHT. SHE THREW A DRINK AT ME .. @BLACCHYNA STAY OFF THE COKE AND ADDYS .."
Chyna has yet to publically address the situation.
Photo: Getty Images
Chat About Rob Kardashian Dines With Alexis Skyy After Her Fight With Blac Chyna