Is Blink-182 Writing Music With The Chainsmokers?
By Katrina Nattress
January 17, 2019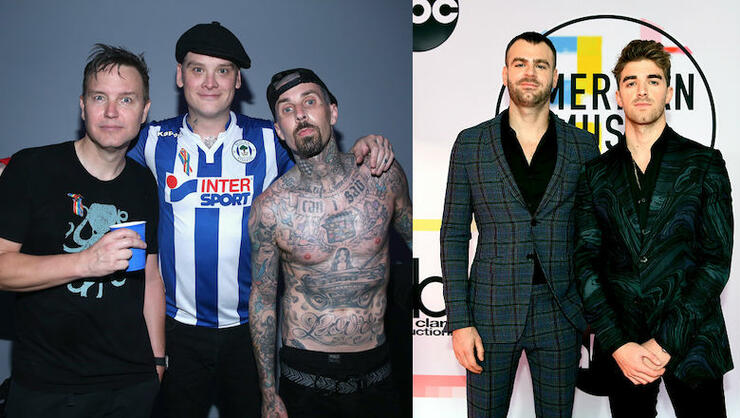 Late last year, blink-182 made their first foray into EDM with their Steve Aoki collaboration "Why Are We So Broken," and it must've went well because the pop punk veterans are diving deeper into the genre and writing a song with The Chainsmokers.
On Wednesday (January 16), Matt Skiba posted some photos on Instagram of himself and bandmate Mark Hoppus in the studio. Naturally, fans went into a frenzy thinking a new blink album was in the works. But then the guitarist posted another photo hinting that the song was actually a project with the DJ duo, and Alex Pall and Andrew Taggart were quick to confirm.
"Just did a session with blink182 and wrote an amazing song. We can die happy now," they tweeted.
"It's true," Hoppus replied, retweeting The Chainsmokers' message.
When asked why they decided to collaborate with the EDM producers, Hoppus simply replied: "We've been friends with them for a few years and have tried to collaborate a bunch of different times, but today our schedules aligned and we were all in the same room at the same time."
Though we're unsure if this track will be featured on a new blink-182 album, Chainsmokers album, or simply be a one-off single, it'll be interesting to hear the pop punkers continue to influence the EDM genre.
Check out the series of posts below.
Chat About Is Blink-182 Writing Music With The Chainsmokers?