Millie Bobby Brown Backtracks On Defending Penn Badgley's 'You' Character
By Paris Close
January 17, 2019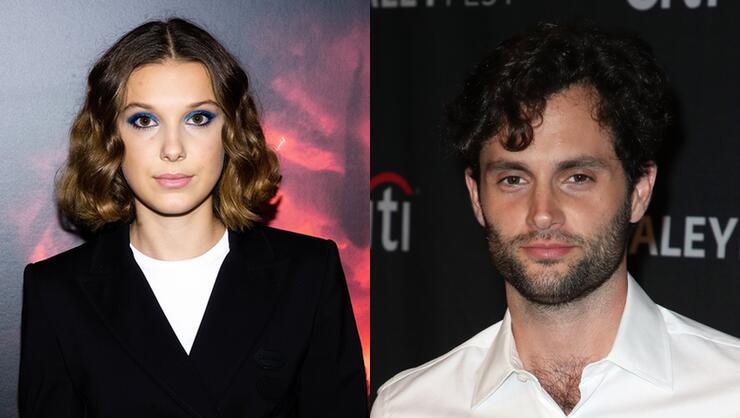 Millie Bobby Brown's unfavorable opinions on Penn Badgley's creepy character on Netflix's You was met with controversy this week.
In case you haven't watched the show yourself, the Gossip Girl alum plays a bookstore manager named Joe Goldberg who develops a sinister obsession with a woman named Guinevere Beck. Joe's possessive fascination manifests when he starts to stalk her and murder everyone he deems a bad influence on her before he — SPOILER ALERT — finally kills Guinevere, too.
Sick, we know.
Which is why fans were so alarmed when the Stranger Things star appeared to (albeit prematurely) defend Joe's predatory mannerisms as a sign of… affection?
"So I just started that new show, You. He's not creepy, he's in love with her and it's OK," she said of the 32-year-old's alter-ego on her Instagram Stories. "I'm obsessed with it, I'm binge-watching it — absolutely banging, Netflix."
"By the way, I know everyone's going to say, 'Oh he's a stalker. Why would you support that?'" Brown proceeded, following with a bold argument. "No, he's in love with her. Just watch the show, and don't judge me on my opinion."
Of course, fans did, in fact, judge Millie's opinions.
Some blamed Millie's being young and impressionable for her inflammatory remarks, as this Twitter user did: "Millie Bobby Brown's take on the stalker character from 'You' just goes to show how young and naive she is and how y'all need to stop treating her like she's a mature young adult when she's literally a 14 yr old kid smh."
Others, like marie here, kept her tweet concise, summing up our exact thoughts with a simple "sweetie no."
What's more, Badgley himself has even denounced the romanticism surrounding his problematic persona. "Okay but @PennBadgley was sexy as Dan but lord Joe is a whole new level," a fan tweeted, to which the actor responded, "…of problems, right?"
Last night, Millie returned to Instagram, much more enlightened after finishing the first season, with new sentiments. "I just finished You. The other day, I made a video. I was on episode 2. I guess I gathered an analysis too quickly," she admitted.
"I watched episode 10 – most definitely he's a stalker. But it was a really great show, so I'm really excited for season 2. My bad if I upset anyone."
Photo: Getty Images
Chat About Millie Bobby Brown Backtracks On Defending Penn Badgley's 'You' Character