Lady Antebellum Share Secrets To Solving Travel Mishaps
By Lauryn Snapp
January 18, 2019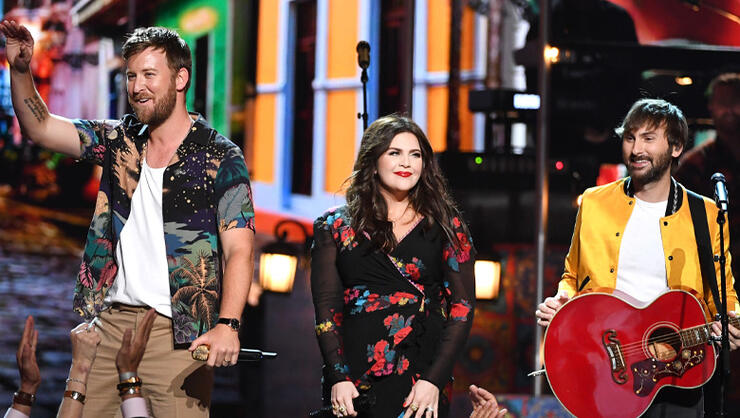 Guitarist, Pete Townshend of The Who was the first documented guitar-smashing rock artist. Dave Haywood, of Lady Antebellum, followed suit with a less sexy version taking place at an airport.
Gearing up to head to Las Vegas for the "Our Kind of Vegas" residency show, Lady Antebellum shared a few of their travel mishaps with Cody Alan.
"It's hard to travel," says Dave. "They passed this law in Tennessee where they can't let you not carry [your instrument] on. If there is overhead room, the attendant cant be like 'oh you can't bring that on.'"
Previously that had been an issue for traveling musicians leaving our of BNA.
"If you are boarding a flight in Nashville, no longer will you will have any room for your bags in the overhead. It's all guitar players," laughs Dave.
Hillary Scott piped up and shared that she has had her luggage lost more times than she can count.
"I've had to go to the mall, go shopping, get a whole new outfit. . . and your makeup, your curling iron, your heels... "says Hillary with an undertone of exhaustion in her voice. In a moment of showtime despair, Hillary shared "I once used a sharpie for eyeliner."
"It's still there. That's why to this day, she has a wonky eye," laughs Charles Kelley.
Charles, Hillary, and Dave are no strangers to being on the road and are excited to be calling Las Vegas home for a few months. Cody Alan wants to invite fans to travel for the show by entering to win a trip for two to see the brand new Las Vegas residency show 'Lady Antebellum: Our Kind of Vegas' at the Pearl Concert Theater inside the Palms Casino Resort on February 13th! The winner and their guest will also attend the taping of CMT's Headliners series event on February 14th and meet Cody Alan!
Photo Credit: Getty Images.
Chat About Lady Antebellum Share Secrets To Solving Travel Mishaps