Watch Jimmy Page Hand Paint His Signature Fender Guitar
By Andrew Magnotta @andrewmagnotta
January 24, 2019
Fender's highly-anticipated reproduction of the Jimmy Page Dragon Telecaster used on Led Zeppelin's debut album has been remade, and the attention to detail is remarkable.
Page himself, who came up with the idea of remaking his old Tele for the 50th anniversary of Led Zeppelin last year, describes his astonishment at the final product in a video uploaded by Fender on Wednesday.
"Oh my goodness gracious, they've really got it 110 percent right or 150 percent right," he said. "It's so absolutely as it is, as it should be and as it was. I'm excited to be here, knowing that the body has been absolutely cloned and the neck has been absolutely cloned. It's a very unusual one."
The guitar was originally given to Page in 1965 as a gift from Jeff Beck. But Fender Master Builder Paul Waller is unsure where it originally came from, noting that "it's kind of an odd ball" — either a very early version of the 1959 Telecaster or a guitar assembled later than '59 using Fender parts.
"Jeff Beck having it and passing it onto me was such good spirit," Page said. "You know it's got a lot of love in that gesture of giving it to me. The journey of it through the Yardbirds, how it was used on the first Led Zeppelin album ... its journey all the way through here today. Obviously it's enjoyed the experience of being restored back to its true beauty and that we've actually been able to, sort of, clone it."
Page and friends of his tinkered with the guitar often over the years. While in the Yardbirds from 1966 - 1968, the Rock and Roll Hall of Famer Page affixed a number of mirrors to the body. When that look ran its course, Page stripped off the factory blonde paint job and added his own artistic flair, a hand-painted Eastern-style dragon with a custom mirrored pick guard.
It was in that form that the guitar faithfully served Page in the studio on Led Zeppelin I and on stage for the band's first European and North American tours.
Fender has announces that it will build both mirror and dragon-painted versions of the guitar on its production line, beginning later this year.
The Fender Custom Shop created 50 "exact" replicas of both the Mirror and the Dragon guitars, with paint jobs by Page himself, plus his signature on the headstock and signed Certificates of Authenticity.
The guitars Page worked on will go for around $25,000. The production line models will range from $1,399.99 to $2,499.99, according to Guitar World.
Earlier this week, Page announced another 50th anniversary tribute to Led Zeppelin: the Sundragon amplifier, meant to reproduce the unique sound of the heavily modified amp he used on the band's first album.
Photo: Getty Images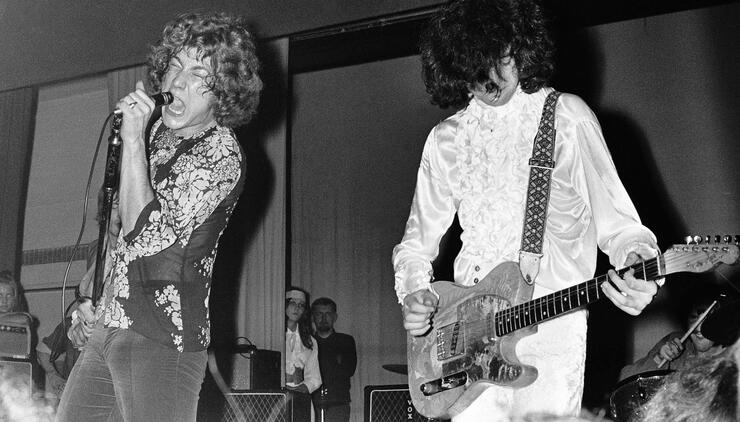 Chat About Watch Jimmy Page Hand Paint His Signature Fender Guitar