Genesis' Steve Hackett Announces 'Selling England by the Pound' U.S. Tour
By Andrew Magnotta @andrewmagnotta
January 28, 2019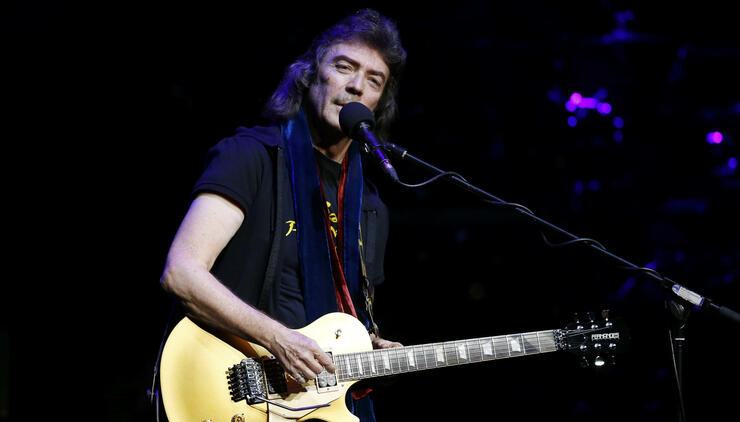 One of Genesis's early masterworks will be brought back to life on stage this year by one of the men who helped create it.
Former Genesis guitarist Steve Hackett is taking his Rock and Roll Hall of Fame band's 1973 album, Selling England by the Pound, back on the road this year with a tour of the U.K. and the U.S.
Hackett's latest solo album, At the Edge of Light, was released on Friday. But the guitarist has never been one to give fans less.
Despite a massive catalog including 25 solo albums, Hackett has long been the sole member of Genesis' classic lineup — which includes Peter Gabriel, Tony Banks, Mike Rutherford and Phil Collins — who still incorporates the band's early work into his live shows.
Two years ago, Hackett performed Genesis' 1976 album Wind & Wuthering in its entirety on tour. This year, Selling England by the Pound will get the same treatment.
As if all that wasn't enough, Hackett says he also plans to celebrate the 40th anniversary of his, Spectral Mornings, solo album on the tour.
You can get all the tour dates here. See below for the North American dates.
Steve Hacket 2019 Genesis Revisited Tour - Selling England by the Pound, Spectral Mornings & Album Highlights
9/12 September - Riviera Theatre, North Tonawanda, NY, US - On sale: 2/1/2019
9/13 September - State Theatre, Ithaca, NY, US - On sale: 2/1/2019
9/15 September - Grand Theatre de Quebec, Quebec, CANADA
9/17 September - Oakville Centre for Performing Arts, Oakville, CANADA
9/18 September - Oakville Centre for Performing Arts, Oakville, CANADA
9/20 September - Danforth Music Hall, Toronto, CANADA - On sale: 2/1/2019
9/21 September - Place des Arts Theatre Maisonneuve, Montreal, CANADA - * SOLD OUT *
9/22 September - Place des Arts Theatre Maisonneuve, Montreal, CANADA
9/24 September - Wilbur Theatre, Boston, MA, US - On sale: 2/1/2019 - (Pre-sale code: BOSTON)
9/25 September - Beacon Theatre, NYC, NY, US - On sale: 2/1/2019
9/26 September - The Ridgefield Playhouse, Ridgefield, CT, US - On sale: 2/1/2019
9/27 September - Keswick Theatre, Glenside, PA, US - On sale: 2/1/2019
9/28 September - Keswick Theatre, Glenside, PA, US - On sale: 2/1/2019
10/1 October - Carnegie Music Hall of Homestead, Munhall, PA, US - On sale: 2/1/2019 - (Pre-sale code: musichall)
10/2 October - Masonic Auditorium, Cleveland, OH, US - On sale: 2/1/2019
10/3 October - 20 Monroe Live, Grand Rapids, MI, US - On sale: 2/1/2019
10/4 October - The Pabst Theatre, Milwaukee, WI, US - On sale: 2/1/2019 (pre-sale code: GENESIS)
10/5 October - The Copernicus Center, Chicago, IL, US - On sale: 2/8/2019
10/7 October - Pantages Theatre of Minneapolis, Minneapolis, MN, US - On sale: 2/1/2019 - (Pre-sale code: WALRUS)
10/10 October - Moore Theatre, Seattle, WA, US - On sale: 2/1/2019 - (Pre-sale code: WALRUS)
10/11 October - Vogue Theatre, Vancouver, CANADA - Tickets (pre-sale code: STEVEHACKETT)
10/12 October - Revolution Hall, Portland, OR, US - On sale: 2/1/2019
10/16 October - Fox Tucson Theatre, Tucson, AZ, US
10/17 October - The Van Buren, Phoenix, AZ, US - On sale: 2/82019
10/18 October - Orpheum Theatre, Los Angeles, CA, US - On sale: 2/1/2019
10/19 October - Crest Theatre, Sacramento, CA, US
10/20 October - Fox Theater, Oakland, CA, US - On sale: 2/1/2019
Photo: Getty Images
Chat About Genesis' Steve Hackett Announces 'Selling England by the Pound' U.S. Tour