The Game Finally Speaks Out About His Controversial Kim Kardashian Lyrics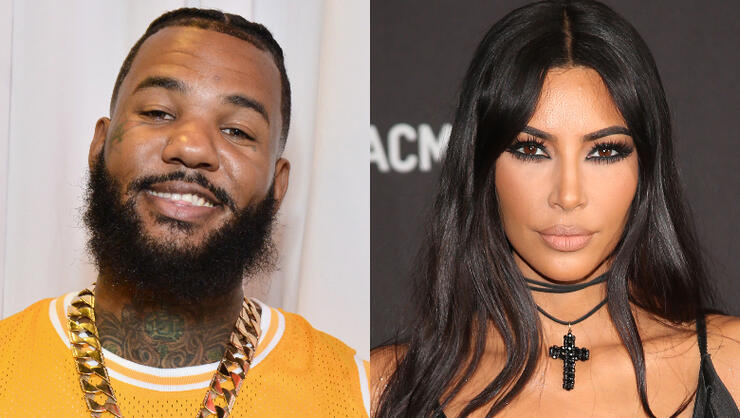 The Game couldn't care less about what you, or I, or really anyone has to say about his controversial lyrics directed at Kim Kardashian.
As fans knows, the "All Eyez" rapper held a listening party for his new album last week. However, one specific track has gotten the most attention due to its graphic lyrics. See, Game went back into his dating history, revealing intimate details about his past relationship with Kim Kardashian. "I held Kim Kardashian by the throat, n***a. I made her swallow my kids until she choked, n***a," he rapped on the song, which also included an apology to Kim's husband Kanye West. 
Game's bars were met with both confusion and anger with many slamming the rapper as a clout chaser (someone who starts beef with a famous person to gain popularity), saying his bars were not only offensive but unnecessary. However, Game couldn't disagree more. He not only defended his controversial lyrics, he also shot back at his critics while on Real 92.3's "Big Boy's Neighborhood" Monday (January 28).
"Anytime you say anything about anybody, you're chasing clout? I don't get it. These new terms," he said after calling into the radio show. "How does somebody that's sold over 20 million records, that is well established, iconic in his own right, and legendary in music? How do you chase clout?" Big Boy then noted that it's not the first time Game has rapped like this, referencing his history of unapologetic and ruthless bars.
However, Big Boy still asked Game if he sees why people would feel his words were disrespectful. "Yeah," the "Don't Trip" rapper admitted before adding, "but... Somebody always mad or feeling something is disrespectful." Game continued, "And then when people say, 'Oh, she's a mother.' Yeah, my momma's a mother. How did I get here? I'm pretty sure my mom swallowed [...] Let's be real. Everybody listening, like yo, your momma didn't get nasty? How did you get here?"
Game previously addressed his crude lyrics on his Instagram Story. "I didn't start rapping to be nice guy. I speak my truths to my fans. If you don't like it, don't listen to it. F*** you," he wrote last week. "One bar got everybody in their feelings. On a scale of 1-10 bout how mad are you."
Photo: Getty Images
Chat About The Game Finally Speaks Out About His Controversial Kim Kardashian Lyrics