JetBlue Flight Struck By Lightning After Takeoff from LAX
By R.J. Johnson - @rickerthewriter
January 31, 2019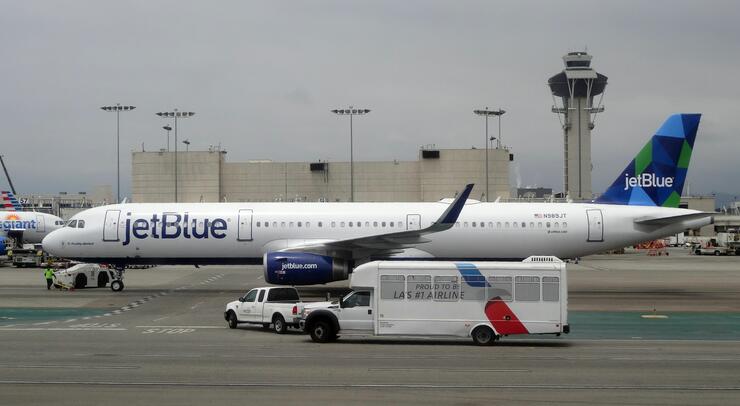 A JetBlue flight bound for New York's John F. Kennedy Airport was forced to turn around and make an emergency landing after the passenger jet was struck by lightning just after taking off from Los Angeles International Airport Thursday morning.
JetBlue Flight 324 had 153 people on board and was carrying 36,000 pounds of fuel for the trip, declared the emergency shortly after takeoff when its crew reported being hit by lighting.
The plane landed safely back at LAX just before 11 a.m. Several passengers tweeted about the scary experience on social media.
"No joke, our plane from LAX to JFK got hit by lightening. Turning around and heading back to LA for emergency landing," Victoria Rickson wrote on Twitter.
"This is turning into a cursed @JetBlue flight. First I was downgraded from Mint to stowage. Then our plane was struck by lightning during takeoff and we're heading back to LAX. At least WiFi still works," another passenger wrote.
Modern passenger jets are built to withstand lightning strikes thanks to a think layer of copper that acts as a Faraday Cage - meaning the space within the metal is protected from electric currents. Fuel tanks and the structures surrounding them, are built to withstand any burning that results from a bolt of lightning - which can reach temperatures of up to 30,000C.
Lightning strikes are more common when planes are flying through cumulonimbus clouds located between 6,500 and 16,500 feet above sea level. Most passengers jets are struck at least once or twice a year. Occasionally, exterior damage is done to the plane's hull, but experts say most incidents leave little to no evidence of the strike behind.
Photo: Getty Images
Chat About JetBlue Flight Struck By Lightning After Takeoff from LAX