Stewart Copeland Reveals His Most Pointless Argument With Sting
By Andrew Magnotta @AndrewMagnotta
January 31, 2019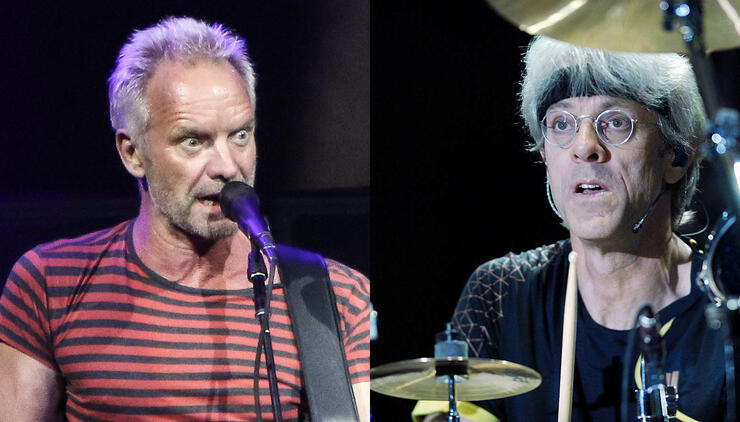 Rock and roll wouldn't be so fascinating were it not for the dysfunction it brought out of so many great musicians.
In terms of inter-band conflicts, the members of The Police might not have been the most at-odds in history, but they were certainly close.
The band ground it out at the club level for years before suddenly exploding in popularity with a string of radio hits and platinum albums in the early-'80s. The members' already strained relationships became more chaotic with the whirlwind of large-scale touring success.
Drummer Stewart Copeland marvels at the vitriol the creative process brought out in himself and front man Sting. He recalled the chore it was recording The Police's biggest hit, "Every Breath You Take."
"...Sting had bonded with the Oberheim [drum machine] hi-hat sound, which did have a hypnotic quality," Copeland recalled in a new interview with MusicRadar. "I insisted on playing the hi-hat myself.
"We went back and forth finishing that song and we fought like cat and dog over the f---ing hi-hat. I doubt if anyone can tell from listening to the record. But the drum part was composed. It was all overdubs."
Nowadays, Copeland, Andy Summers and Sting are as good as they've ever been because they can all agree that they will never be in a band together again. He added the trio didn't argue when it came to putting together the band's new vinyl box set, Every Move You Make: The Studio Recordings.
"When we were designing the boxset we were getting along," he said. "We were able to talk about The Police without it being a 'thing.' We're just three guys who went through a lot together, hanging out, enjoying each other's company."
Photo: Getty Images
Chat About Stewart Copeland Reveals His Most Pointless Argument With Sting