Did Nicki Minaj Just Destroy Drake In Her 'Hard White' Music Video?
By Peyton Blakemore
February 1, 2019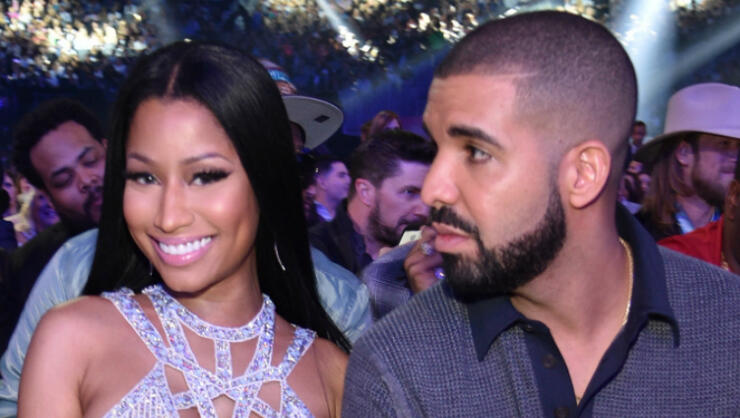 Nicki, Nicki, Nicki.
Nicki Minaj dropped the music video for her latest single "Hard White" on Friday (February 1), and let's just say the Queen of Shade is living up to her name. It didn't take long for fans to begin dissecting every detail of the three minute video. Quickly theories about Nicki's alleged shade throwing began circulating the Internet, with many claiming she used critters symbolically to diss her haters.
Fans noted that she used two types of critters, scorpions and birds, to represent both Drake and Cardi B , respectively. Case in point, her use of a dead scorpion. As any hip-hop fan can tell you, Scorpion is the name of Drake's most recent album. As previously reported, the "In My Feelings" rapper and Miss Minaj have not been on the best of terms, and seemingly dissolved their friendship before the end of 2018. (To get all that tea, keep reading) In the video, Nicki shows a living scorpion in one frame, however, shortly after the scorpion is literally shown crushed to death. #VeryDark
As for the bird in the video, which also turns up dead, fans think it represents Cardi, who had beef with Nicki throughout 2018. One fan broke the shade theory all down on Twitter, check it out below!
As fans know, back in December, the Internet discovered that Drake and Nicki no longer followed each other on Instagram, which seemed to confirm the end of their years-long friendship. While the once friends and collaborators have admittedly had their struggles in the past — there was that whole Drake beefing with Meek Mill while the Philly rapper was dating Nicki (Nicki was caught in the middle of all that drama), the whole "Tuscan Leather" fall out (Nicki was mad Drake didn't include members of their Young Money crew on his Nothing Was The Same album.), and a few other friendship bumps in the road — the two always managed to come out on the other side stronger than ever.
However, after Nicki's alleged shade throwing and her and Drake's lack of social media following, it now seems save to say these two won't be mending fences anytime soon.
Check out more fan reactions to Nicki's "Hard White" video below!
In Nicki's "Hard White" video, you can see a Scorpion that was broken down in an instant @1:33. Lmfao! Idk man, I just think it's a sub for that bitch Audrey. You're dead to us Drake! #HardWhiteVIDEO #NickiMinaj

— Atty. 👑✨ (@KLubrigas) February 1, 2019
Chat About Did Nicki Minaj Just Destroy Drake In Her 'Hard White' Music Video?