Millennial Men More Likely To Come Down With "Super Bowl Fever"
By R.J. Johnson - @rickerthewriter
February 1, 2019 If you plan on calling out sick the day after Super Bowl LIII to help recover from all the excitement and thrills of the big game, it's probably a good idea to start thinking up your excuse now. A new survey says more than 17 million other people across the country will also be complaining to their boss about having the "sniffles" too.
According to the new Super Bowl Fever Survey commissioned by The Workforce Institute at Kronos, Monday (2/4) is likely to be the biggest day of post-Super Bowl absenteeism since they began tracking the number of people calling out the day after the Big Game in 2005. The institute surveyed 1,107 adults across the U.S. earlier this month to find out their plans for the Monday after the Super Bowl.
More than 8 million workers plan on taking a pre-approved day off, but at least 4.7 million people will take a "sick" day, even though they're not ill.
This year's game in Atlanta between the the Los Angeles Rams and the New England Patriots promises to be a good one, with Vegas oddsmakers giving the Patriots a mere 2.5-point advantage. A video game simulation from EA Sports' "Madden 19" also predicts a corker of a game for fans.
Joyce Maroney, the executive director for The Workforce Institute at Kronos says organizations that make it easy for staffers to schedule around big events like this will see better outcomes for their business through the entire year.
"This year marks the largest anticipated day of Super Bowl-related absenteeism we've seen since The Workforce Institute at Kronos began tracking this phenomenon in 2005. Both employees and their bosses continue to play hooky the day after The Big Game. Yet many younger employees report feeling more anxious about this Monday than any other Monday of the year, suggesting they do not feel comfortable having an open and honest conversation with their manager," said Maroney.
A separate survey from AskMen showed that millennial men were more than twice as likely (11 percent) to skip work the Monday after the Super Bowl as women (4 percent).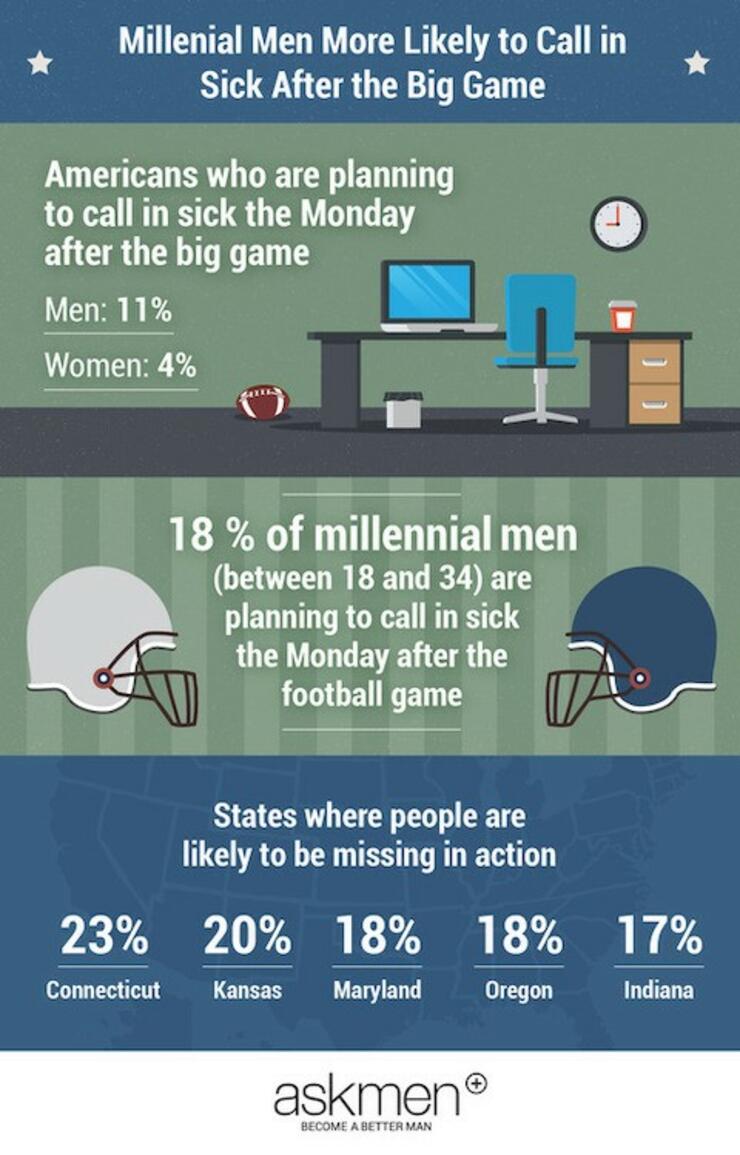 According to the AskMen survey, bosses in Connecticut have more to worry about than bosses in other states. AskMen found that the state led the country with 23 percent of people who say they plan on calling out sick on Monday. Kansas was next with 20 percent of respondents saying they plan on calling out on Monday, with Maryland (18 percent) Oregon (18 percent) and Indiana (17) rounding out the top five.
Of course, it's not just employees that are calling out sick, managers and bosses reported that they aren't likely to work normal hours the Monday after the Super Bowl.
Various efforts have been made to turn the Monday after the Super Bowl a national holiday - including a petition launched by Heinz in 2017. But it failed to reach its 100,000 signature goal and the company never followed up by sending the petition to Congress.
Photo: AskMen.com