Well, The Fiji Water Girl Is Suing The Company That Made Her Famous
By Peyton Blakemore
February 1, 2019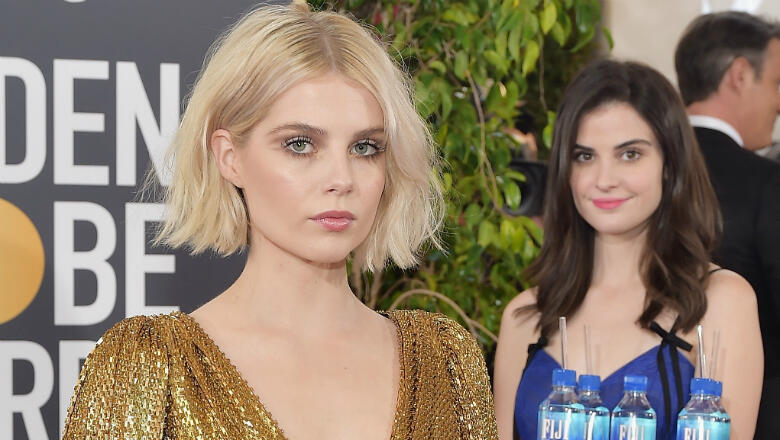 Talk about a strange turn of events — the Fiji Water Girl who went viral for iconically photobombing celebrities at the 2019 Golden Globes is now suing the company that launched her into Internet stardom.
According to The Hollywood Reporter , model Kelleth Cuthbert, whose real name is Kelly Steinbach, but best known as the "Fiji Water Girl" (I know, it's a lot to keep track of), recently filed a lawsuit against Fiji Water for using her likeness without her permission.
While Kelleth enjoyed all the benefits of being the most famous Fiji Water girl on the planet —gaining thousands of followers, getting interviewed by the biggest names in showbiz, and truly getting a career boost — she wasn't down with Fiji launching a marketing campaign that used cardboard cutouts of her face allegedly without her knowledge. She claimed the company asked her "to sign away her rights in the moniker 'Fiji Water Girl'" and authorize the use of her photo and likeness in the campaign, however she says she didn't agree to it, THR reports.
While she alleged she was "pressured" into recording a fake signing, intended to show her signing on as a Fiji Water Ambassador, she claimed she never signed any real documents that made her the company's ambassador or gave them permission to use her image without her permission. "The fake document Steinbach fake signed in the potential future promotional video was not an agreement," her attorney Kimberly Buffington wrote in the filed complaint. "The fake document was not signed by Fiji Water and was later destroyed by Steinbach."
Fiji Water didn't take Kelleth's claims lightly.The company's spokesperson responded to the model's lawsuit with a statement, saying, "This lawsuit is frivolous and entirely without merit. After the Golden Globes social media moment, we negotiated a generous agreement with Ms. Cuthbert that she blatantly violated. We are confident that we will prevail in Court. Throughout our history, we have had a sterling reputation working with talent." #Yikes
As previously reported, Fiji Water Girl became an Internet sensation last month after serving major looks on the Golden Globes red carpet. While she was tasked with simply holding up a tray of Fiji Water bottles for parched celebs on the Golden Globes red carpet, the model managed to steal the spotlight from some of Hollywood's biggest stars with her oh-so-crafty photobombing on the red carpet.
Her photobombing created some of the best memes and gifs of 2019, thus far, as she stood behind celebs in a strapless, royal blue gown and simply, but proudly, held up a tray of Fiji water bottles. While she sometimes looked away from the camera, she at many times dared to stare straight into the camera lens after she'd perfectly inched her way into a celeb's photo. Her truly next-level photobombing skills quickly garnered the Internet's attention, with many praising her as the "best-supporting actress of the night." A parody Twitter account  (which has a hilarious bio that reads: "You thirsty?") was even created on behalf of the Fiji Water Girl, featuring some of the funniest reactionary tweets, including this one: "Dress for the job you want, not the job you have.  #FijiWaterGirl ." 
Photo: Getty Images
Chat About Well, The Fiji Water Girl Is Suing The Company That Made Her Famous