The Best (And Worst) Commercials Airing During Super Bowl LIII
By R.J. Johnson - @rickerthewriter
February 3, 2019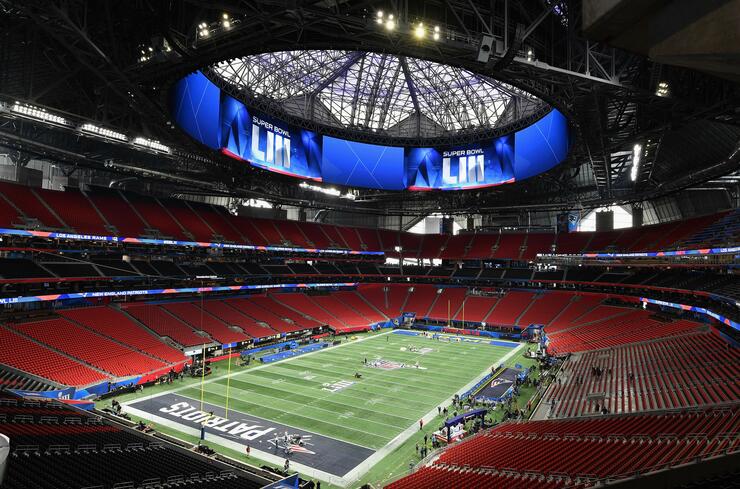 It's Super Bowl Sunday, which means everyone is on the edge of their seat, waiting for all the action to unfold on their screens. We're talking about, of course, the commercials.
For many, the commercials airing during the Super Bowl are just as (if not more so), important to them than the game between the New England Patriots and the Los Angeles Rams. Monday's are just reserved for Monday-morning quarterbacking, it's also a great time to bond over the best and worst commercials that aired during the game.
After all, thanks to the Super Bowl's enormous audience (an estimated 103 million people watched last year's game), one 30-second spot can cost more than $5 million. The price of ads have doubled over the past ten years as the event grows in viewership.
So here are some of the commercials you'll be talking about with your friends, family and co-workers on Monday.
Amazon Alexa
If it feels like Alexa is everywhere now, you're probably not imagining things. But did you know the company has tried adding their virtual assistant to some of your other appliances at home? Let's just say, it didn't go well.
Amazon enlisted several celebrities including Forest Whitaker, Harrison Ford (in an adorable battle with his dog), and Abbi Jacobson and Ilana Glazer to test out their new products and it's safe to assume we won't be seeing them on store shelves any time soon.
Amazon Prime Studios
Speaking of Amazon, another division is flaunting some of their original content. Amazon Prime Studios released a sneak peek for "Hanna," an upcoming series from the streaming service set to debut in March. Amazon Prime members will have the opportunity to stream the first episode for 24 hours after the Big Game.
(The commercial is also noteworthy for including an amazing cover of Smashing Pumpkins' "Bullet With Butterfly Wings" performed by Karen O.)
Budweiser
The beer company has always been at the forefront of Super Bowl commercials, with some of the most talked about commercials every year. Between the inspiring "Halftime Speech" by Clint Eastwood, or the Clydesdale horses racing out of the barn in a post-9/11 tribute, you can't say that Budweiser doesn't know how to make a Super Bowl ad.
This year appears to be no exception with the beer company announcing that they had committed to brew their beer with 100% renewable electricity generated by wind power.
Bubly
Sure, you've heard of La Croix and are probably desperately addicted to it, but did you know that there's another sparkling water company that's just as good? Bubly debuted their thirty-second spot that features singer Michael Bublé, who is a touched confused on how you actually pronounce the sparkling water's name.
Bumble
Valentine's Day is only a few days away (11 to be exact), so this is the perfect opportunity for all those single folks watching the Super Bowl at home to download a new dating app and give finding love a try. Serena Williams stars in this ad that encourages women to make the first move, in work, in love, and in life.
Doritos
This year, the snack food company recruited Chance the Rapper to remix the Backstreet Boys's iconic song "I Want it That Way" in their commmercials introducing a brand new Doritos flavor "Flamin' Hot Nacho."
M&Ms
Christina Applegate is chaperoning some particularly unruly passengers on her way back from the grocery store. It's probably safe to say, no one will ever mess with the Emmy Award-winning actress ever again after her appearance in this commercial promoting the new M&Ms Chocolate bar.
Michelob ULTRA and Michelob ULTRA Pure Gold
Robots and an island getaway are the focus for the two commercials promoting Michelob Ultra and its Ultra Pure Gold brands. In the Ultra commercial, a Robot is able to beat humans at just about every activity except having friends (sad horn).
In the Michelob Ultra Pure Gold commercial, we're whisked away to an island paradise where Zoë Kravitz has some fun with ASMR (seriously, wear headphones while watching this one for the full effect).
Microsoft
Microsoft highlighted the power of technology in its Super Bowl ad airing this year as we follow an inspiring group of gamers who are using Microsoft's Xbox Adaptive Controller. The nearly two minute long spot shows how Microsoft uses and designs their tech to improve the lives of disabled individuals.
Pepsi
Pepsi, another longtime contributor to legendary commercials that air during the Super Bowl, is back again this year with another great one. Steve Carrell, Cardi B, and Lil Jon all confront customers with the big question: "Is Pepsi OK?"
The minute-long spot achieves legendary status when Carrell attempts his impressions of Cardi B and Lil Jon.
Planters
If you've lived your life without ever seeing Mr. Peanut drive recklessly through suburban streets while Motley Crue is blasting on the soundtrack, I gotta tell you, you just haven't lived.
Adding to the surreal nature of the ad is Hollywood bad boy Charlie Sheen who after watching Mr. Peanut tear across a construction site, remarks idly, "And people think I'm nuts."
It's Crunch Time and Mr. Peanut is there with one of the nuttier (hah) commercials you'll see during Super Bowl LIII
Pringles
With virtual assistants everywhere these days, it's easy to forget that those tiny electronic helpers may be going through some stuff too. An Alexa-type device (as seen here in the Pringles commercial) faces her existential dread of never knowing what it's like to combine a spicy nacho chip with a BBQ seasonings one.
Fortunately, there's always the dulcet tones of Lipps Inc to help us move on.
Stella Artois
Thanks to a teaser released by Jeff Bridges, for one glorious moment, Lebowski Achievers across the world believed a long-awaited sequel starring a little Lebowski might be announced during Super Bowl LIII.
As it turned out, The Dude and Sarah Jessica Parker's Carrey Bradshaw were just looking to change up their usual. Bradshaw orders a Stella Artois instead of her customary cosmo and nods in approval when the Dude asks for a Stella instead of his White Russian.
It's nice to see that after all these years, the Dude still abides.
Bonus! Banned Commercials
Of course, the other way to get a ton of press and exposure for your product during the Super Bowl is to film a totally controversial, over-the-top ad and get it rejected by the committee.
Devour Bites debuted a particularly.... spicy... commercial for fans of their ready-to-eat meals. It's one of those things you really have to see to believe.
A cannabis company was also denied airtime by CBS for their commercial about the benefits of medical marijuana.
Chat About The Best (And Worst) Commercials Airing During Super Bowl LIII