Demi Lovato Quits Twitter Following Backlash Over Sharing 21 Savage Meme
By Paris Close
February 4, 2019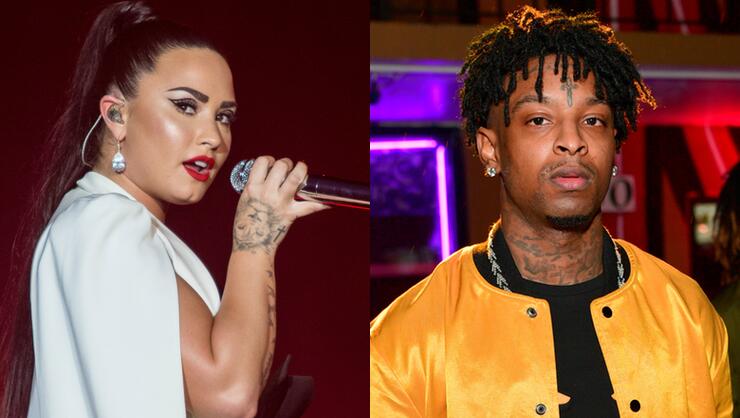 Demi Lovato has left Twitter after being criticized for apparently making light of 21 Savage 's recent arrest.
On Sunday (February 3), the "A Lot" rapper was booked by ICE (Immigration and Customs Enforcement) for supposedly overstaying his visa . ICE alleged 21 is a British citizen who emigrated to the United States illegally in 2005. As of late, he faces deportation and a 2014 felony drug offense.
It wasn't long before 21's plight became the butt of the joke on social media, and Lovato was no exception to delighting in the quips about his ordeal — but her tweet came at a hefty price.
"So far 21 Savage memes have been my favorite part of the Super Bowl ," Lovato tweeted of the lyricist's situation, which drew backlash from 21's following and cohorts alike.
Many critics took to reminding the 26-year-old that it wasn't long ago that she received support over a scary situation after suffering a near-fatal overdose in July 2018.
Noticing the ire, the former Disney star tried to clarify her tweet. "FYI this is the s**t I'm laughing at.. not the fact that anyone is getting deported," Lovato wrote along with the meme that amused her, which suggests the possible Brit writes his lyrics using a feather-tip pen.
Unfortunately, the damage had been done and fans continued to berate the star with remarks on her addiction .
"F--k Twitter. This is why I don't tweet anymore," she responded, adding, "If you're gonna come at me for making a joke, try coming at me with something not involving drugs."
Others to address Lovato's comment were rappers Offset (his reply here ) and Wale . "Why is somebody freedom funny ... I don't get the joke," the latter replied, adding, "A lot of people were sending you love light , prayers etc . When people were making jokes about u at a rough time. A lot of people .Bless up."
In a final attempt to clear the air, Lovato went to her Instagram Story with this message:
"Wasn't laughing at anyone getting deported. I know that's not a joke.. not have I EVER laughed at that. The meme I posted/was talking about was of him writing with a feather pen. Sorry if I offended anyone. But it's no excuse to laugh at someone's addiction let alone their OD."
See the tweets and exchanges below.
Chat About Demi Lovato Quits Twitter Following Backlash Over Sharing 21 Savage Meme