Kendrick Lamar, Childish Gambino & Drake Turn Down Grammy Performances
By Hayden Brooks
February 7, 2019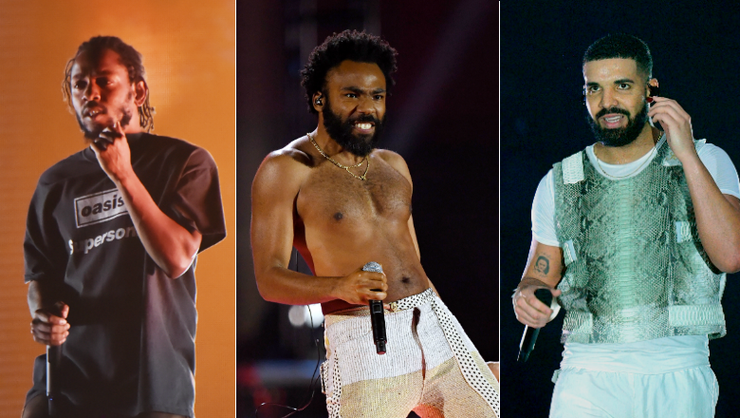 You won't see Kendrick Lamar, Childish Gambino or Drake at the 2019 Grammy Awards as the hip-hop nominees have all declined to perform at the upcoming Sunday ceremony.
In show producer Ken Ehrlish's new interview with The New York Times, the longtime Grammy collaborator revealed that the three titans have all turned down performance slots and their representatives have also declined to comment on whether they would attend the show. "The fact of the matter is, we continue to have a problem in the hip-hop world," Ehrlich explained. "When they don't take home the big prize, the regard of the academy, and what the Grammys represent, continues to be less meaningful to the hip-hop community, which is sad."
Meanwhile, Ariana Grande has also passed on the opportunity to perform at the ceremony. If you believe the rumors, the pop star apparently felt "insulted" after the Grammys production team did not allow her to perform her new hit, "7 rings." In an attempt to compromise for the booking, the producers said they would allow her to sing the song as part of a medley, but decided that they wanted to choose her second song. Grande wasn't down with the idea, so she nixed the performance entirely. Similarly, Lorde reportedly pulled out of performing at last year's Grammys when producers refused to give her a solo set even though they offered the same to all the other Album of the Year nominees.
Photo: Getty Images
Chat About Kendrick Lamar, Childish Gambino & Drake Turn Down Grammy Performances