Backstreet Boys Recall Their Biggest Milestones & Memories, Talk 'DNA'
By Nicole Mastrogiannis
February 8, 2019
Backstreet's back! Backstreet Boys have returned with their brand new album, DNA , and are preparing to hit the road on tour this summer.
DNA is BSB's first album in six years and follows the band's 2013 LP In a World Like This . The new album showcases twelve new songs, some co-written by artists including  Shawn Mendes ,  Ryan Tedder ,  Lauv ,  Andy Grammer  and more. And the guys are set to take their new music on the road during their biggest arena tour in 18 years, which kicks off in North America in July.
We recently caught up with Nick, Brian, AJ, Kevin and Howie before they performed during their exclusive iHeartRadio Album Release Party in New York City, and introduced them to "The Box." Inside were memories from throughout their amazing career and so much more. Find out what they had to say about each of them and read on below.
Singing the National Anthem at Super Bowl XXXV
Nick: "I'm gonna give you some some facts real quick. This was in Tampa Bay Stadium where I'm from in Tampa. We were singing the national anthem. It was my 21st birthday."
Kevin: "Giants vs Ravens. The Ravens' stomped the heck out of the Giants."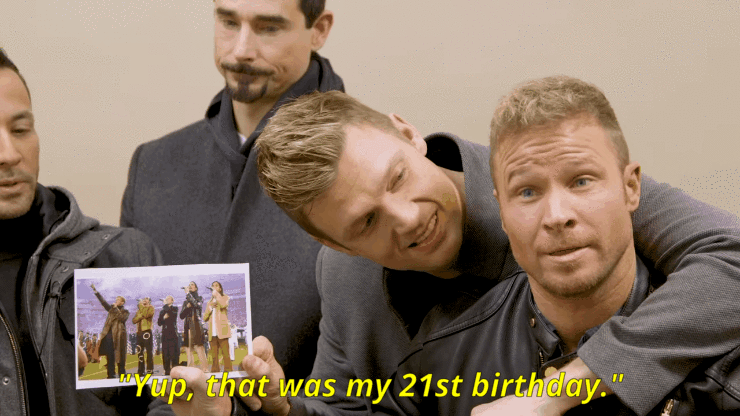 Black & Blue
Nick: "I'll give you a little fact on this album cover. We got in a big fight with the record label because at the time, they wanted us to have our faces on the album cover. We decided, no, we don't wanna be seen on the album cover."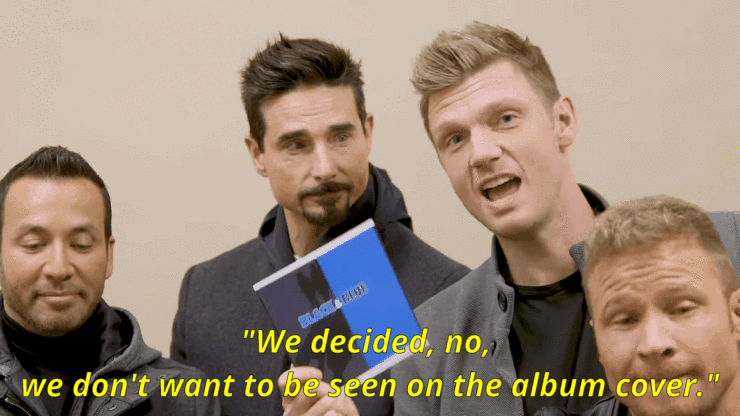 New Kids On The Block/Backstreet Boys Joint Tour
AJ: "Who's missing from this photo?"
Kevin: "I might be missing from that photo."
Nick: "NKOTBSB minus Kevin. That was a lot of fun. It was a great tour with those guys. They're great friends of ours."
AJ: "We'd love to do it again."
Nick: "Maybe we'll do part two someday ... with Kevin."
Brian: "You know, I used to love these guys in high school. I never knew I would grow up and be one."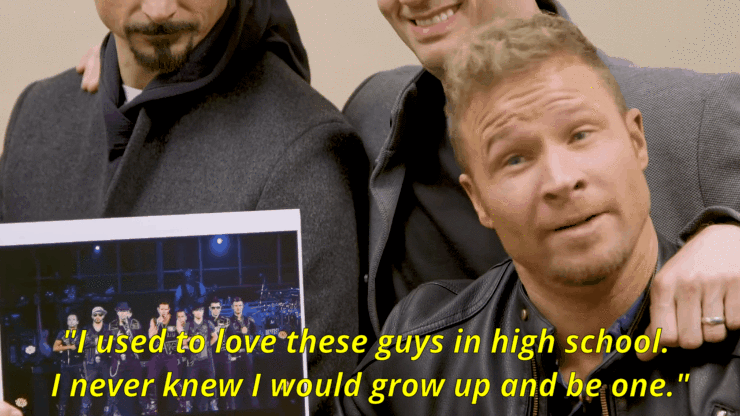 Back to the Beginning
AJ: "Dude, what was, was I rockin'? Nick, you're, like, three feet tall. And your jacket's three sizes too big."
Kevin: "We rented out a studio and we did a performance video. They filmed it and we used it to help try to get a record deal. That's what this whole backdrop was and everything."
AJ: "And it didn't work."
Brian: "It didn't work at that time.
Kevin: "We looked like a wanna be motorcycle gang back then."
Nick: "[I] have no idea what we were wearing."
AJ: "Everything was definitely unified."
Kevin: "This was the beginning, this is 1993. Almost 26 years ago."
Howie: "Where it all began."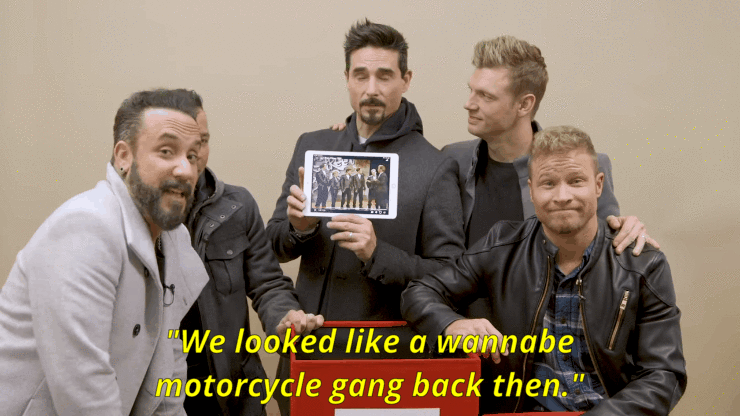 Filming The "Larger Than Life" Music Video
AJ: "Robot Nick."
Howie: "This is on the set for 'Larger Than Life,' the video shoot. That, actually, I think we filmed [at Universal Studios]."
Nick: "Here's a fun fact. This was one of the most expensive videos we ever made. If I could go back in time, I don't think [we should have spent that much]. It was $2.2 million."
Kevin: "Stupid. Nobody makes videos for that."
AJ: "You can make a dope video for $200 right now."
Brian: "Yeah. All you need is an iPhone!"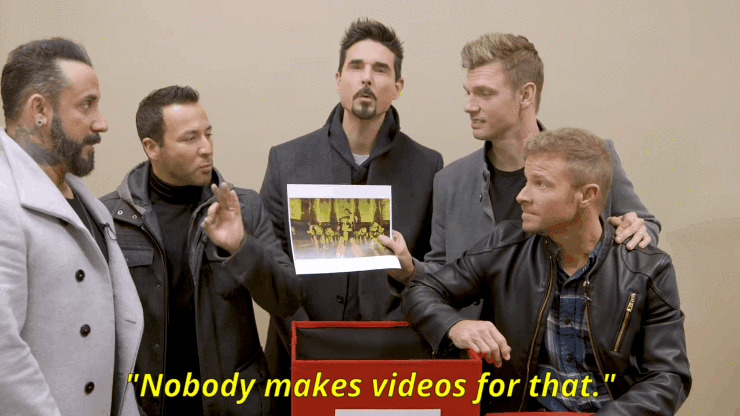 Millennium
Kevin: "The white outfits."
AJ: "This was probably, to date, our biggest album ever. We released it in 1999. And, yeah. It's a pretty great record."
Kevin: "And it's soon to be 20 years old."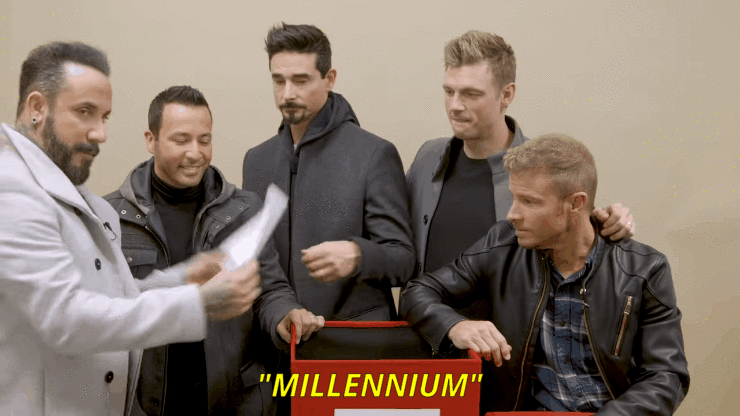 Getting a Star on the Hollywood Walk of Fame
AJ: "The Walk of Fame. It was our 20th anniversary."
Kevin: "Got a little emotional there on the sidewalk there in Hollywood."
AJ: Actually, Max Martin did a little speech for us and he was very nervous about that.
Kevin: "Came out and spoke for us."
Brian: "It was pretty cool."
Howie: "Big honor for us."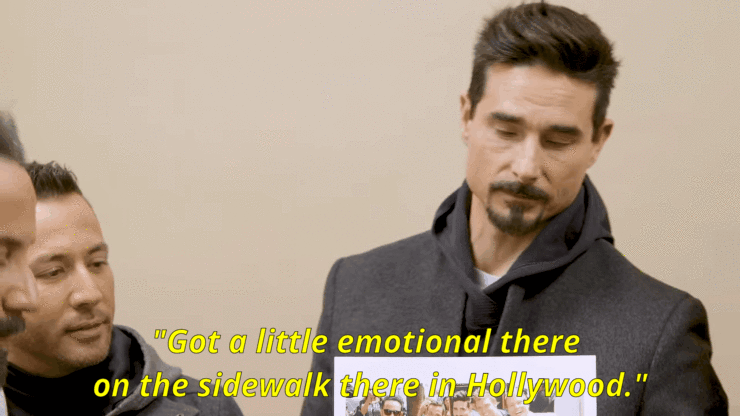 DNA
Kevin: "This is our 10th album and we're very proud of it. There are five of us and we all have various musical influences and tastes, and this album is a representation of that. There [are] different sonic sounds on here. You'll hear Nashville inspiration, you'll hear electronica, EDM, rock, pop, and hip-hop and R&B. And that kinda makes up our group DNA.
Brian: "And for those kids watching, there used to be a toy when we were little called the Slinky. And if you wanna ever take a picture and make it look cool, just shoot through a Slinky."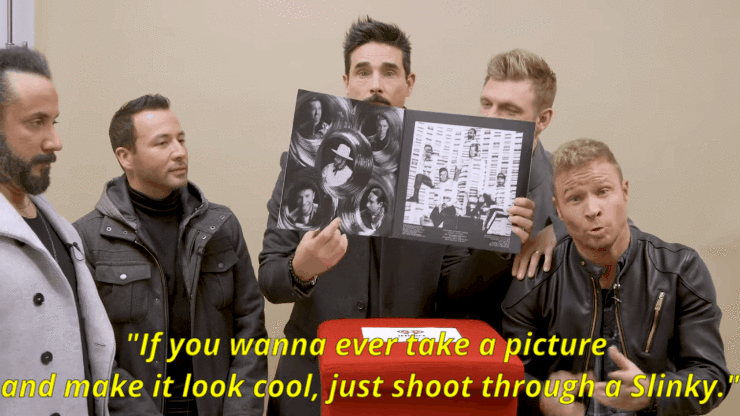 Chat About Backstreet Boys Recall Their Biggest Milestones & Memories, Talk 'DNA'