Ann Wilson Honors Late Icons With Moving Performance Of Their Biggest Hits
By Peyton Blakemore
February 14, 2019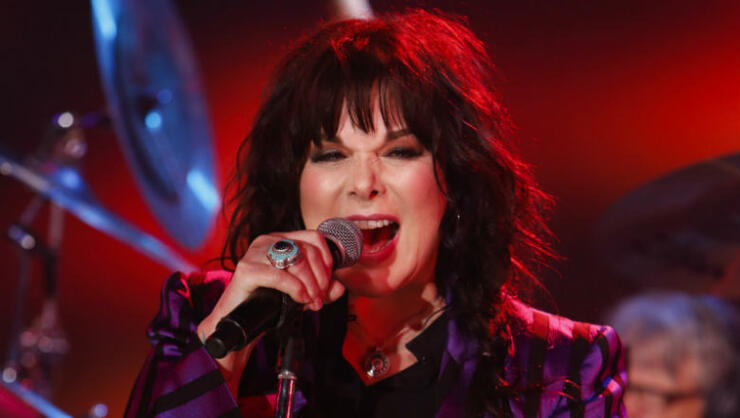 Ann Wilson is honoring some of the biggest music legends that we've lost the best way she knows how — through her music.
In an intimate concert for iHeartRadio's ICONS show, which was hosted by Q104's Jim Kerr, the Heart front-woman paid homage to the greats who are no longer with us by singing a collection of their hits. Playing tracks off her 2018 solo album, Immortal, which covers songs by late music icons, Ann performed to a packed house at iHeartRadio Theater in New York City on Wednesday (February 13). In addition to tackling Chris Cornell's "I Am the Highway," Amy Winehouse's "Back to Black," Tom Petty's "Luna," and Paul Simon's "American Tune," Ann also dove into her vault of Heart hits — singing "Barracuda," "Crazy on You," and "Alone" — and her solo classics, including, "Life In The Fast Lane," and "Fool No More."
Ann previously spoke about the purpose of her cover album, saying in a statement, "It's not a tribute, but rather a chance for me to honor these great artists….to thank them for their messages they left while they lived." She added, "It has been a wonderful experience for me because I'm not only singing, but directing, too. I was able to see the project grow from an idea to a finished song, with no compromises to the original vision. My team and I did not hold back, and you can expect the unexpected on the tracks. The album is a collection of songs by artists who have departed in the last several years: David Bowie, Chris Cornell, Tom Petty, Glen Frey, and Amy Winehouse to name a few. These artists may have left their bodies, but their souls and craft live on today."
When speaking about some of the cover songs, specifically Leslie Gore's "You Don't Own Me," Ann explained during the ICONS show that while the song may have had one meaning when it was first released, she feels today's social climate has further expanded the track's meaning. "My version [of "You Don't Own Me"] for 2019 is more about respect," she explained, saying she didn't want it to be exclusively a woman's anthem anymore. "We're in a dialogue right now in this country people standing up and identifying themselves for who they really are [...] and we all deserve respect. A lot of people have asked me, 'Does your version of you don't own me refer to the Me Too movement?' and I say, 'Yes it does! But it also refers to anyone who's asking for respect.' It doesn't have to just be women, it should be everyone."
The rock legend in her own right additionally discussed Heart's upcoming 39-city summer tour, which will also includes performances by Joan Jett, Sheryl Crow, Brandi Carlile, Elle King, and more. "Nancy [Wilson] and I [were] talking and we both decided that it just felt right," she said of why the band decided to go on the road again following their 2016 tour. "There was no big discussion about why — it just felt good."
She added, "We'd come back to the place where we could talk and we had new ideas, both of us. We both felt that the last 2016 tour showed Heart repeating itself, just going back over the same stuff over and over and over. We want to give the listeners what they love but we also want to keep it awake, alive, aware, and mindful so we took a break. Now we think we can bring something of real substance and excitement."
iHeartRadio LIVE with Ann Wilson Set List:
1. "Barracuda"
2. "Crazy on You"
3. "You Don't Own Me" — Lesley Gore
4. "I Am the Highway" —Chris Cornell
5. "Life In The Fast Lane"
6. "Alone"
8. "Luna" — Tom Petty
9. "Fool No More"
10. "Back To Black" — Amy Winehouse
11. "American Tune" — Paul Simon
Photo: Getty Images
Chat About Ann Wilson Honors Late Icons With Moving Performance Of Their Biggest Hits