Tattoo Stories with Omarion
By Nicole Mastrogiannis
February 2, 2016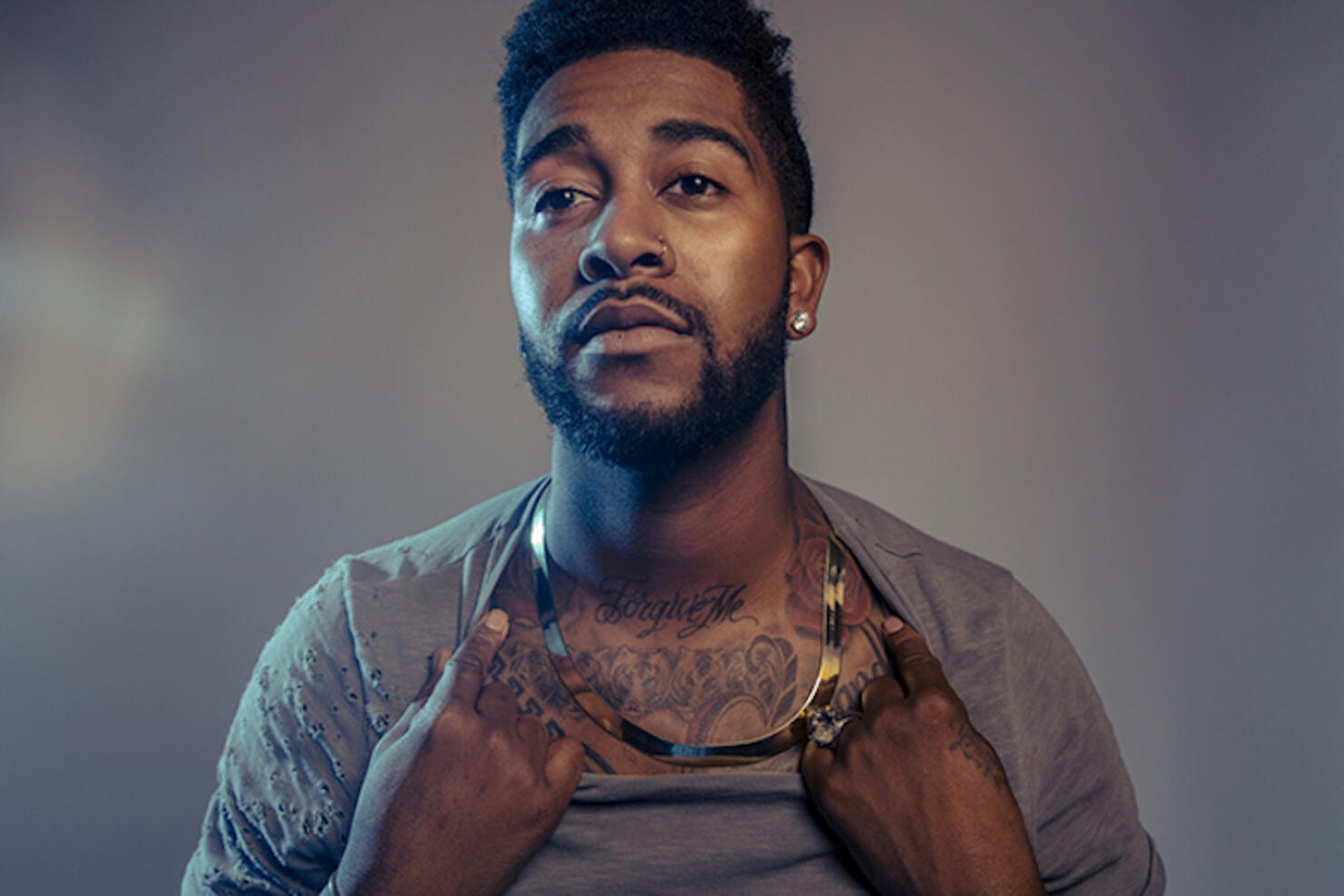 Omarion is getting ready to release his fifth studio album, Reasons, sometime this year. Following his single, I'm Up featuring French Montana, and "I'm Sayin'" with Rich Homie Quan, fans can look forward to even more new music when Reasons is finally released.
The singer tells iHeartRadio of his new album, "'Post To Be' the biggest record that I've had up to date. And just the way that I'm creating music at the moment, and the things that are inspiring me in my life, I'm so happy. And I think you create your best when you're in a space of love and serenity. Or, vice versa, if you had your heart broken, you feel mean, it's like those two intense places you create your best music."
Omarion adds, "Also, just the perception in me, and being a child prodigy, and growing up in the industry, it's really hard for people to erase what they know you for. For them to introduce new ideas to themselves, like, 'Oh, I didn't know he could do that.' Or, 'Oh, I remember that song. But did you hear his new song?' It's hard to maintain being relevant in the music industry. I'm fully understanding of living in my purpose. This album is my fifth album, and there's so many reasons. I want to keep making hits, there's so many reasons. I want to be dubbed and deemed one of the most entertaining artists of this time."
Reasons aside, Omarion has quite a few tattoos. The singer tells us that they are inspired by everything from family, to his career, to art, and more. And it all started when he was 18 years old. The multi-talented musician spills the details about the origins and meaning behind his tattoos in our one-on-one interview with him below.
On his first tattoo - a scorpion on his back:
"First tattoo I ever got is on my back, and it is a scorpion, which is my astrological sign. I'm a Scorpio, and it's holding the world. It might look like it's ripping the world apart, but it's actually holding the world. It was a real representation of perfected imperfection. I was 18. It was a very in-depth and thought-out process. Where I'm from, the tattoo culture is big, so you can't just be gettin' no tattoos that don't represent nothin'. So that's when I decided to get my first tattoo."
On the Lion/Rose tattoo on his right forearm:
"I recently got a new tattoo by a really dope artist named, Jun Cha, he does these black and whites. This is just my first sitting, but it's a lion, and it's a rose, and the lion represents my son. I just had my first child, he's a Leo, so I got the lion, because I was thinkin' to myself if I have more kids, I can't get his face, but then I'm gonna get all my kids' face. And I don't want to do that. So we gonna get his lil' Leo sign. The rose just represents love."
Omarion says that if, one day when he's older, his son wants his first tattoo, he's going to "give him hell for it." He explains, "I'm tryin' a figure out how I'm gonna try to act when, when he says he wants his first tattoo. Like, 'Dad, I want my first tattoo.' I'm gonna give him hell for it, like, 'Why? For what?'" However, the singer's own mother was cool about Omarion getting a tattoo, and he waited until he was 18 to get his first one. He says, "My mom was pretty cool. So I got to kinda do whatever I wanted to do. But I still had to wait 'til I was 18."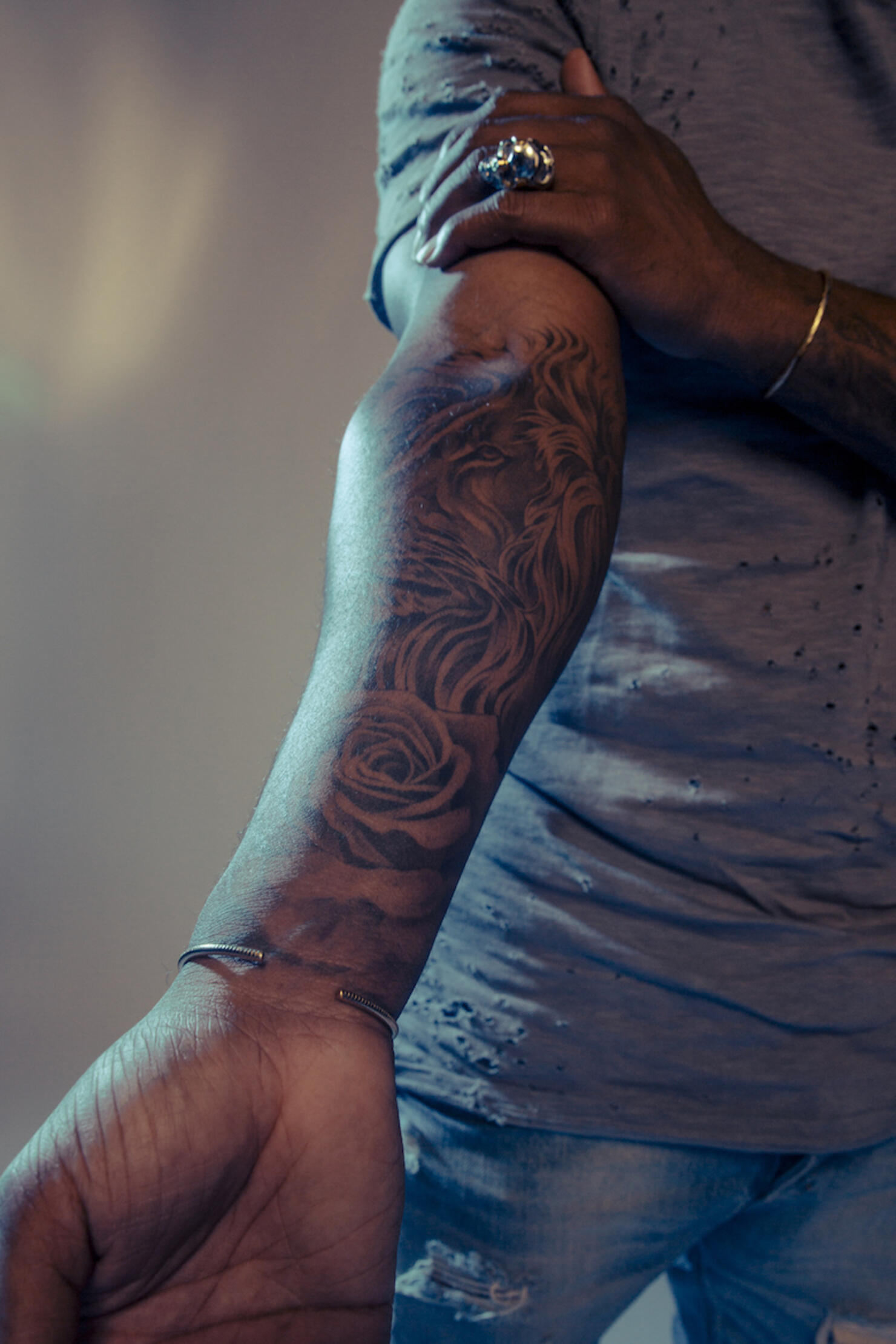 On the young Michael Jackson and Inglewood, California tattoos on his left arm:
On his left arm, Omarion has a tattoo of a young, afro-wearing Michael Jackson, from his Jackson 5 days. The MJ tattoo happens to be one of his most meaningful tattoos, along with his tattoo representing his hometown of Inglewood, California. The tattoo includes palm trees, in addition to the words, "CAL" and "Inglewood."
"On this arm [left], I have a picture of Baby MJ. That infamous picture of him with his Afro, and he's looking off into wherever. But I have a city, I'm from Inglewood, I got the palm trees. When you're from the West Coast, you got West Coast pride. Our culture is so vast, ethnically. It's Spanish side, and the Black side, and there's gangs, and there's so much that just represents the West Coast art. So, kinda like tats."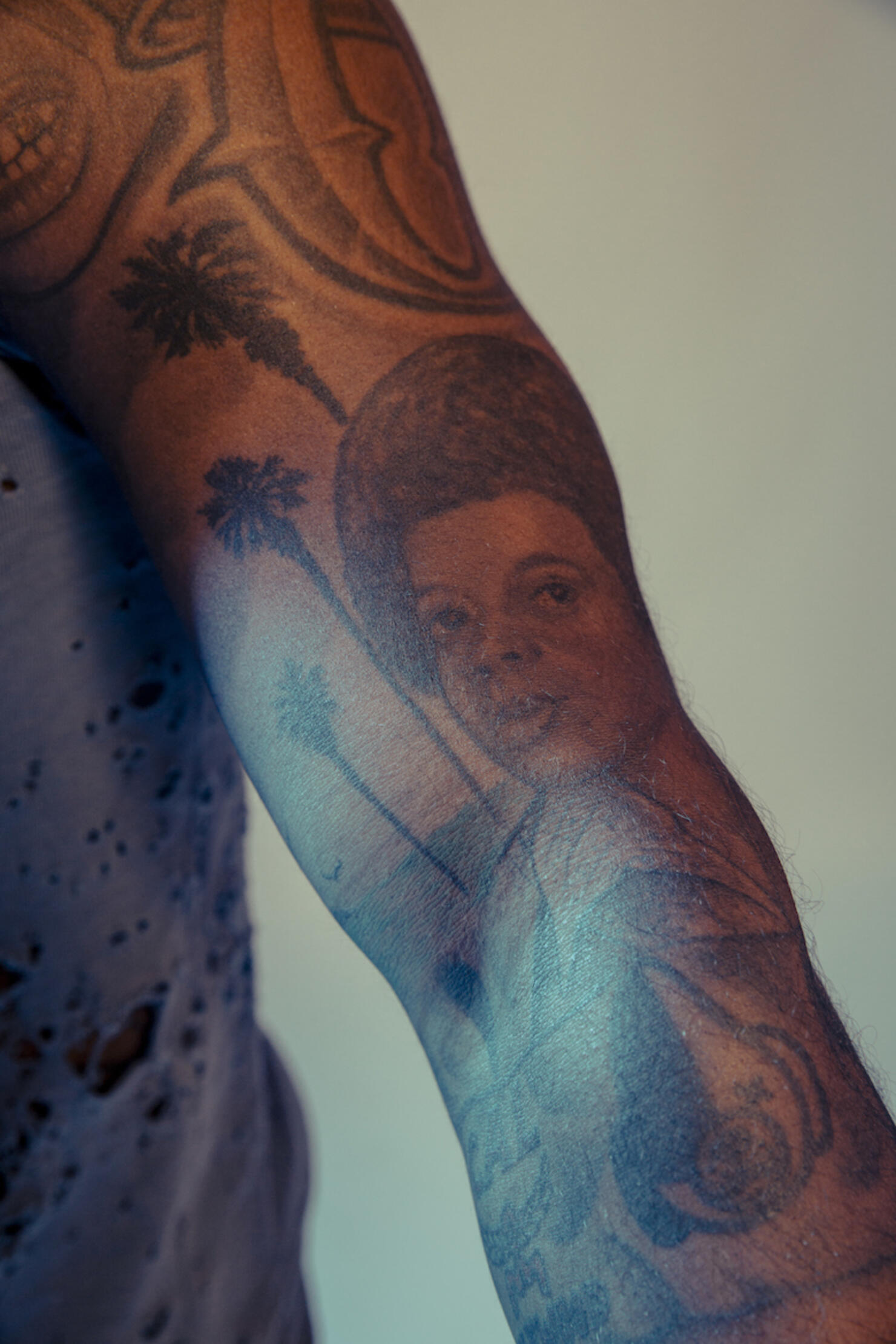 On the Medusa tattoo on his left forearm:
You may not know this about Omarion, but he's very interested in Greek art, hence why he has Medusa tattoo'd on his left forearm under his Inglewood tattoo. In case you're unfamiliar with the story of Medusa, she is a monster with snakes for hair, and if you looked at her, you'd turn to stone. Omarion has taken the story, and related it to life as we know it today, and applied his interpretation into his tattoo. 
"[The tattoo] artist is Double Deuce. This is Medusa. I'm a big fan of Greek art. And I always thought the idea of Medusa was really interesting, because it's kinda true in a way. I mean, it's not like the mythological character and everything. But if you really think about it, some woman, you know, that thing is so good, turn a man into stone, if you know what I'm sayin. 😉 Throw that thing up, you like, 'Damn girl, where'd you get that from?' So, sometimes that happens."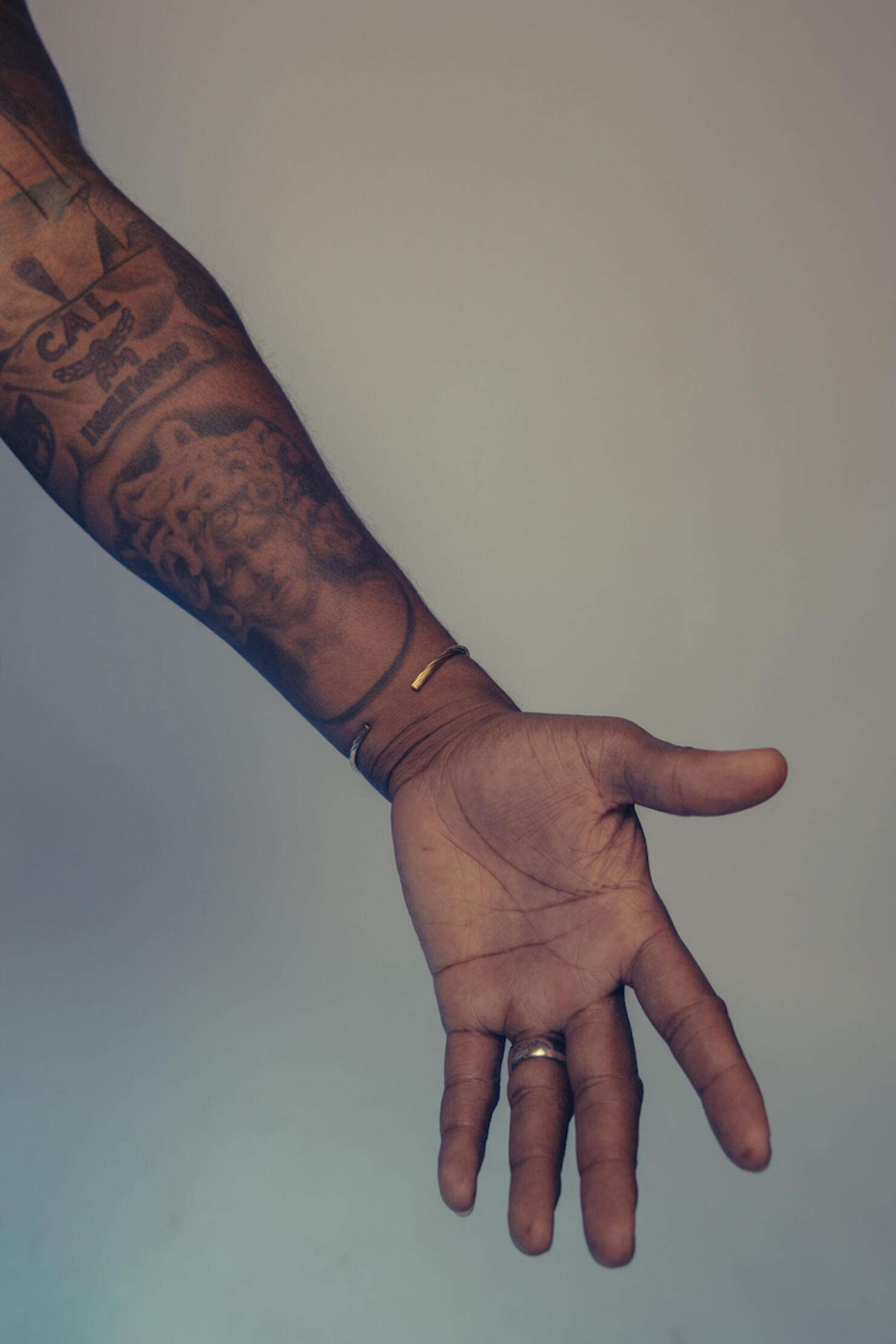 On his "Perfected Imperfection" tattoo on his left bicep:
On his left bicep, Omarion has a tattoo of the words "Perfected Imperfection" in a detailed red cursive font. The singer explains that red his his favorite color. He says, "That's the all red tat right there. That's my favorite color. And I think it really looks dope. It almost appears not like it's a tattoo. It's almost like a henna [tattoo], or something like that."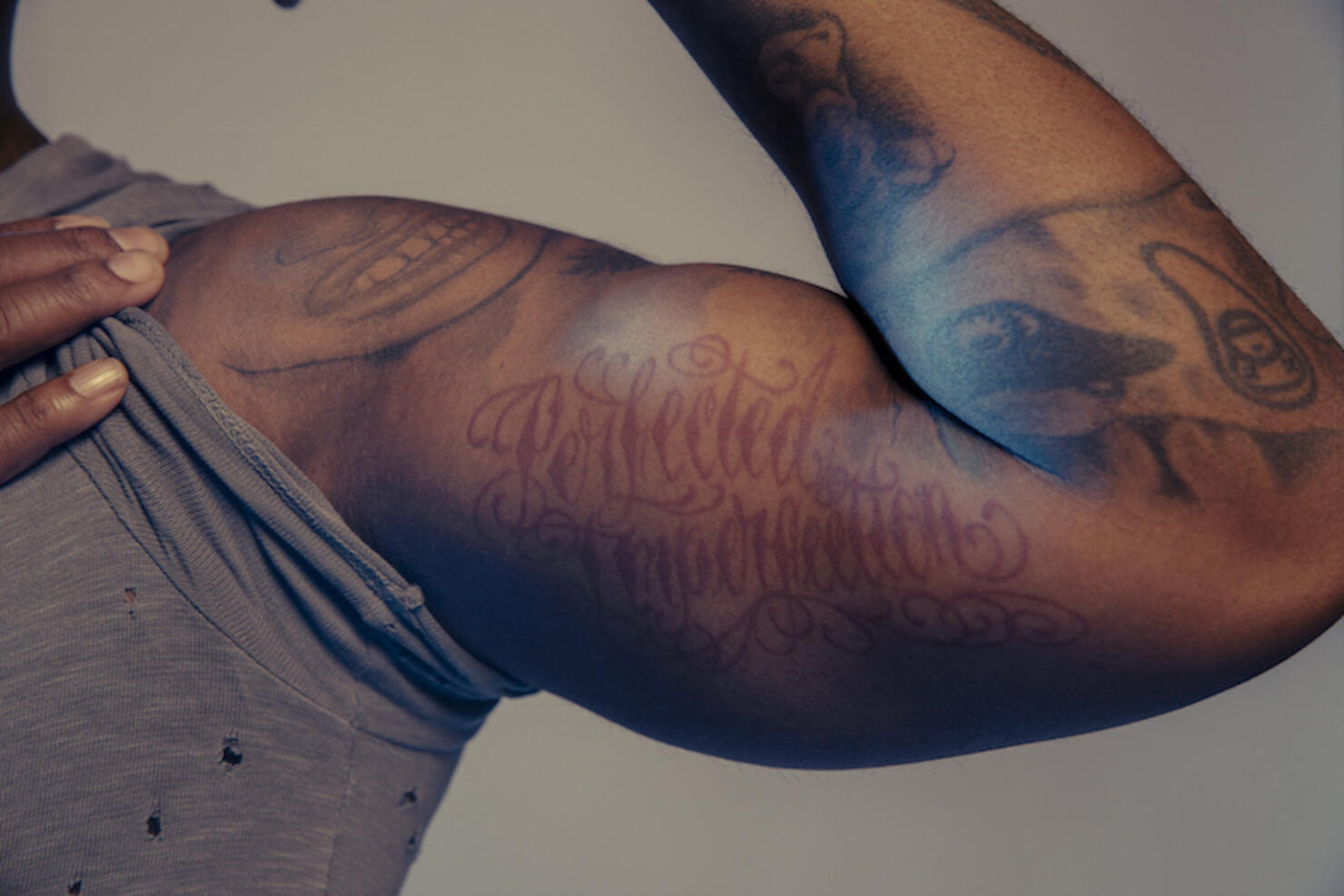 On the African Tribal tattoo on his chest:
Omarion also has a number of tattoos on his chest and at the bottom of his neck. Front and center at the top are the words "Forgive Me," and below it are several tigers. To the left is the Greek Key, and he also has an African tribal design, that came about after learning about his heritage. He says, "This right here is African tribal. I actually did this [ancestry test]. You basically spit in this jar, and you send it to them, and they tell you what you're made up of. And I found out that I'm, I wanna say like 64 percent sub-Saharan African. Now, that's not like a designated place, but higher up, so that's where I'm from. So I got some little African art right here."
On the tigers on his chest:
"I think it means peace, or good energy, or something like that. I like tigers. They're beautiful animals."
On the "Forgive Me" below his neck:
"You know how everyone believes the idea [that] we're all born into sin? Like no one is perfect. So, it's just kinda like a public service announcement. Forgive me for all this."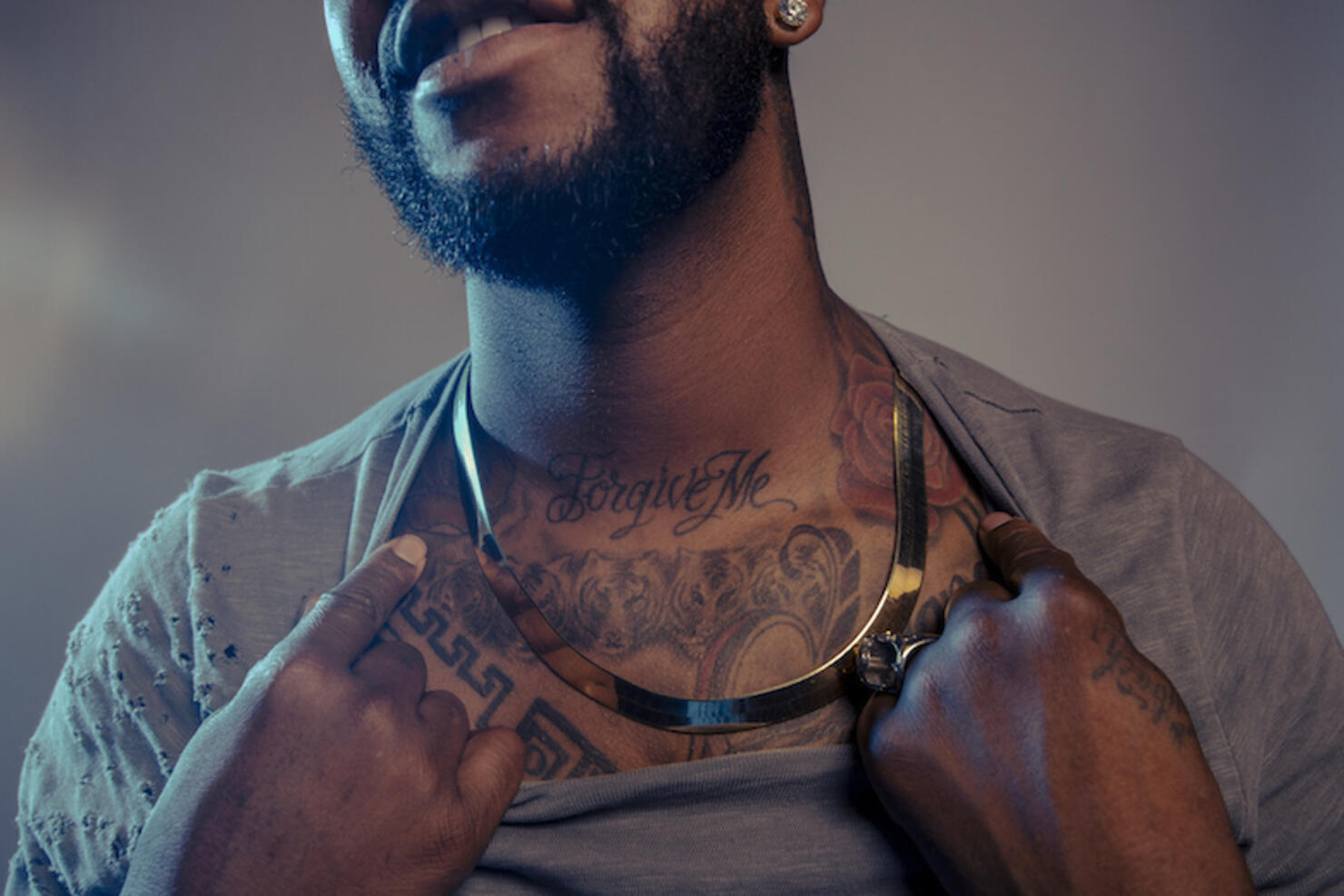 On the Eagle tattoo on his neck:
"The eagle just, the [another one of the] animals that I love. It soars, it sees everything. So eagle on my neck. Boom I'm lookin' at your ass talkin', sayin' something."
Also on the back of Omarion's neck is a tattoo dedicated to his longtime girlfriend Apryl Jones, who is also the mother of his son Megaa, and a daughter who will be born this year. Apryl has Omarion's name tattoo'd on her neck as well. He says, "Apryl, that's my lady. That's who had my first son, my child. We both got matching tattoos."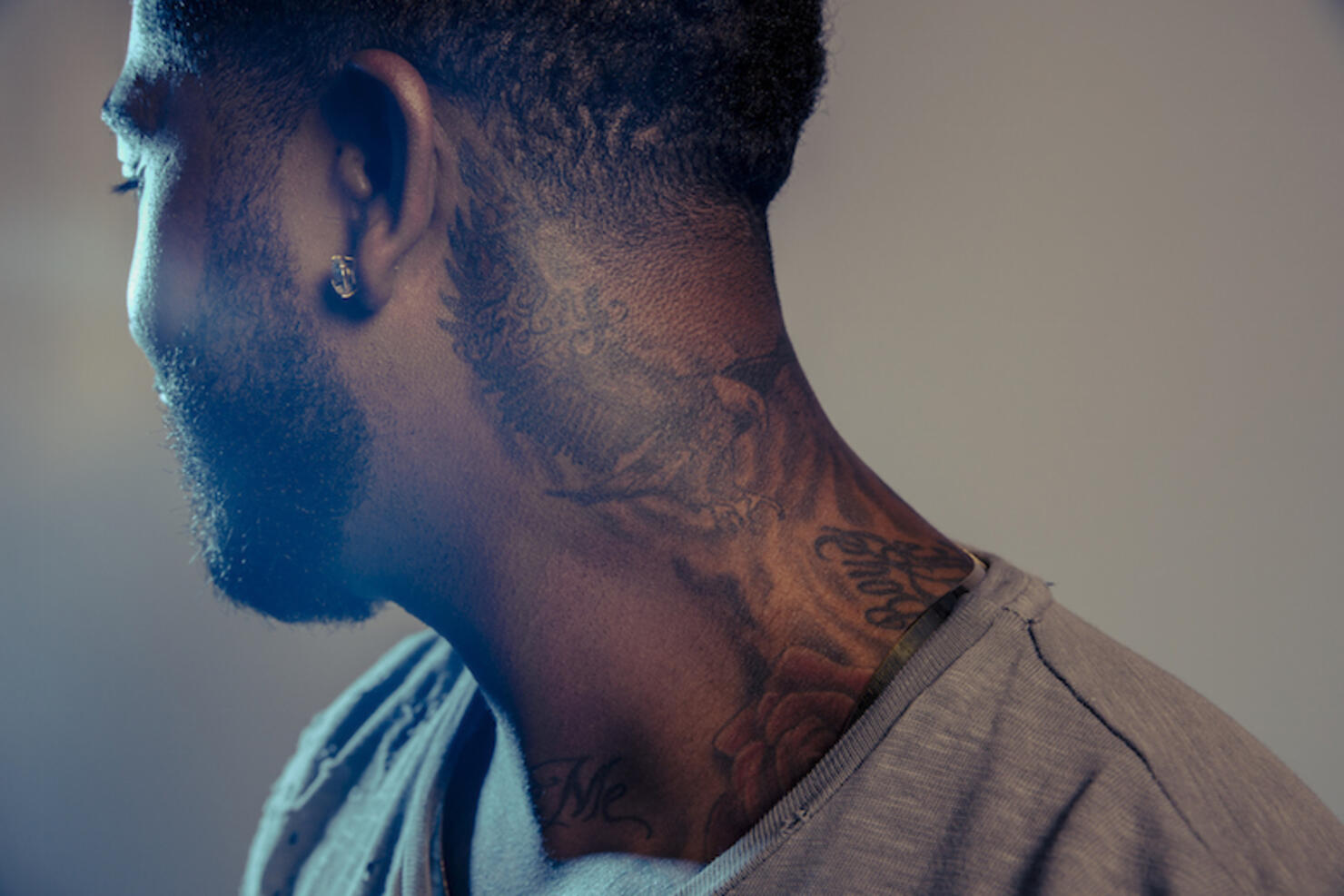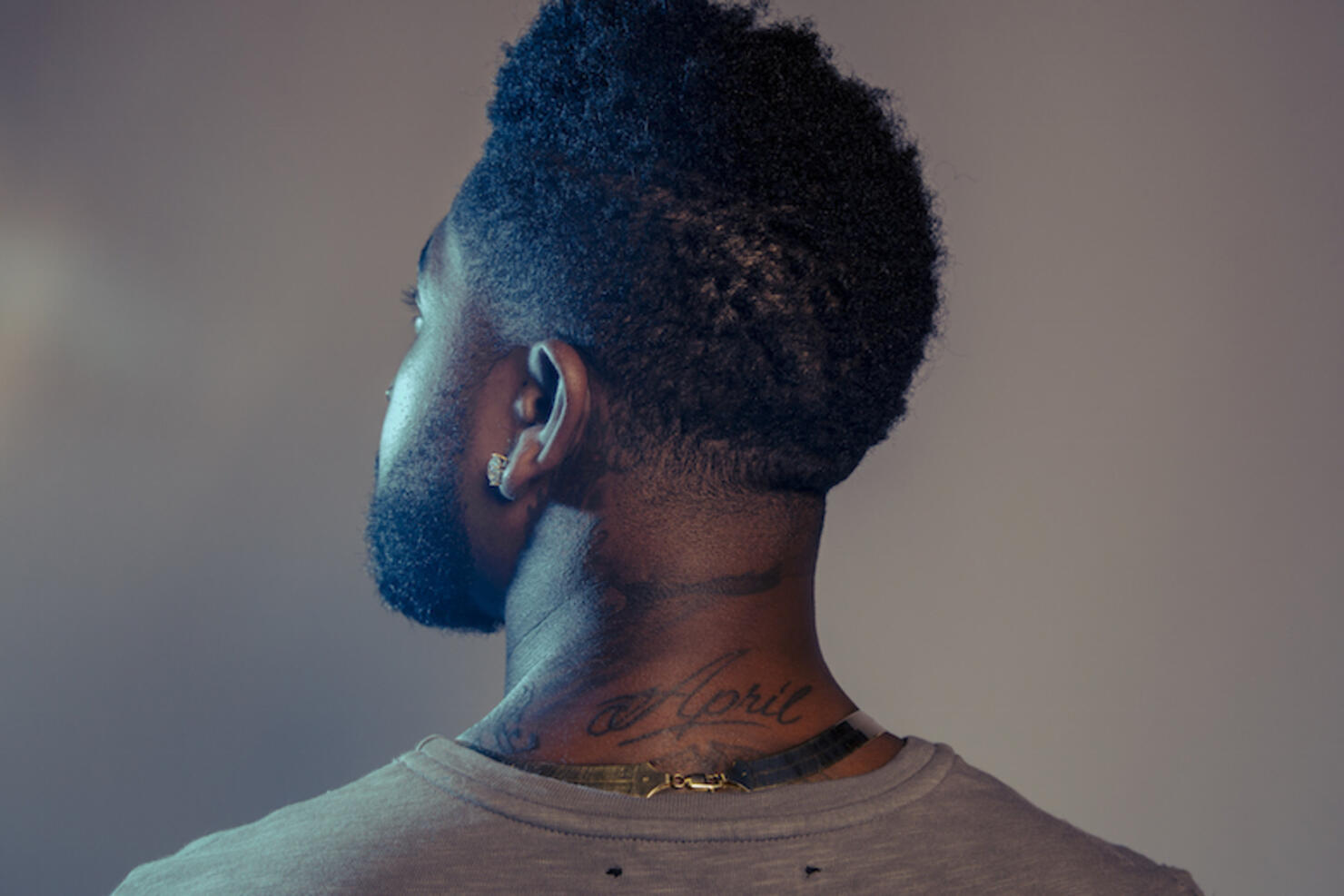 On the "Maybach O" tattoo on his left hand:
Omarion pays tribute to his own name with a few "O" tattoos. On his left hand, between his thumb and pointer fingers is his "Maybach O" tattoo, representing the record label Maybach Music Group. 
"This is the infamous Maybach O. When I signed my deal with Maybach Music, I dealt myself Maybach O. [It was a] really special and important time in my career. I would say it was the real transition. After being a part of so much, after being a part of a group, then being a part of Young Money, and then like, 'Ah, I finally found a home.' [I] finally found a place where I felt most comfortable with spreading my wings at."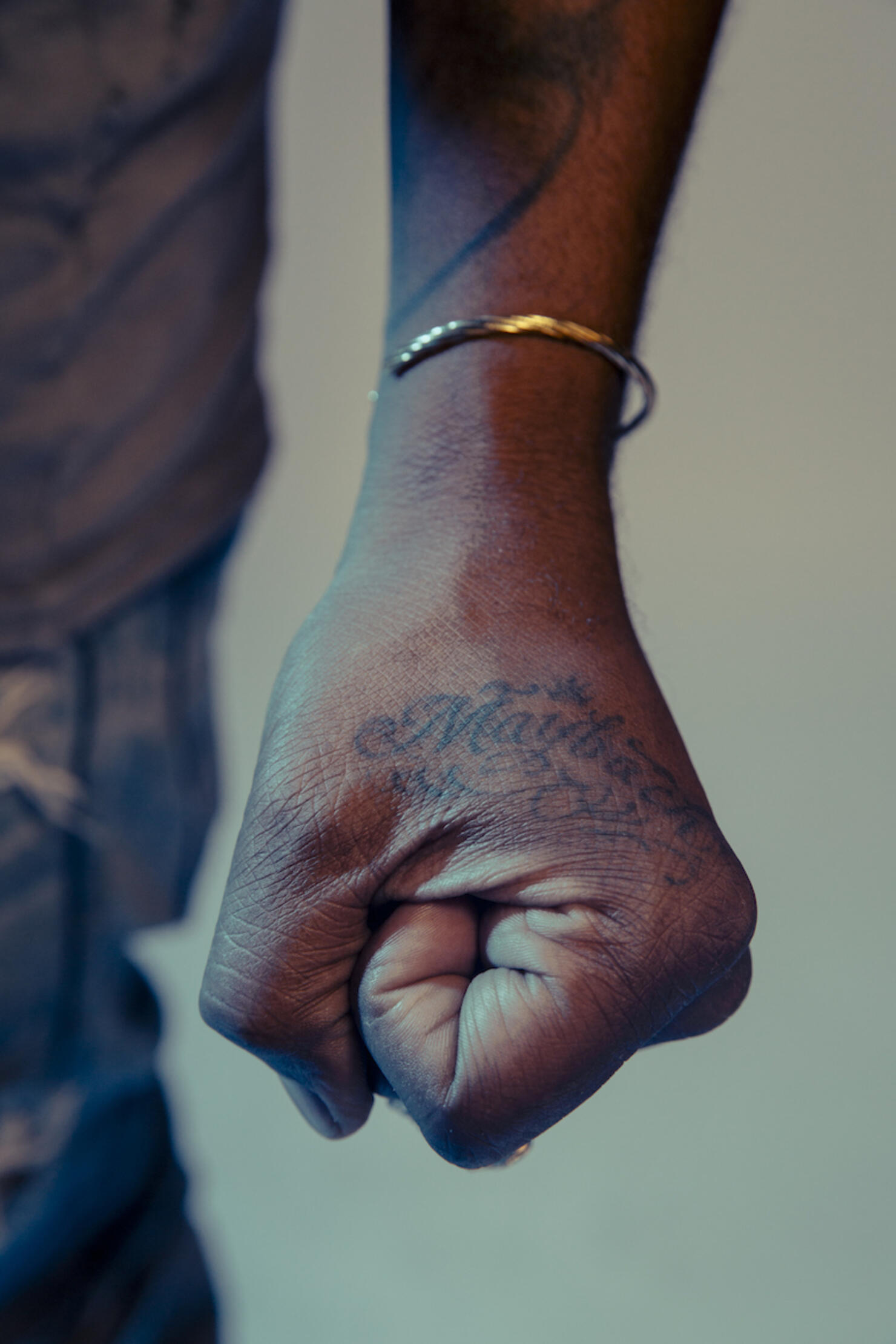 On the portrait of himself and his praying hands tattoos: 
"I got this portrait of myself. That's the other one that [Mr.] Cartoon did, is the self-portrait on myself, and my prayin' hands. It says 'Have faith in God's gift.' And you know, that's just believing in yourself, and believing in your ability, [and] understanding what your purpose is. A lot of people just have jobs, but, you're not really doing the world a justice if you not living in your purpose."
Omarion says that he does plan to get a few more tattoos, but only a few more. He says, "I really like my skin. I really do." He also says that while tattoos are addicting, they are a bit painful. "I was just thinkin' to myself, tattoos are addicting, but for me, it's like the more tattoos I get, the more it hurts."
As for where he would get more ink, he's still deciding if he wants two sleeves or not. He once considered a head tattoo, but realized that people might not be able to see it because of his hair. He says, "I mean, my hair isn't really that low, and my hair just would grow in, so then what if I can't find a barber? I just spent some money on a tattoo nobody can see."