New 'Toy Story 4' Clip Shows Woody And Bo Peep On A Rescue Mission
By Emily Lee
February 15, 2019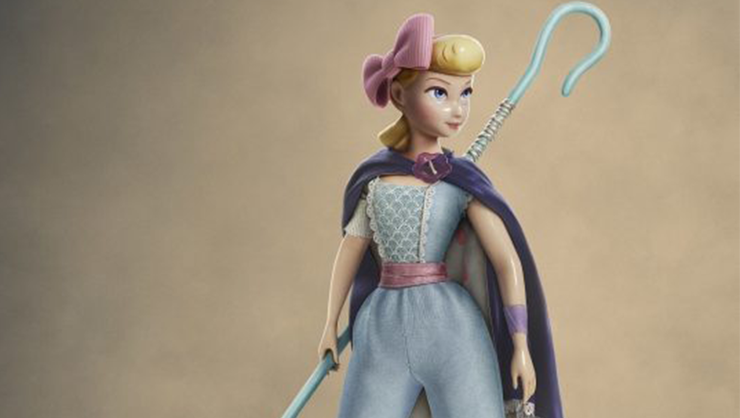 As the premiere of Toy Story 4 inches closer, Disney and Pixar giving fans a closer look at the highly anticipated addition to the beloved animated film franchise. On Friday's Good Morning America, a brand new clip debuted and our favorite toys have another adventure of their sleeves. The biggest reveal of all? It looks like the toys are headed back to Andy's house!
Annie Potts, the actress who voices Bo Peep, was on hand to introduce the clip, showing Bo Beep and Woody embarking on a rescue mission to save a missing toy. "Bo's got some 'tude now," the 66-year-old actress joked. Potts also teased that Toy Story 4 will address the love triangle between Woody, Bo, and Buzz Lightyear from the first film. "I think she's made a choice now. I can only reveal so much."
While Disney and Pixar have remained pretty tight lipped about the plot of Toy Story 4, Entertainment Weekly reports that the movie "turns into a road trip adventure when Bonnie adds a reluctant new toy to the room named Forky." In some of the other teasers, it appears Woody, Buzz, and the rest of the gang will be visiting a carnival at one point during the movie.
The voice actors have also kept pretty quiet about what's to come in the newest addition to the Toy Story series. They have made it clear, though, that fans are in for a real treat. "I gotta resist getting emotional," Tim Allen, who plays Buzz, said during an appearance on The Talk. "I don't want to give it away, but this is an incredibly great story. It is so emotional, it's so funny, it's so big, the idea they've come up with, I'm startled. I couldn't even get through the last scene."
"I just can't do it. I can't give any more away. They've got great characters but a couple of scenes toward the end were really hard to get through," Allen concluded.
So, I guess we'll be packing our tissues for this one. Toy Story 4 hits theaters on June 21.
Chat About New 'Toy Story 4' Clip Shows Woody And Bo Peep On A Rescue Mission