T.I. Releases Floyd Mayweather Diss Track, 50 Cent Reacts
By Peyton Blakemore
February 15, 2019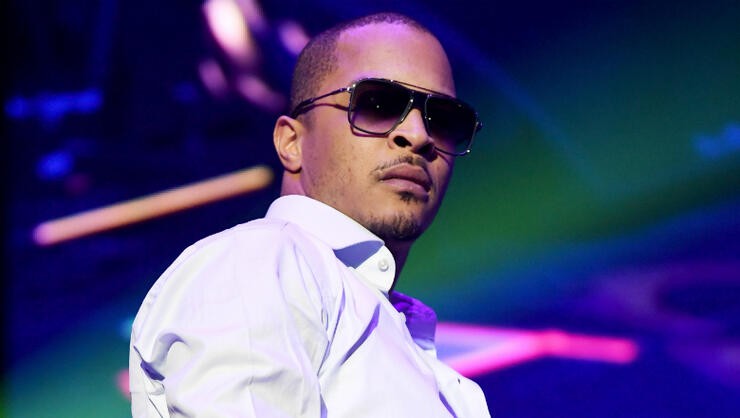 T.I. is not down with Floyd Mayweather rocking Gucci amid the on-going Gucci boycott.
On Thursday (February 15), the "Jefe" rapper dropped a song titled "F**k Ni**a," that slammed the legendary boxer for his decision to support the brand despite their recent blackface sweater scandal. While Tip didn't call Floyd out by name on the track, the cover art for the song shows Floyd wearing the infamous Gucci sweater with the word 'F**K NI**GA" under it.
On the song, Tip raps, "Da*n, it must suck to be a f**k n***a/ Old greedy ass n***a only thinking about his self/ He get the fame, he get the wealth people are struggling, who did you help?" In another bar, he says, "I don't give a f**k how much money you have, what did you do with it, how did you use it to make an impact and influence the wealth for the better? You rather go buy jewelry, whatever."
Hours after the song dropped, Floyd addressed T.I.'s diss track in a lengthy statement that accused those who are boycotting the brand of "fake advocacy." While he didn't mention T.I. by name, he did bring up the three month Gucci boycott the Atlanta rapper called for last week, saying, "Why would we (as a people) agree to a temporary boycott of Gucci for merely 3 months if what was done caused so much strife? Why wouldn't we agree to a permanent boycott of Gucci as well as all other merchandise that fall under the Kering ownership, such as YSL, Balenciaga, Alexander McQueen and more?" Floyd captioned his statement: "These people are playing hopscotch. First, they're supposedly boycotting the NFL but as soon as the Super Bowl came around, they were either at the game, watching it on TV or throwing Super Bowl parties. Last week, it was R Kelly, this week it's Gucci. People boycott for trend but turn around and still shop at H&M and watch the NFL."
Adding a little humor to the situation, the undefeated boxer's former best friend 50 Cent, reacted to T.I.'s song, and Floyd's statement with a shady Instagram post. In an effort to mock Floyd, the Power producer shared a photo of an error-filled hand-written note that he claimed was written by the boxer. "😆champ must have heard that TI song he big time mad. LOL #bransoncognac #lecheminduroi #bellator," he captioned the photo.
As previously reported, Gucci came under fire last week after releasing a sweater design that many called "racist," as it appeared to evoke racist imagery, more specifically the wool balaclava jumper resembled blackface. While the Italian brand issued an apology, saying they they have discontinued the sweater, many were outraged that the garment made it past the design room floor. One of the first to speak out was Spike Lee, writing on Instagram: "I,Spike Lee Of Sound Mind And Body Will No Longer Wear Prada Or Gucci Until They Hire Some Black Designers ' To Be In Da Room When It Happens'. It's Obvious To Da Peoples That They Don't Have A Clue When It Comes To Racist, Blackface Hateful Imagery. WAKE UP. Ya-Dig? Sho-Nuff. And Dat's Da 'Coonery And Buffoonery' Truth,Ruth."
T.I. later announced that he was joining the Gucci boycott, and asked his followers to do the same. "As a 7 figure/yr customer & long time supporter of your brand I must say...Y'all GOT US f**ked UP!!! APOLOGY NOT ACCEPTED!!!!" he wrote on Instagram. "We ain't going for this 'oops my bad I didn't mean to be racist and disrespectful towards your people' sh*t!!! Y'all knew wtf y'all was doin and WE AINT GOING FOR IT!!! We ALL GOTTA Stop buying,wearing,and supporting this piece of sh*t company And ALL PIECE OF SH*T COMPANIES UNTIL THEY LEARN TO RESPECT OUR DOLLARS & VALUE OUR BUSINESS!!!! Our culture RUNS THIS SH*T!!! We (People of color) spend $1.25 TRILLION/year (but are the least respected and the least included)and if we stop buying ANYTHING they MUST correct any and ALL of our concerns. That's THE ONLY WAY we can get some RESPECT PUT ON OUR NAME!!!! I Don't Give a F**k if I gotta wear Target brand sh*t.... #F**kGucci."
He later added a graphic of a call to action that listed what his followers should do to boycott the brand. "THIS IS THE AGENDA!!! If you go against the movement. It won't go unnoticed," he wrote of the image that said stop buying or wearing Gucci for the next three months. "If you wit US....REPOST!!! #USorELSE✊🏽✊🏾✊🏿✊🏻✊🏼✊🏽 #🖕🏽Gucci."
Photo: Getty Images
Chat About T.I. Releases Floyd Mayweather Diss Track, 50 Cent Reacts