Ezra Koenig Makes Mandala-Shaped Pancakes In "Harmony Hall" Video: Watch
By Katrina Nattress
February 20, 2019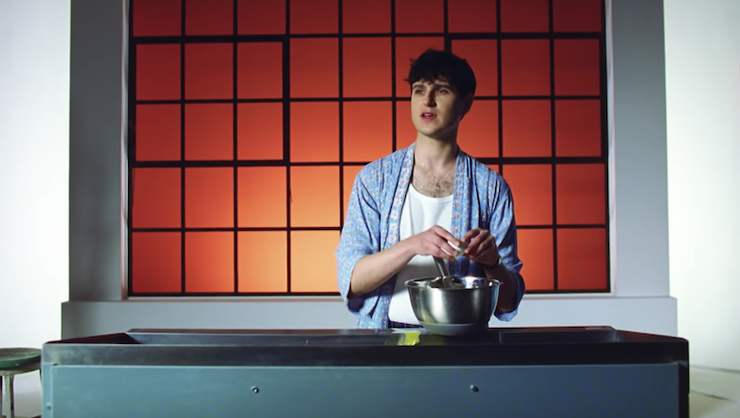 While we wait on Vampire Weekend's February song delivery, the band gifted us with the visuals for its latest single "Harmony Hall." The video features frontman Ezra Koenig making some pretty fancy mandala-shaped pancakes as a bright green snake slithers over melons, kiwis, and wouldn't you know it — pancakes — on a wooden table.
Though the singer's cooking show is the clip's main focus, it jumps around to scenes of the full band playing in a candlelit room, and a girl jumping around with her hair spinning around her in a transfixing sort of way, among other quick snippets. Once the delectable breakfast is all ready, Koenig invites his friends over to dine and we see the band members munching on the artisan sweets. (Eagle-eyed fans may also spot a cameo from actor Jonah Hill, which is perhaps a teaser to Vampire Weekend's upcoming "Sunflower" video?)
Watch the "Harmony Hall" video below, and will someone please send it to David Crosby so he can finally figure out who Vampire Weekend is?
Vampire Weekend is slated to release its fourth studio album, Father of the Bride, this spring and embark on a subsequent tour in May. Check out tour dates here.
Photo: YouTube
Chat About Ezra Koenig Makes Mandala-Shaped Pancakes In "Harmony Hall" Video: Watch