Serena Williams Picked Up The $200K Bill For Meghan Markle's Baby Shower
By Emily Lee
February 20, 2019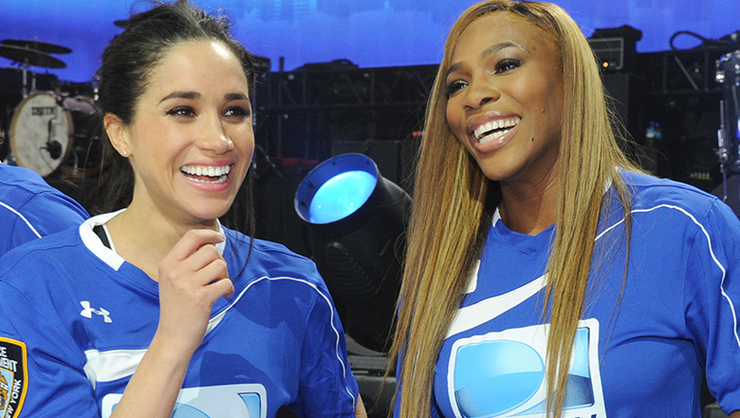 Serena Williams isn't just the G.O.A.T when it comes to tennis. She's the G.O.A.T when it comes to friendships, too, according to a new report from Vanity Fair. The tennis champ picked up the whopping $200k bill for Meghan Markle's glamorous New York City baby shower on Wednesday (Feb. 20) and, um, where can we find a friend like Serena?
The celebration is being held in the $75,000-a-night penthouse suite at The Mark hotel on the Upper East Side of Manhattan. According to The Mark's website, the suite is "the largest hotel penthouse suite in the USA at more than 10,000 square feet including 2,500 square feet of rooftop terrace overlooking Central Park, the Metropolitan Museum of Art and beyond." Meghan's home for the week takes up the top two floors of The Mark and includes 5 bedrooms, 4 fireplaces, 6 bathrooms, 2 powder rooms, and 2 wet bars. Oh, and the living room can be transformed into a "grand ballroom," just in case you need that kind of thing. Casual!
While Serena has not made any explicit mention of Meghan or her baby shower on social media, she did share a photo to Instagram from The Mark's penthouse suite. She appears to be staying with the Duchess at The Mark for the duration of her visit to NYC.
Not only did Serena foot the bill for Meghan's shower, she reportedly planned the whole thing. Vanity Fair reports that the shower will have a flower-arranging lesson, as well as a dessert-tasting experience led by the The Mark's head chef, Jean-Georges Vongerichten.
In addition to the lavish party, Meghan reportedly flew to the U.S. on a private jet. Don't worry, she didn't spend any British taxpayer money on the trip. Another friend is said to have lent Meghan the private jet and picked up the $100,000 price tag for the Duchess.
Despite royals traditionally opting out of throwing baby showers, Meghan is beating to the sound of her own drum as she prepares to welcome her first child. "As an American, she was very excited to have a baby shower thrown for her. I think she'd have felt she was missing out if she didn't have one," a source told Vanity Fair. "It's been such a fun time for her, she is with her oldest friends in the city she loves and really enjoying herself."
Serena wasn't the only famous friend on hand at The Mark on Wednesday, either. Amal Clooney, Gayle King, Jessica Mulroney, Daniel Martin, and Abigail Spencer were all photographed arriving for the celebrations.
Photo: Getty
Chat About Serena Williams Picked Up The $200K Bill For Meghan Markle's Baby Shower