Jussie Smollett Arrested In Chicago, Accused of Faking Attack
By Scott Caswell
February 21, 2019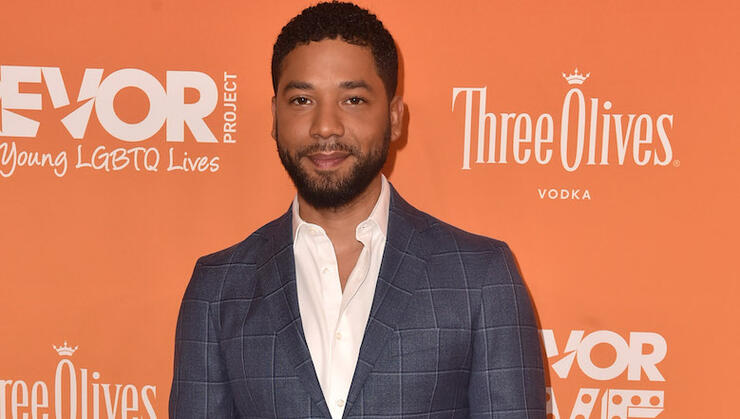 Empire actor Jussie Smollett is under arrest and in custody this morning (February 21), for allegedly filing a false police report claiming he was the victim of a hate-crime attack in Chicago, according to police spokesman Anthony Guglielmi. Smollett is due in court this afternoon for a bond hearing at 1:30 p.m. CT.
The police statement read, "Jussie Smollet is under arrest and in custody of detectives. At 9am at Chicago Police Headquarters, Supt, Eddie Johnson, Commander of Area Central Detectives Edward Wodnicki will brief reporters on the investigation prior to the defendants appearance in court."
According to the Cook County State's Attorney office, Smollett was charged Wednesday with felony disorderly conduct for the allegedly false report he made with Chicago police on January. 29.
Smollett's attorneys, Todd Pugh and Victor Henderson, said in a statement via the Chicago Tribune, "Like any other citizen, Mr. Smollett enjoys the presumption of innocence, particularly when there has been an investigation like this one where information, both true and false, has been repeatedly leaked. Given these circumstances, we intend to conduct a thorough investigation and to mount an aggressive defense."
As previously reported, the Empire star claimed he was assaulted in Chicago on January 29 by two men wearing ski masks. He said he had just arrived in the city from New York and made a late-night run to a Subway when someone yelled: "Aren't you that f**got 'Empire' n**ga?" Jussie claimed the two attackers then proceeded to jump him, put a rope around his neck and poured bleach on him. However, following a number of inconsistencies in his story, it is now believed the 36-year-old actor paid his alleged attackers to jump him.
Chat About Jussie Smollett Arrested In Chicago, Accused of Faking Attack