Simple Creatures Get Psychedelic In 'Strange Love' Video
By Katrina Nattress
February 21, 2019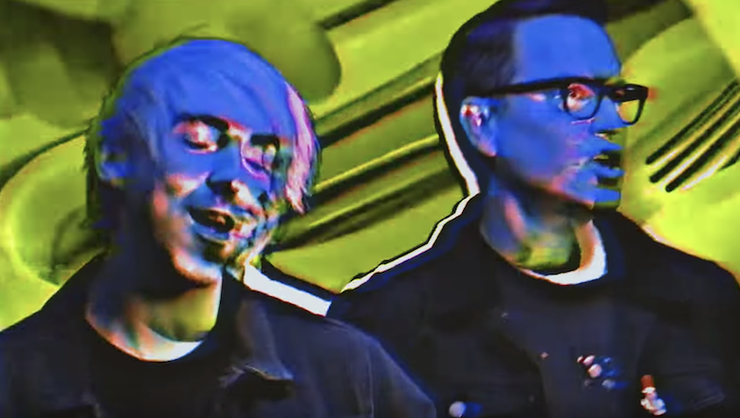 On Thursday (February 21), Simple Creatures dropped the trippy video for their new single "Strange Love." One YouTube user commented "When you and your dad do acid," and the sentiment is pretty spot on. The clip shows Mark Hoppus and Alex Gaskarth harmonizing "Strange love/ Don't let the madness change us/ All of the good vibrations/ Roll on for one more," during the chorus while the blink-182 and All Time Low frontmen dance around a kaleidoscopic screen.
"Strange Love is the proverbial foot-kicking-down-the-door to the house of Simple Creatures," Gaskarth said of the band's debut EP of the same name in a release. "We picked these songs to represent everything that this project is about, to defy expectations and to showcase the stylistic choices we set out to make from its inception. The approach to writing was, 'whatever makes us feel like we're way outside of our comfort zone.' We weren't afraid to push each other and strive to get stranger."
Strange Love is slated for a March 29 release and will feature six songs, including the title track and lead single "Drug."
Watch the "Strange Love" video below.
Although Mark's launching this new project, blink-182 is still hard at work on its eighth studio album, which is slated to come out this year. Drummer Travis Barker recently spoke about the record, comparing it to the band's 2003 self-titled album.
Photo: YouTube
Chat About Simple Creatures Get Psychedelic In 'Strange Love' Video