Lizzo Slays Miley Cyrus & Mark Ronson's 'Nothing Breaks Like A Heart'
By Connor Hachey
February 23, 2019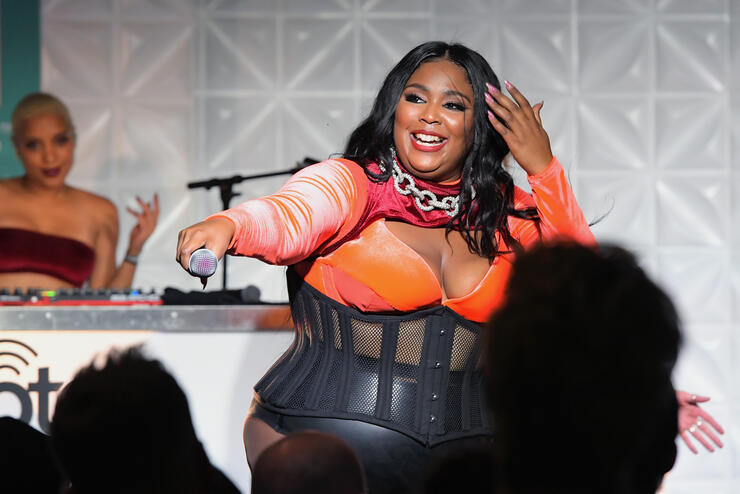 Is there nothing this flute playing, rapper extraordinaire can't do!? Lizzo stopped by BBC Radio 1's live lounge across the pond in the United Kingdom to perform a cover of Mark Ronson and Miley Cyrus' "Nothing Breaks Like A Heart."
Watch below as she kicks off her personal, soulful take on the track with a breathy "Hallelujah" overtop an organ toned introduction. Lizzo definitely leaves no emotion behind as she laments a broken heart while crooning the lyrics to Miley Cyrus' most recent collaboration. Also note the lyrical liberty she took while changing one line to "nothing breaks like my heart."
Lizzo, described as one of Jimmy Fallon's "favorite new artists," has recently been running the talk-show circuit with high energy performances of her new song "Juice!" The track is set to be featured on Lizzo's upcoming album "Cuz I Love You" this April.
The music video to the song references an iconic late night show appearance by Madonna, where she swears and shocks host David Letterman. Lizzo opened up on how she inspired the vision for the video with MTV.
I have to give credit to my creative director and director…we love Madonna in this family and they actually showed me the clip for reference and they were like this was kind of the attitude of it. There was something about…late night is so different now. Back then I just felt like when an artist would come out, especially when an artist were a little bit more not in the spotlight, no one knows there every move from social media and they got to do ridiculous s— and then they would just like come out of that haze of ridiculousness and be on television, live TV. There was something really honest about how not with the s— Madonna was. I feel like we wanted to bring that alive in 'Juice.'
Chat About Lizzo Slays Miley Cyrus & Mark Ronson's 'Nothing Breaks Like A Heart'