Tattoo Stories with Adam Lambert: Tributes to Queen, His New Album & More
By Nicole Mastrogiannis
June 30, 2015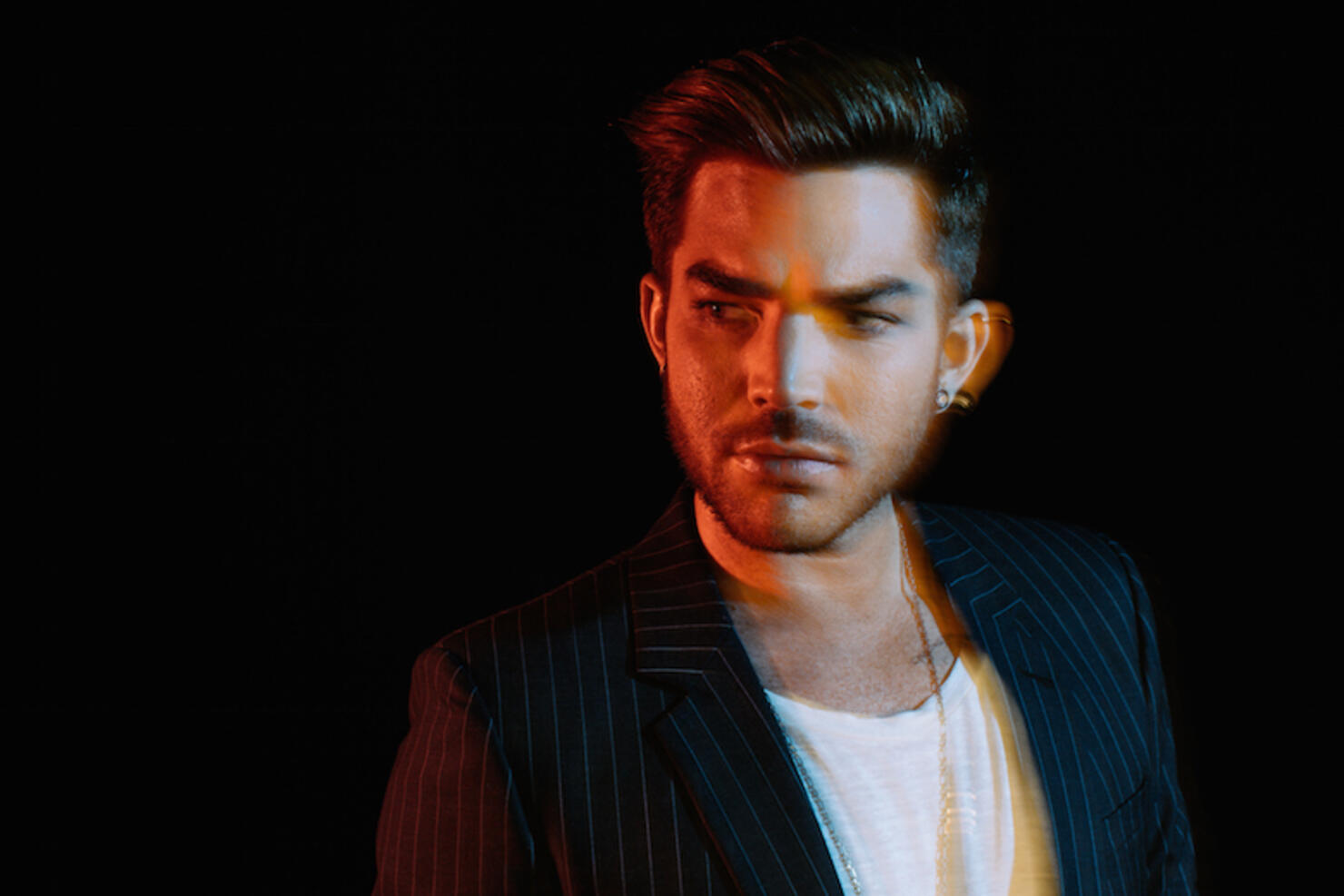 Adam Lambert just released his brand new album The Original High — his third studio album — and we cannot stop listening to it!
The American Idol alum tells iHeartRadio of his new album and its lead single "Ghost Town," "It's out! I'm thrilled. I mean I love all the tracks obviously. The single right now is 'Ghost Town' and I love it, and I'm excited that people are digging it and listening to it in their car, and on the treadmill, and at the club. I mean, that's what I want. I want to connect people with music and I'd love to go tour next year and put something together. That's my 'original high,' is singing, so I've got to get the means to do it. And a great album hopefully will connect me to my audiences and give me more opportunities."
The Original High is boasted by its lead single, "Ghost Town." The song is a bit different from what we've heard in the past from Adam, but we're totally loving it! Lambert tells us that the song "almost kind of puts two different styles together, which I think is really interesting. It's like multiple personalities."
Well, any card-carrying #Glambert knows that Adam Lambert has quite a few tattoos. In fact, his arms are home to a lot of unique artwork, and the singer opened up about all of his tattoos and what inspired them.
Adam Lambert's arms may be covered in tattoos now, but he didn't get his first tattoo until he was around 27 years old. In fact, he got his first tattoo, an Egyptian eye, right before he started American Idol, thinking that maybe it would protect him while on the show in front of the camera.
Adam Lambert on his first tattoo - the Egyptian Eye:
"My first tattoo was this Eye of Horus Egyptian thing, and I got it actually right before I started '[American] Idol.' I make up a reason for things, and I was like, 'yeah, I need an eye of protection because I'm going to be seen on camera and this will protect me.' And I also like really love Egypt. I've always loved Egypt."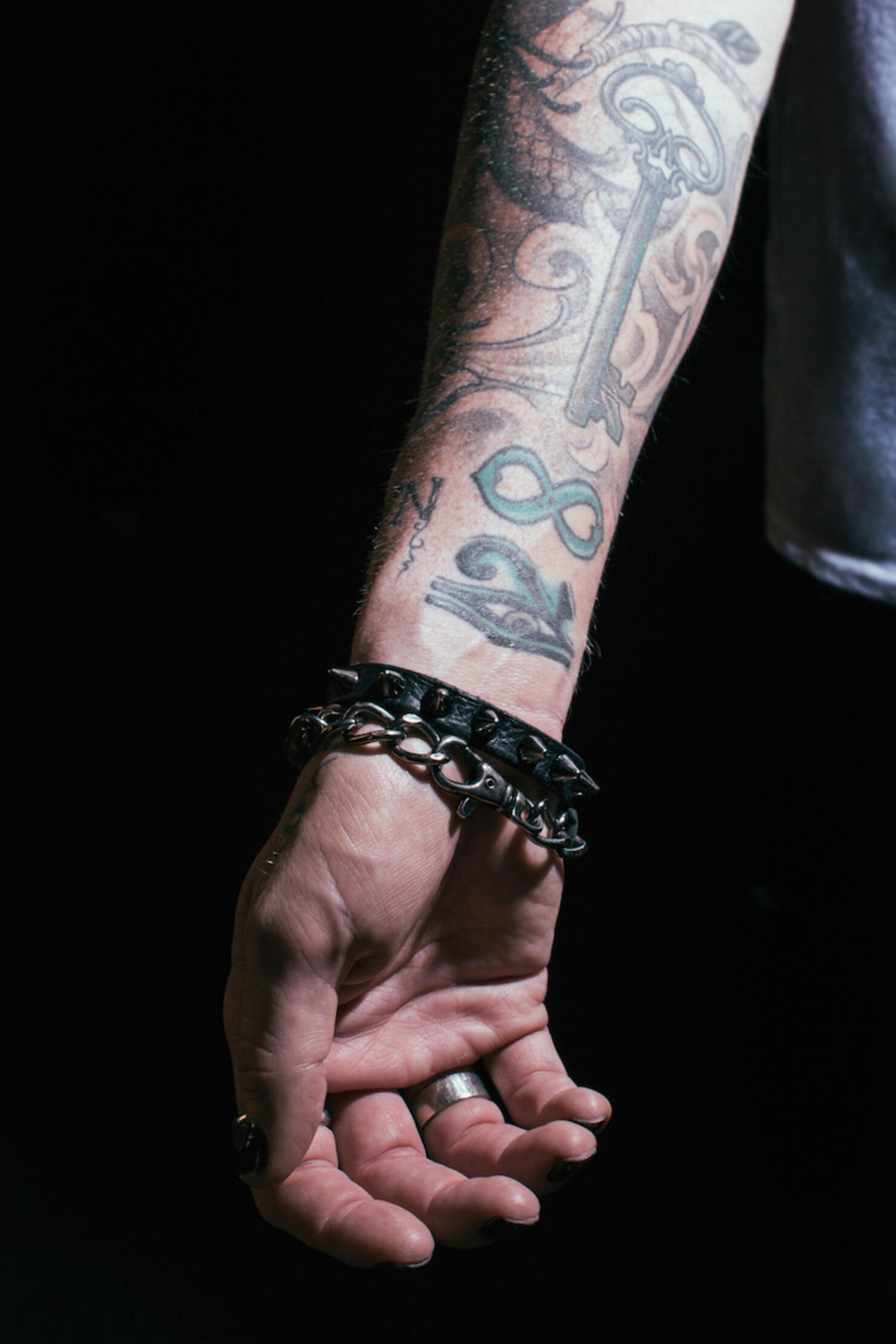 On his Infinity tattoo:
"That to me kind of symbolized the exchange you have with an audience in performing. It's an energy thing. You throw them something, they throw something back to you. It's this like ... I don't know, it feels kind of like an infinity loop."
On his old-fashioned Key Tattoo located on his left forearm:
"This one, the key, it was from a piece of art that I bought from a friend; this guy named Hans. And this was one of the elements in the piece, that I thought was just really cool, and I was like, 'I'm gonna tattoo that. I like that key.' So I did!"
On his "Musica Delenit Bestiam Feram" tattoo:
"I feel like music has this thing in life, where it can alter anything. It can alter your mood, no matter what it is. If you're having a bad day, you can put on certain music that makes you feel better. If you're stressed and you just need to relax, you can put on relaxing music. You can put on sexy time music. You can put on workout music that motivates you. It changes you. And this says it 'soothes the savage beast,' so it can kind of calm the fire inside, or whatever."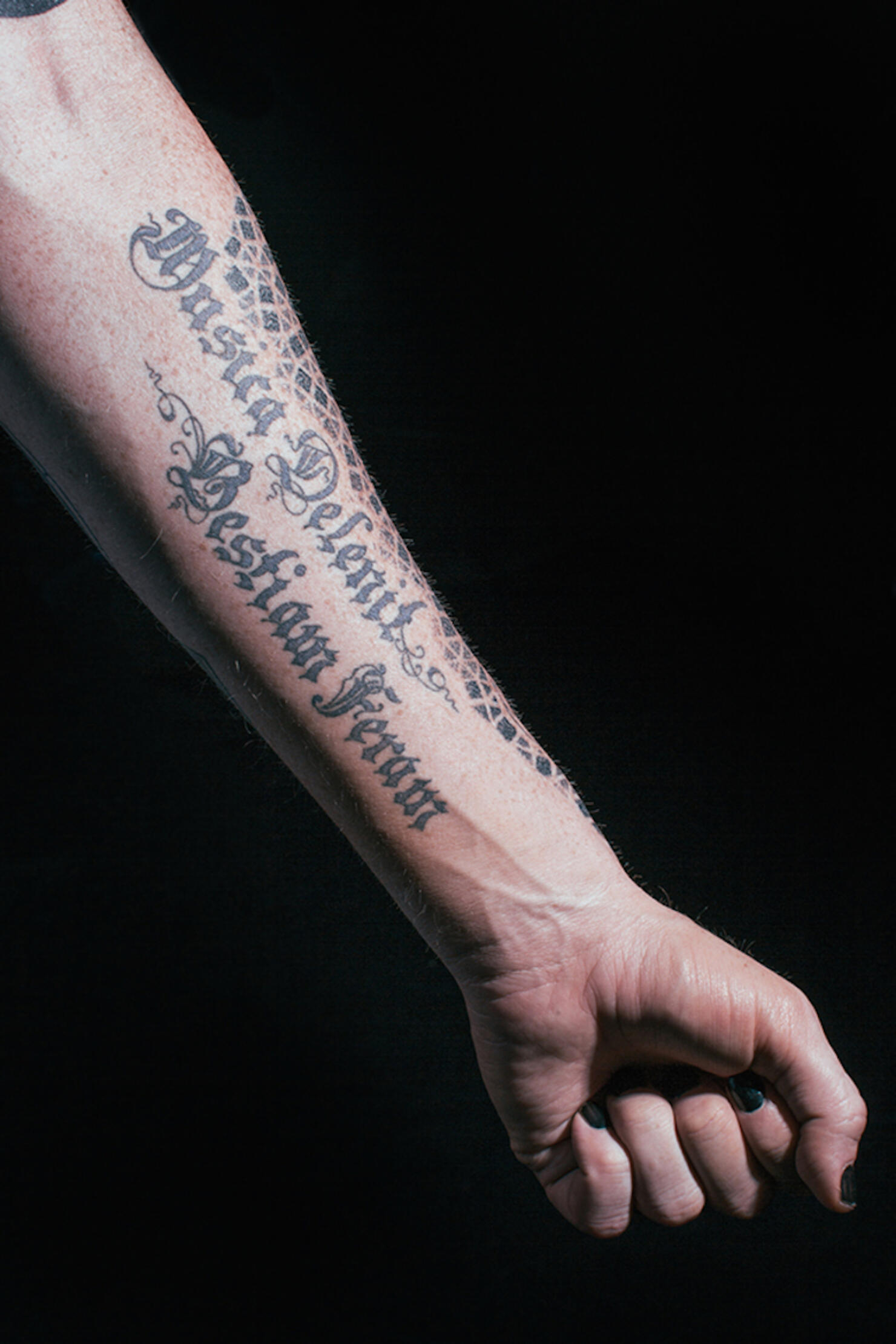 On his Greek God tattoo & Baroque-inspired design:
"I got this in Hong Kong. It's kind of like Dionysus, sort of. It's a Greek myth and that was the God of — there's a lot of different interpretations of it. It's like kind of a she, kind of a he. Dionysus was like the God of parties and good times, and art and creativity, and wine. Then he's blowing this air, or water, rather. Then this girl named Kim in LA created all of this other art to kind of connect everything." He adds, "I was really inspired by baroque imagery, like old, kind of like a lot of stuff you see in Paris when you walk around. A lot of the architecture and the carvings and things like that."
Additionally, Lambert explains, "We got into this elbow area on this baroque thing. The reason why it's so rich in tones is because she does a lot of different ... like we did five or six different sittings for this one. She'll let it heal and then she'll go darker or lighter so that she can pull out the depth of it. And so when we got into this elbow area it was pretty hardcore. I was sweating. My balls were sweating."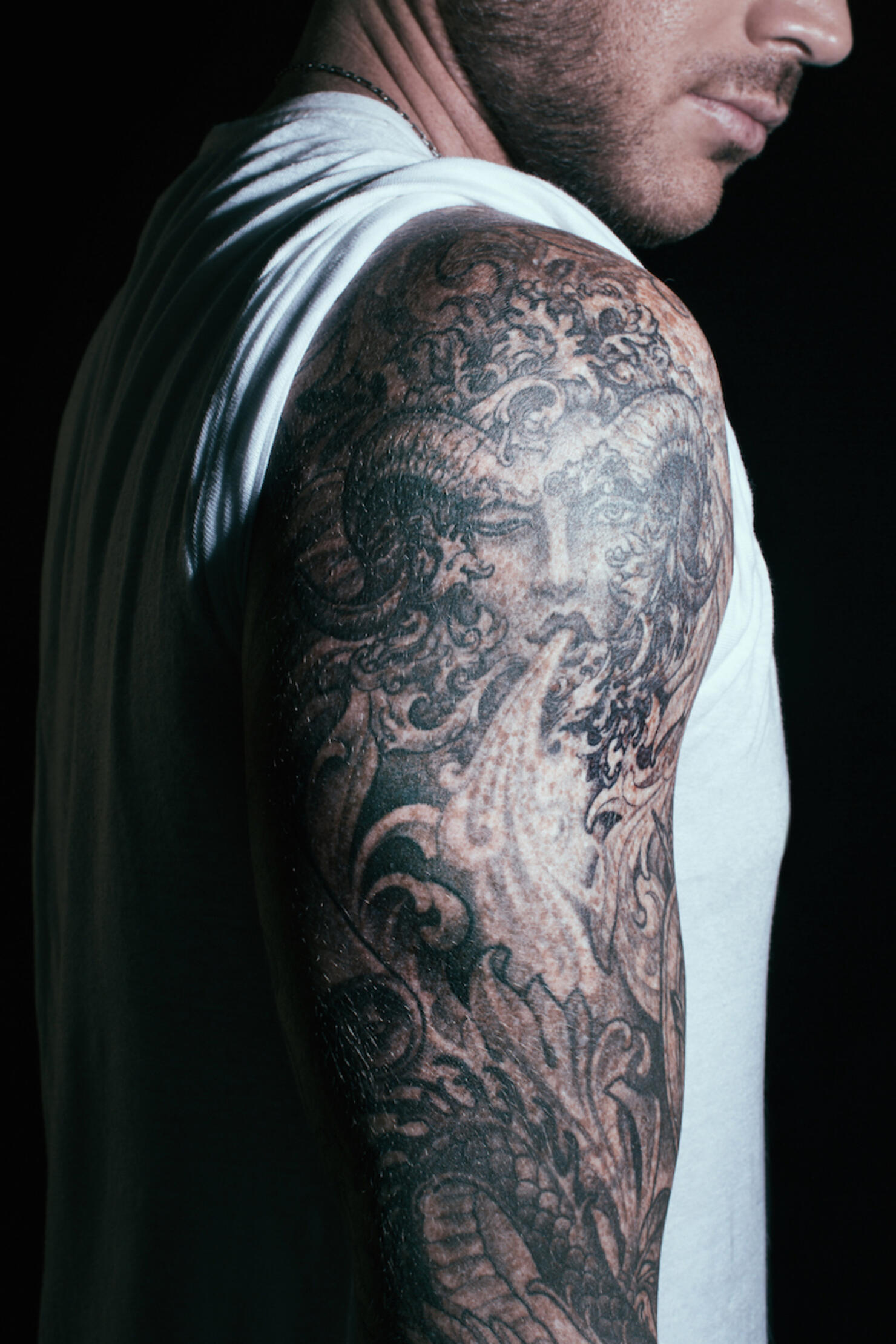 On his "Q" arm tattoo & touring with Queen:
Of course, given his time with iconic rock band Queen, Adam had to commemorate going on tour with the guys by getting some ink. So he got a "Q" for Queen on his right arm, and according to Adam, is possibly one of his most meaningful tattoos. He explains, "They're so cool. And actually Roger [Taylor], the drummer, and I, we ... Actually he has a lot of tattoos on his legs that he got only over the past 15 years or so, I think he said. So he's kind of just getting into tattoos as well, in his life. We definitely talked about tattoos a lot, and things like that."
While on tour with Queen in London, Adam got a diamond-shaped tattoo — a very intricate piece actually designed on Adobe Illustrator, and tattooed on in a really unique way. He recalls, "I was in London last year rehearsing with [Queen] and I got this one. This guy named Maxime works at a shop called Sang Blue in London and his stuff is so cool. I started following him on Instagram and I was like, 'what is this guy's deal?' I love his stuff. And so I sat with him and he generates all of this on Adobe Illustrator on his computer. I did it with him. We came up with a design we liked, and then he prints it out on the contact paper and puts it on, and then tattoos it. And when he designs it, it's all just line work. And then when he puts it on the skin he does a lot of the shading and a lot of the nuances by hand."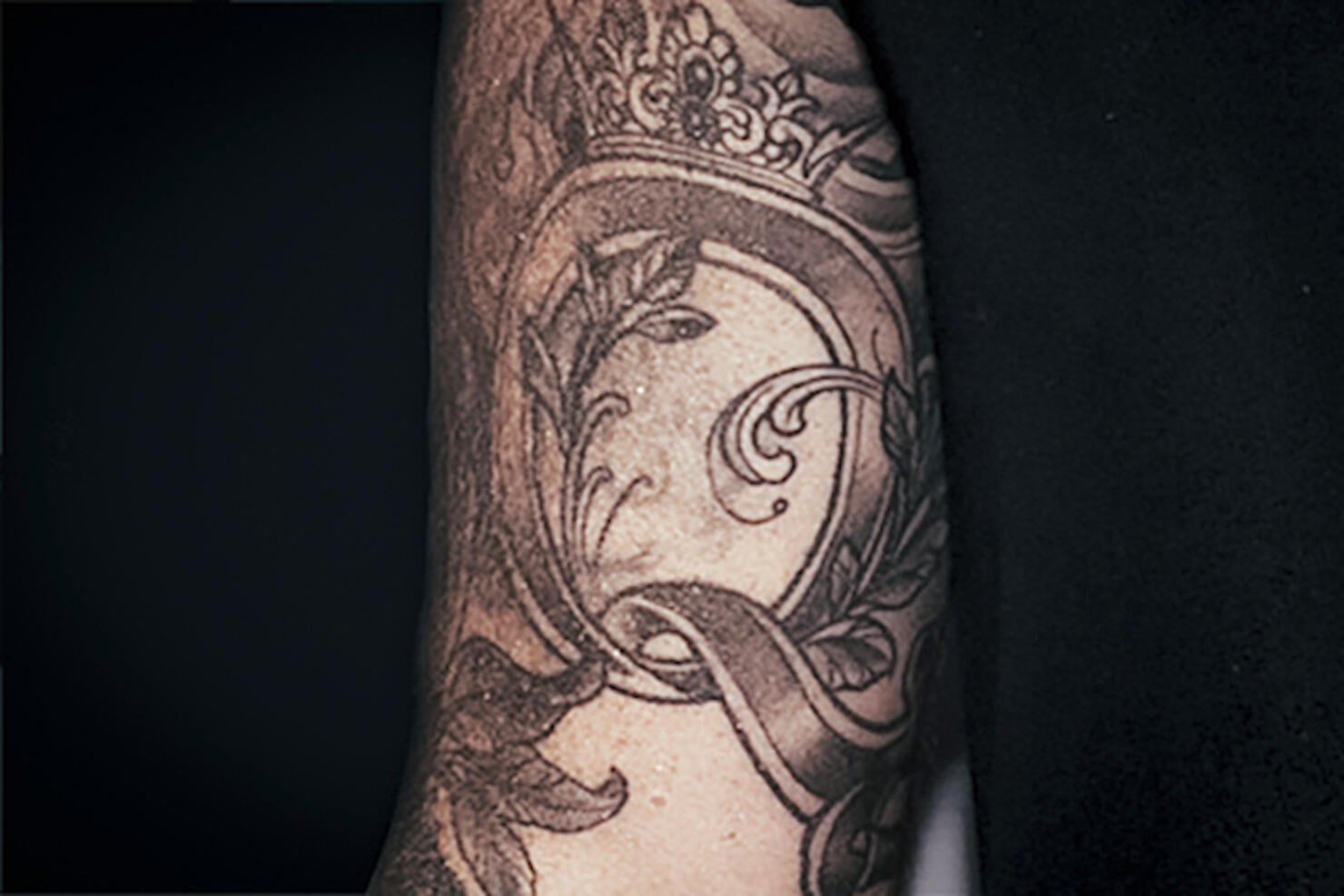 On the Mosaic artwork & upside-down triangle on his left arm:
"It's just like a really cool pattern. I'd seen a lot of pattern work he had done and so we just looked at some different options and I found one that I liked and we did it." He adds, "An upside-down triangle represents gay. So it's kind of like a statement. I'm a freak, I love it."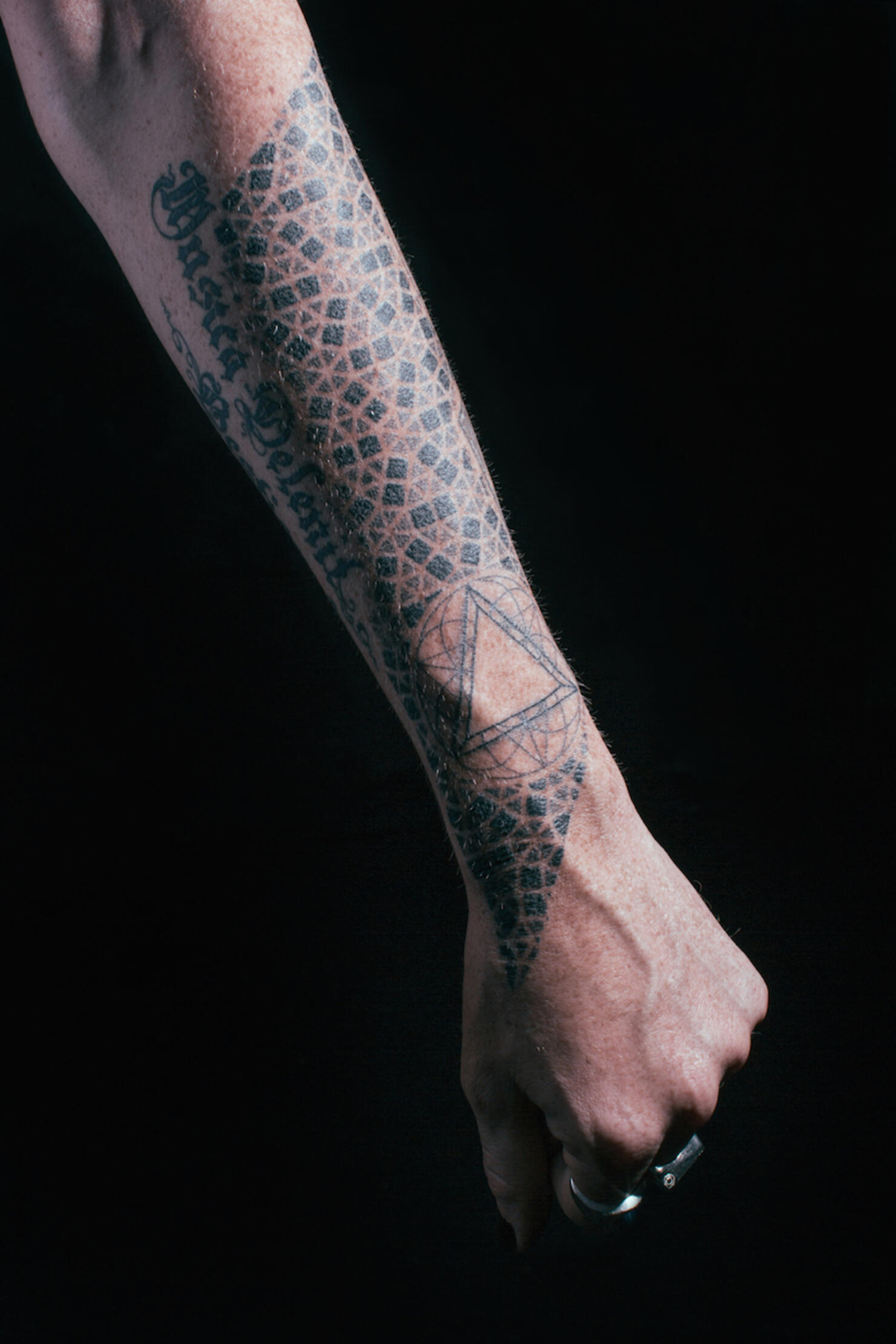 On his "Chasing The Original High" tattoo:
Adam's tattoos are mostly on his arms, however, he does have one on his collar bone in honor of his latest album The Original High, and it's title track. In the chorus of "The Original High," Adam sings "Chasing The Original High" — which is what he got inked. He tells us, "This is probably the most relevant one. This is the last one, when we did this, it's 'chasing the original high.'"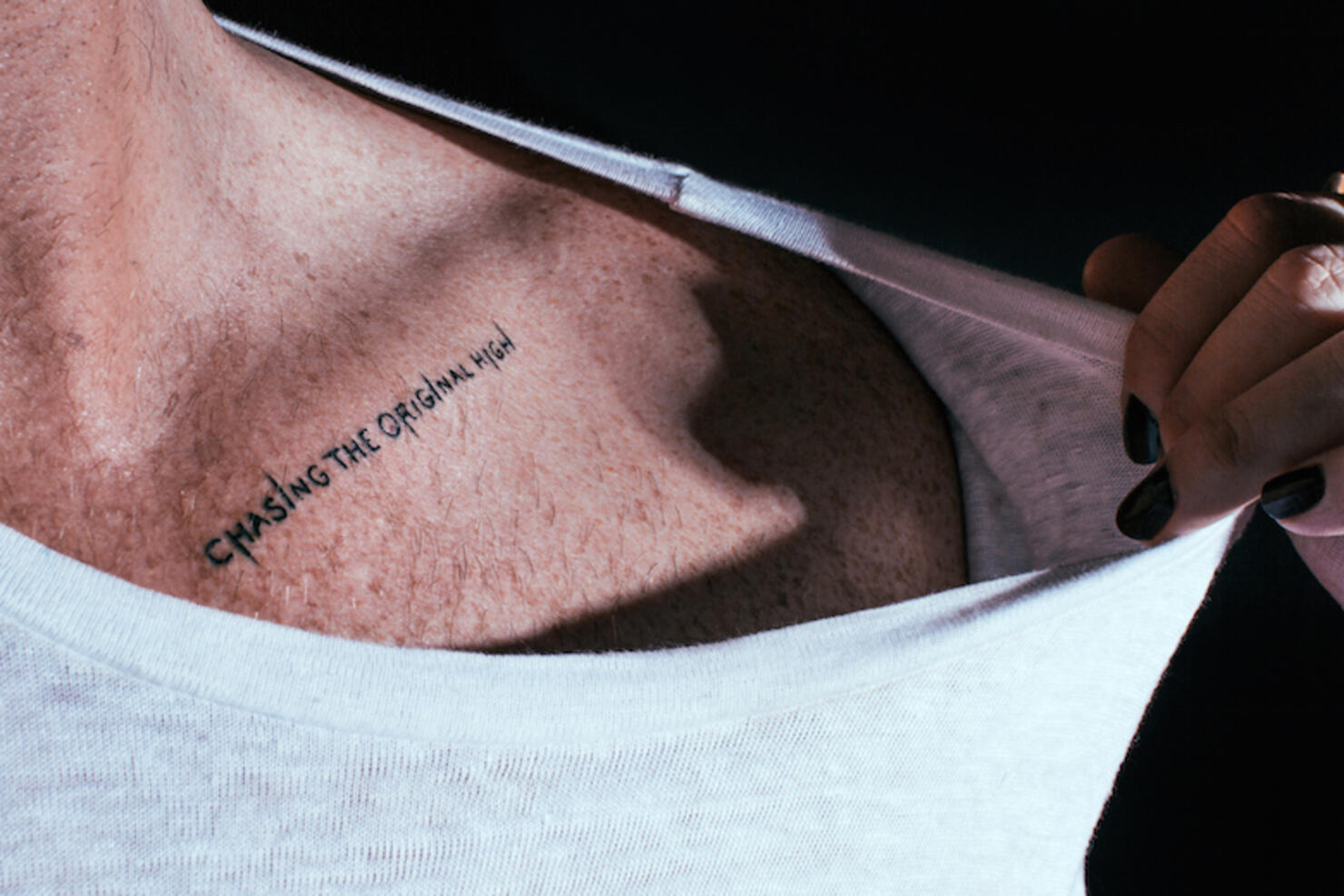 On his Crescent Moon tattoo:
"It's a little crescent. Just, like, for the moon. I like the nighttime. It's the right time."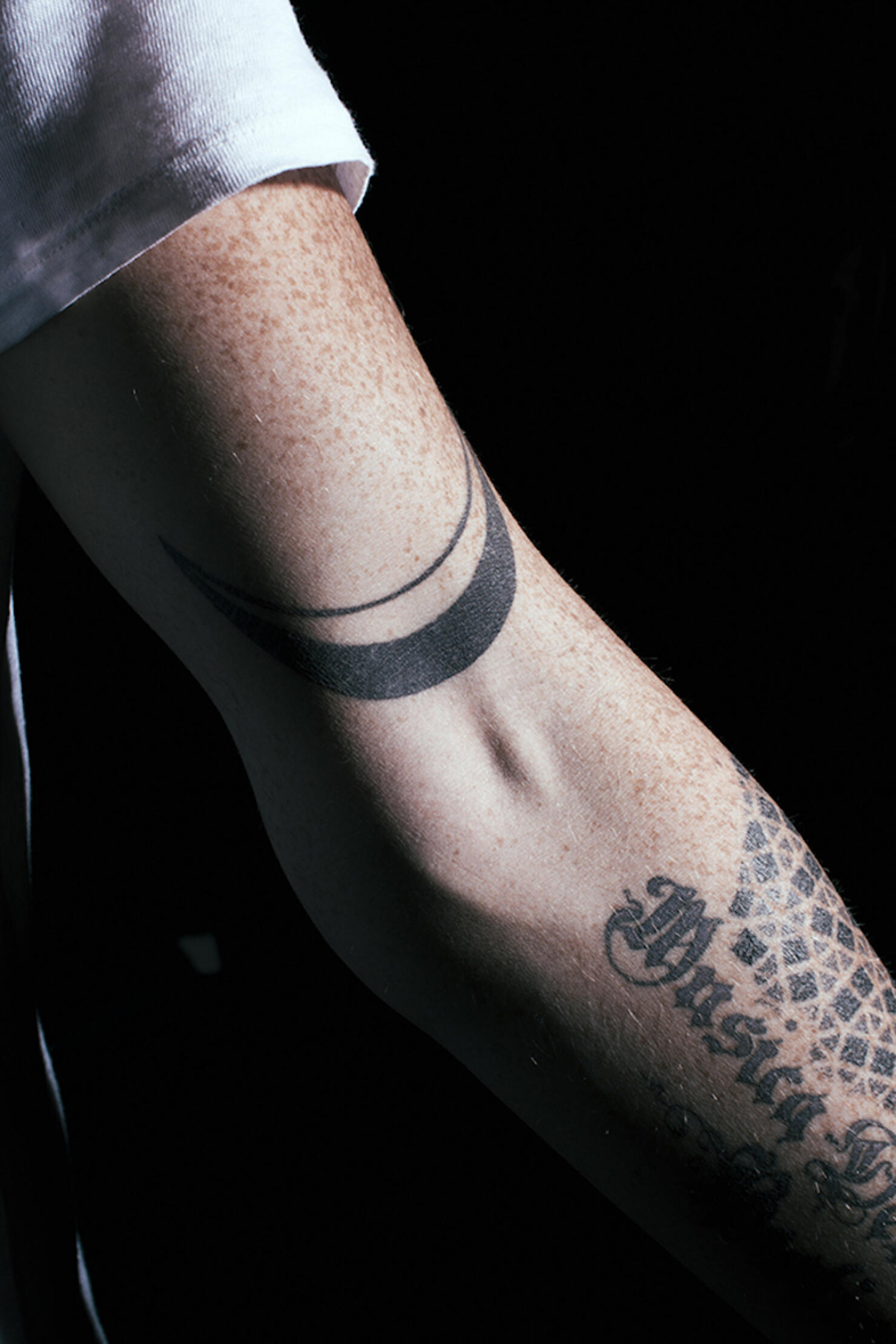 On his plans for future tattoos:
"I think if I do something, I might continue on to my chest or on to my back from here. I think I'm going to keep this [his left arm] more of a half and keep this arm free. But eventually, kind of like I said, maybe the back of my neck, upper back? Not like super high up on the neck, but the upper back. I might do something around there. I don't know."
And while it sounds like he's definitely open to getting more tattoos, he's not quite sure what exactly he would get. But he loves abstract design. Lambert explains, "I don't know yet. I haven't figured it out. I like these kind of abstract ones that aren't necessarily specific, but they just look really cool. I like that. I think it's like decoration."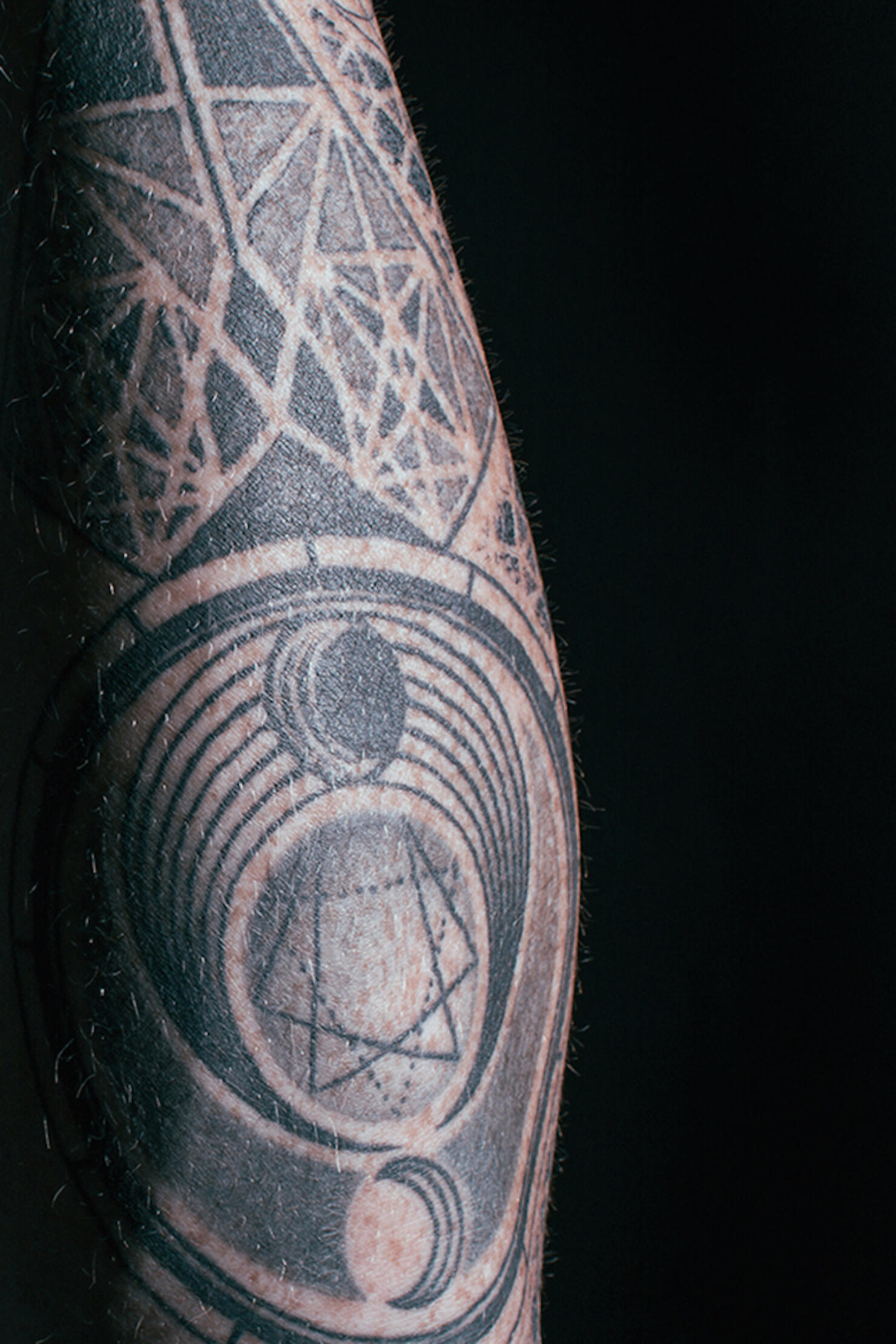 Photos: Katherine Tyler & Getty Images