Tattoo Stories with Dillon Francis
By Nicole Mastrogiannis
May 20, 2015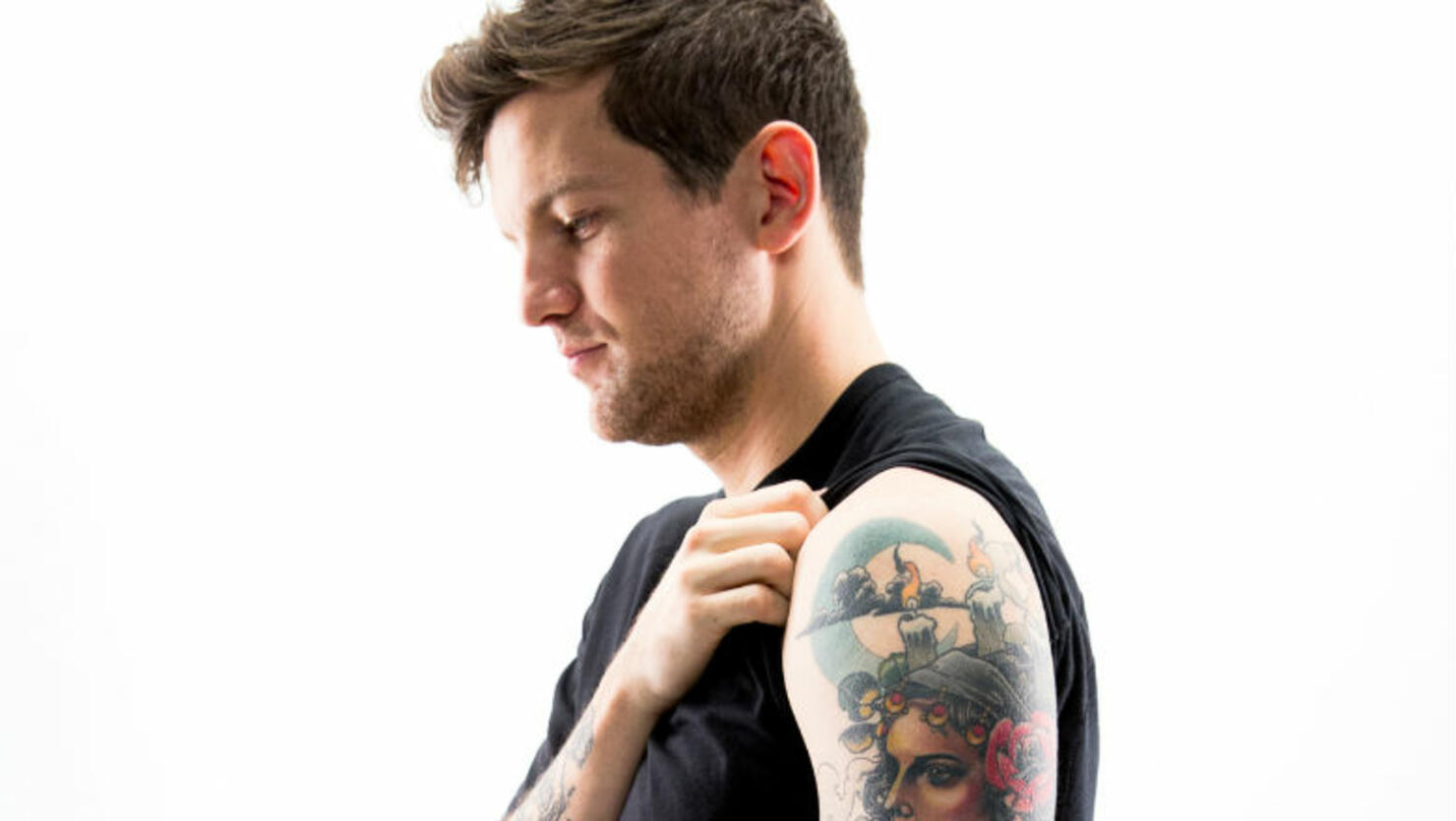 Over the last few years, Dillon Francis has accumulated an enormous following among EDM fans. Whether its his addictive music, his various hilarious videos on social media, or his fun-loving personality, the producer/DJ has won over the hearts of his fans all over the world.
The success of his debut album Money Sucks, Friends Rule brought forward one of the most popular party anthems yet — his collaboration with DJ Snake "Get Low." If you couldn't already tell from the song's music video, it looks like Dillon and DJ Snake had a great time working together. 
Dillion tells iHeartRadio of what it was like working with DJ Snake, "It was fun. It was easy. It was really easy. That's why I liked working with him. Usually, if it's not easy to work with a producer, the songs don't ever get finished."
"Get Low" was not only included as part of the recent Furious 7 soundtrack, but it was featured in an AWESOME Taco Bell commercial, which Dillon is really excited about. He tells us, "That was the best thing ever. There's a tweet that I had from like 2012 where I said, 'One day I'm going to be in a Taco Bell commercial.' And I feel like this is still somewhat that because my music is in it."
There's a lot more on the way from Dillon as he has been teasing a collaboration with Calvin Harris, which he is working on finishing up to be included on his upcoming new EP. Francis explains of his upcoming plans, "[The] Moombahton EP, on that, the Calvin Harris song is on. I mean it's got Skrillex on it, Bro Safari, Malucah [Mala]. Just really excited about that and then just all of the festivals. The Hard Summer Festival I'm playing and then just doing other random videos and stupid things. Getting more stupid tattoos."
Speaking of tattoos, Dillon has quite a lot of ink and is covered in a ton of very unique artwork. The producer/DJ talked about all of his tattoos and his plans to get more. Learn more about Dillon Francis' tattoos and the stories behind them below.
Today, Dillon Francis has over 20 tattoos. All of his ink began with his very first tattoo, which he got at 18 years old and against his parents' wishes — a Sailor Jerry-inspired tattoo on the inside of his right arm. 
On his first "forbidden" tattoo:
"It is a Sailor Jerry one that I printed out off the internet. I was in Death Valley with my friend Corey. His brother is a tattoo artist, and I wasn't supposed to get a tattoo, I was still living at home. My mom told me not to get a tattoo until I left home. So I felt like getting it because I'm a badass, and when I got home, I was sitting in my living room with my parents and I was like, 'Hey, guys, I got a tattoo,' and they were like, 'Ha ha. Good joke.' And I said, 'No, I'm serious.' And I showed it to my mom and she started bawling. And was just like, 'I can't believe this. I didn't raise you. You're not my son.' And she, like, left the room and my dad was like, 'Whatever. Cool. That's your body.'"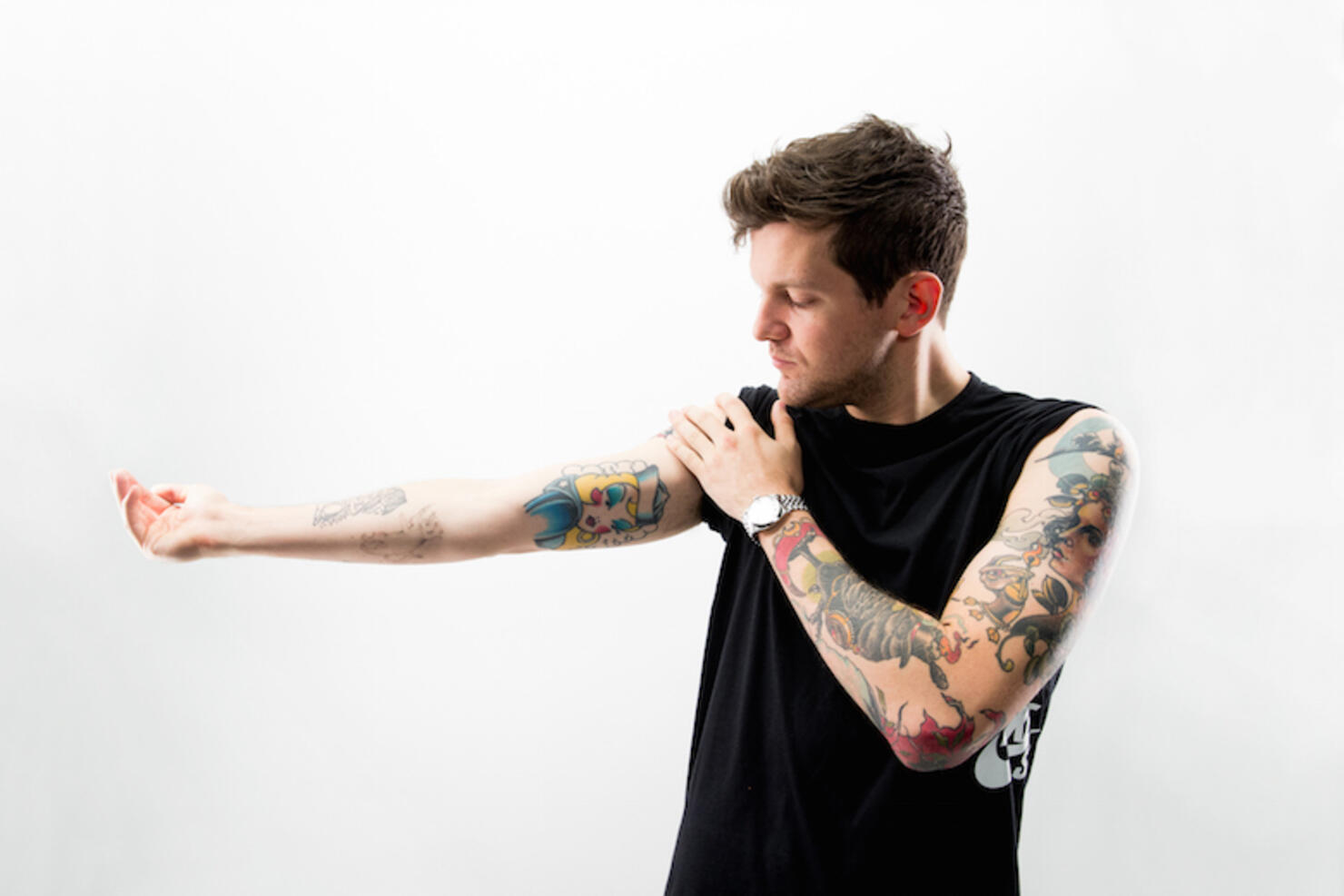 On the Grim Reaper on his arm:
"The worst one was this like grim reaper. This one has a meaning, actually. When I was younger, I used to have really bad dreams about E.T. tickling me to death. I had to sleep in my parents' bed all the time. E.T. was trying to get me, and then Chucky and him would gang up on me sometimes in my dreams. It was f***ed up. E.T. would tickle me to death in my dreams. So this is a grim reaper with a feather sickle, which represents being tickled to death." 
Not all of Dillon's tattoos have a meaning or story behind them like his Grim Reaper. In fact, most of them don't. Dillon explains, "I just really like art, so that's why I like getting them." And a lot of Dillon's ink is a collaboration between his ideas and the ideas of his tattoo artists.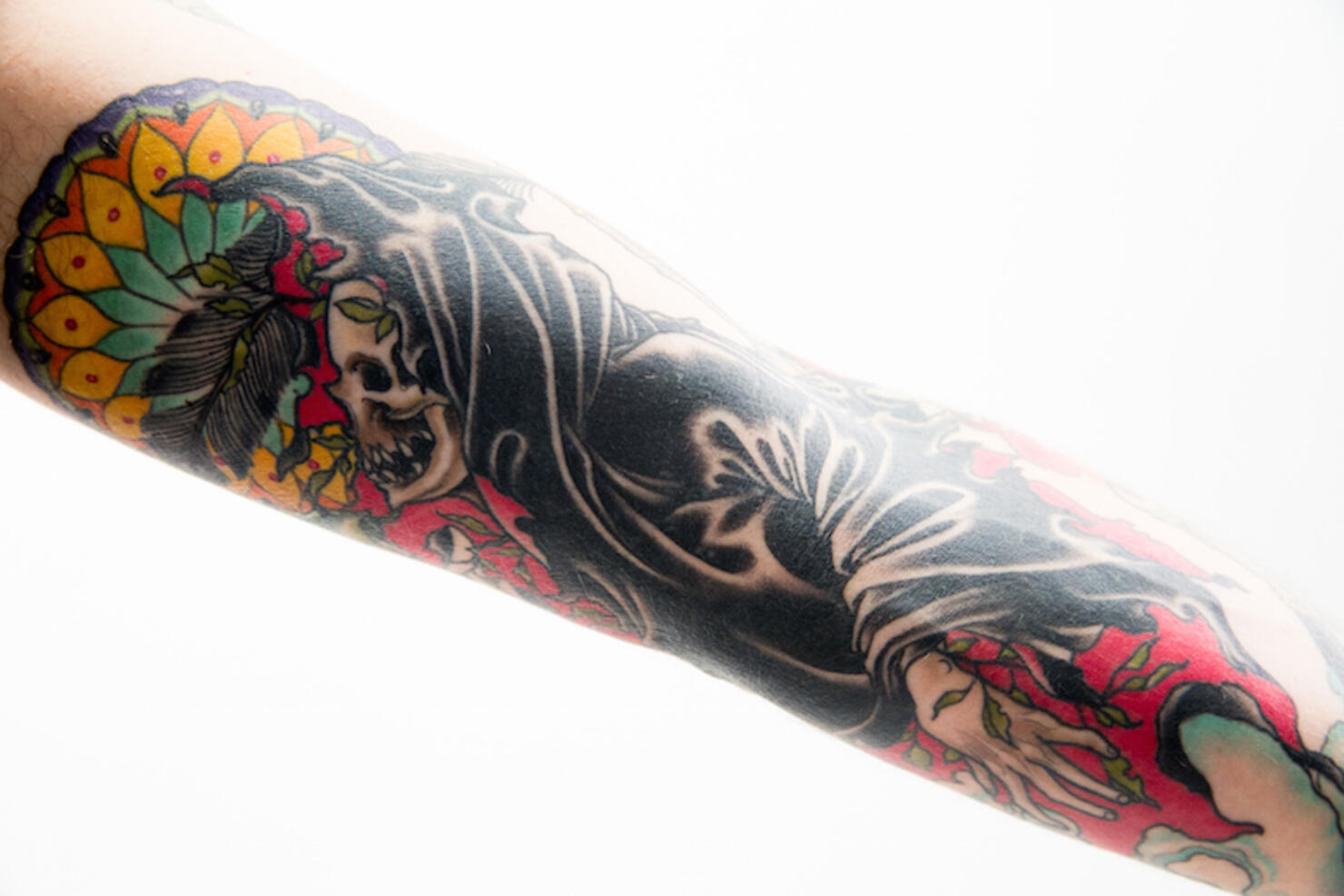 On the raven tattoo with a candle top hat located on his arm:
"This one is just, I was like, I really like the birds, my tattoo artist does amazing drawings of birds. This one's super nice. it's mostly all black, which is funny because it's very detailed, but it's all just black ink. I just told him to do one and he did it. Then we came up with the idea of it having a stupid hat on. He had a candle on his head before without the hat and I was like, well the girl already has candles all over her head. So I'd rather have him have a top hat. And he was like, 'What about a top hat with a candle coming out?' And I was like, 'Compromise. Let's do it.' And then we got it."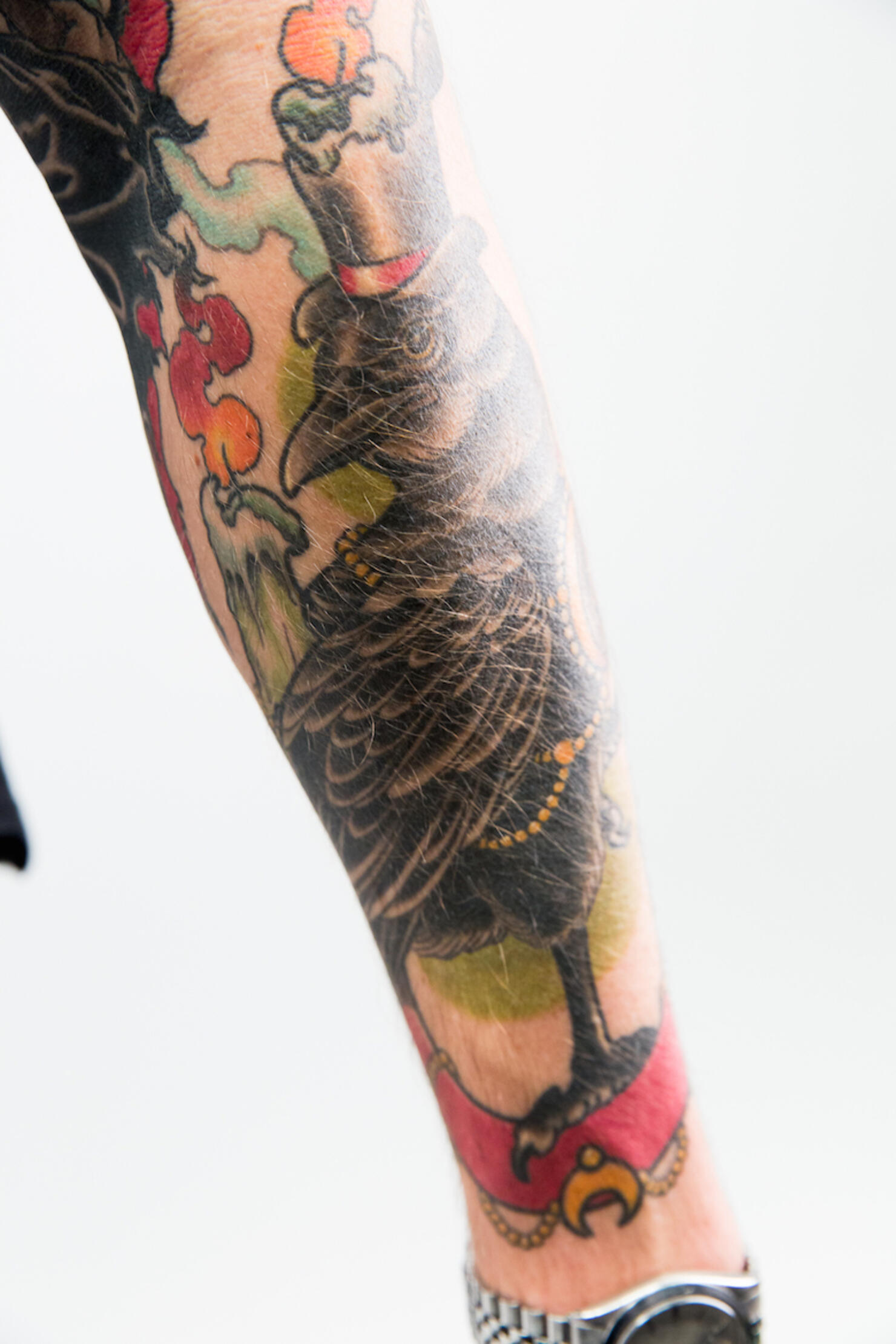 On his Shark Lady tattoo on his right arm:
"[There's] a picture of me in a shark head. I showed [the tattoo artist] that and I was like, 'Yeah, I wanna do one with like a girl wearing a shark head as a hat or something.'"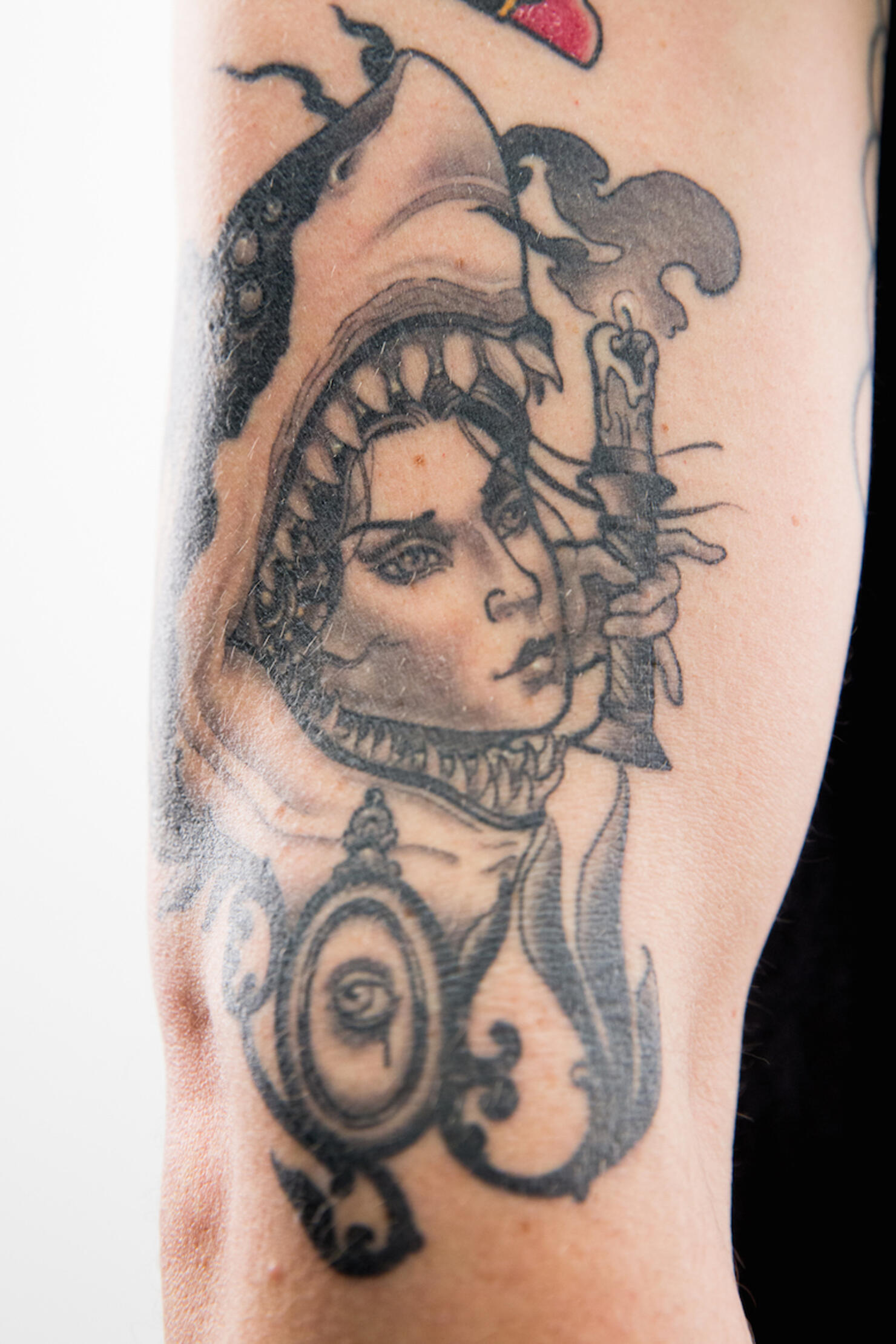 On the deer coming out of a woman's face on his right arm:
"I didn't want to actually get this one tattooed on me. I wanted to get it on my leg or not at all. Because I told [the tattoo artist] about this idea. I was like, 'I've seen this tattoo artist. His name's Pietro something. He's from Italy. And he does a lot of faces where it's guys in suits, but then their faces aren't anything. It's just like the Twilight Zone in it. And I was like, 'What if we do a girl's face, she's a porcelain doll, taking her face ... Or no, just with a deer ... Or no, I said a jackalope. I wanted it to be like a bunny mixed with a deer, mixed with a tiger as well. So it was a funny tiger-deer thing. And then he made it so that she was holding her face."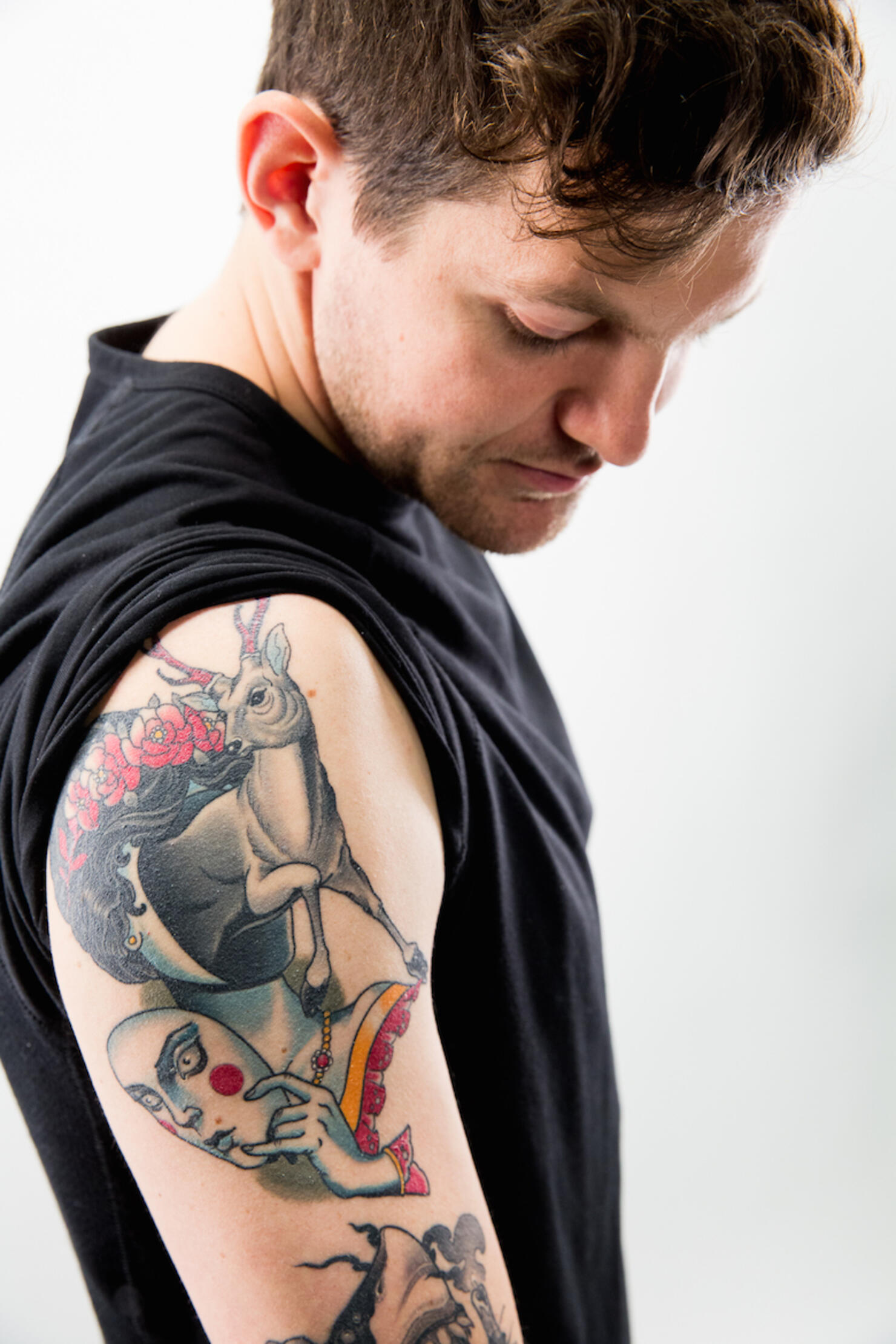 On his snake shark lady and skull with a candle on top tattoos:
"These two are really simple. They were just flash drawings. It's actually from East River Tattoo in New York. They're just really cool flash drawings from, her name's Sue. This one is a snake-shark lady biting her hand off. And this one is just a person holding a skull with a candle on it."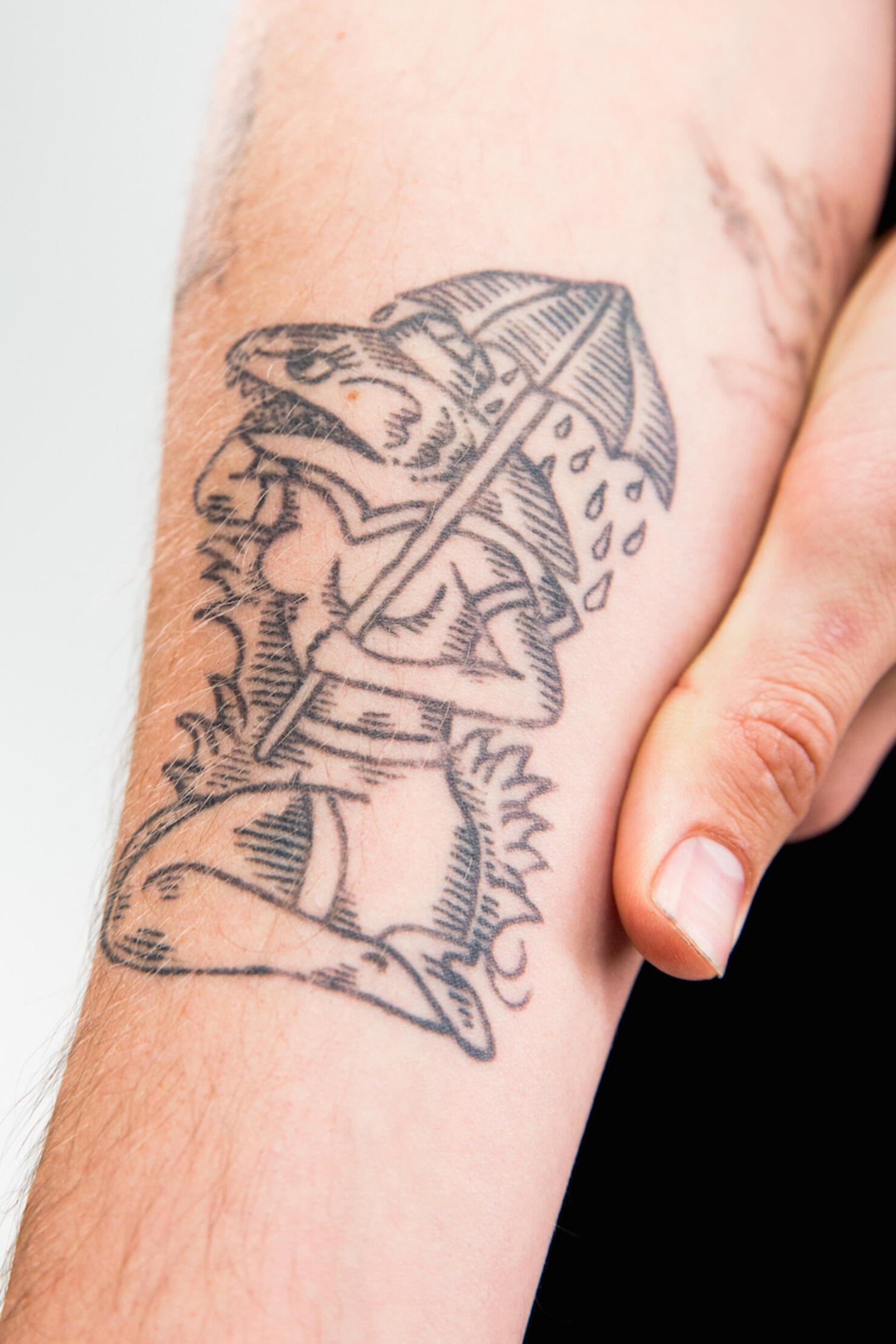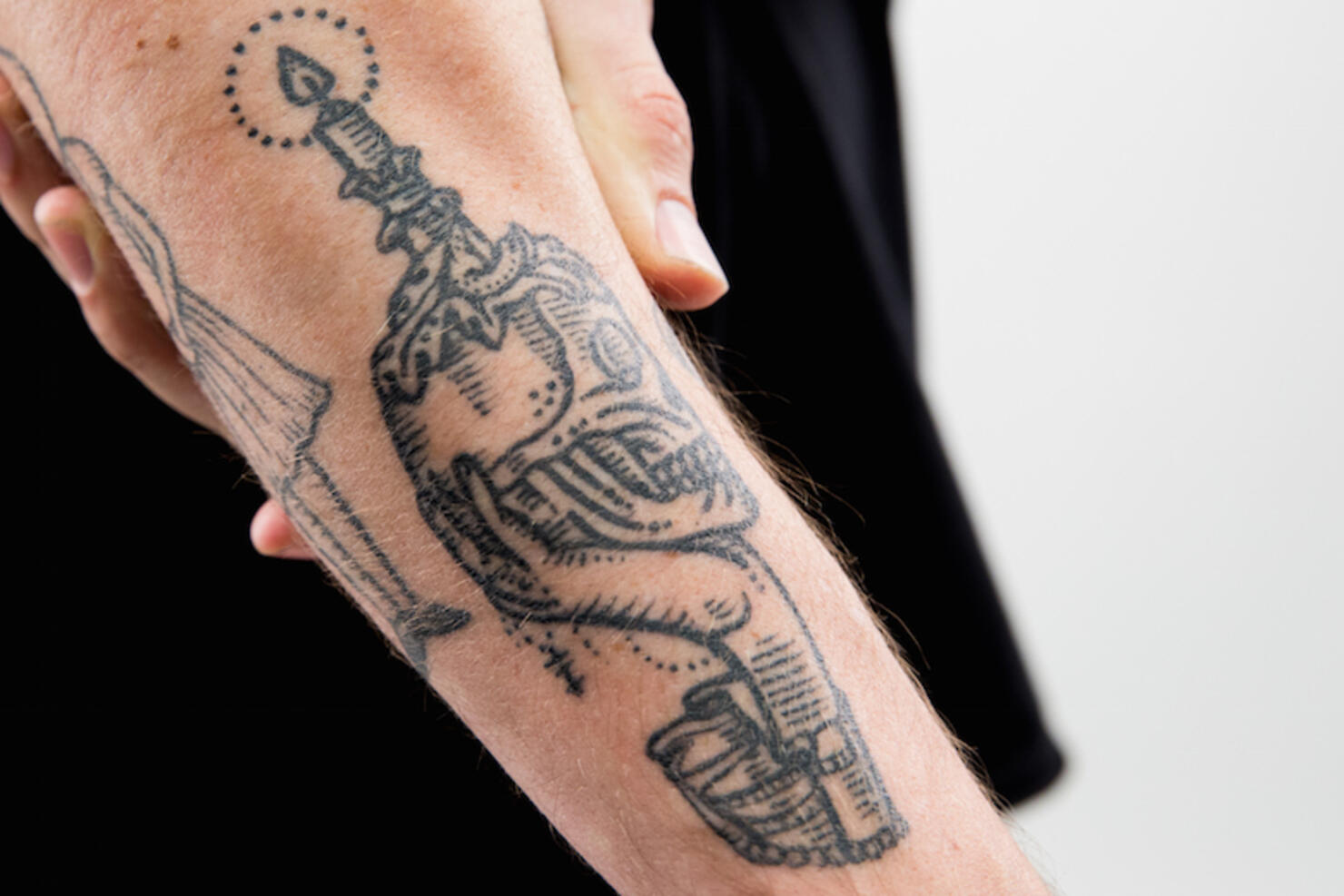 On his Shining-inspired pumpkin head woman tattoo:
On the same arm as snake-shark lady and the person holding the skull is a tattoo inspired by The Shining — but with a twist: "This one is the girl from The Shining ... with a pumpkin head."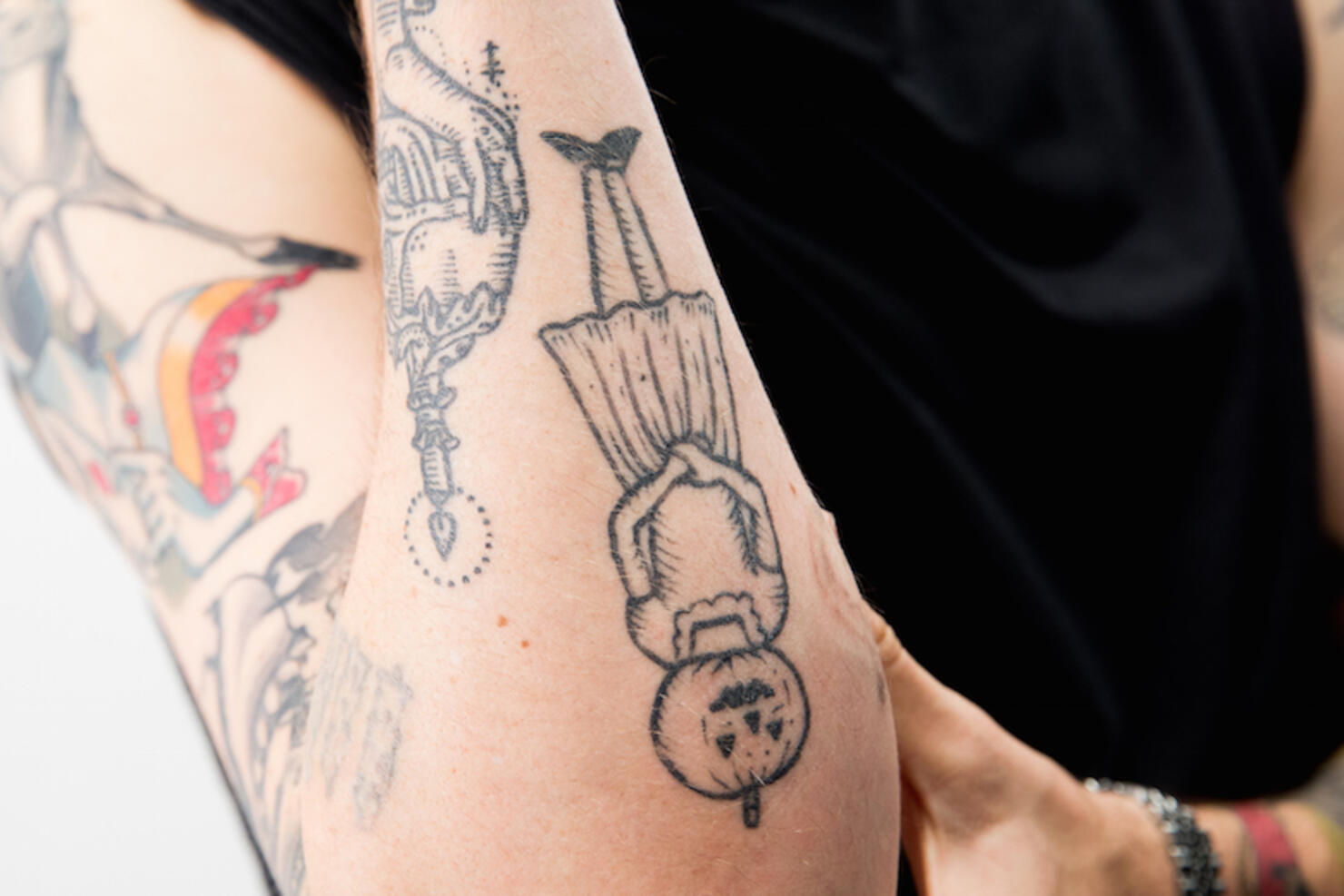 On the 7 tattoos that cover his right leg:
"This one is the stupidist tattoos that I have. I have a pretzel that says 'Don't get it twisted.' I have a dog with a knight helmet on. It's a knight dog, so, not a dog at night. A knight dog. 'Positive Mental Attitude, F*** The World.' It's P-M-A-F-T-W. Then I got a parrot on the back whose name's Larry, so it's 'Larry Bird.' Then I got a normal eagle on the front and a ghost with an owl hanging out with him. And Dolphin Francis ... a dolphin smoking a corn cob pipe ... with a thumbs up. Then I got a bunch of flowers on there. Just kind of like vibe it out."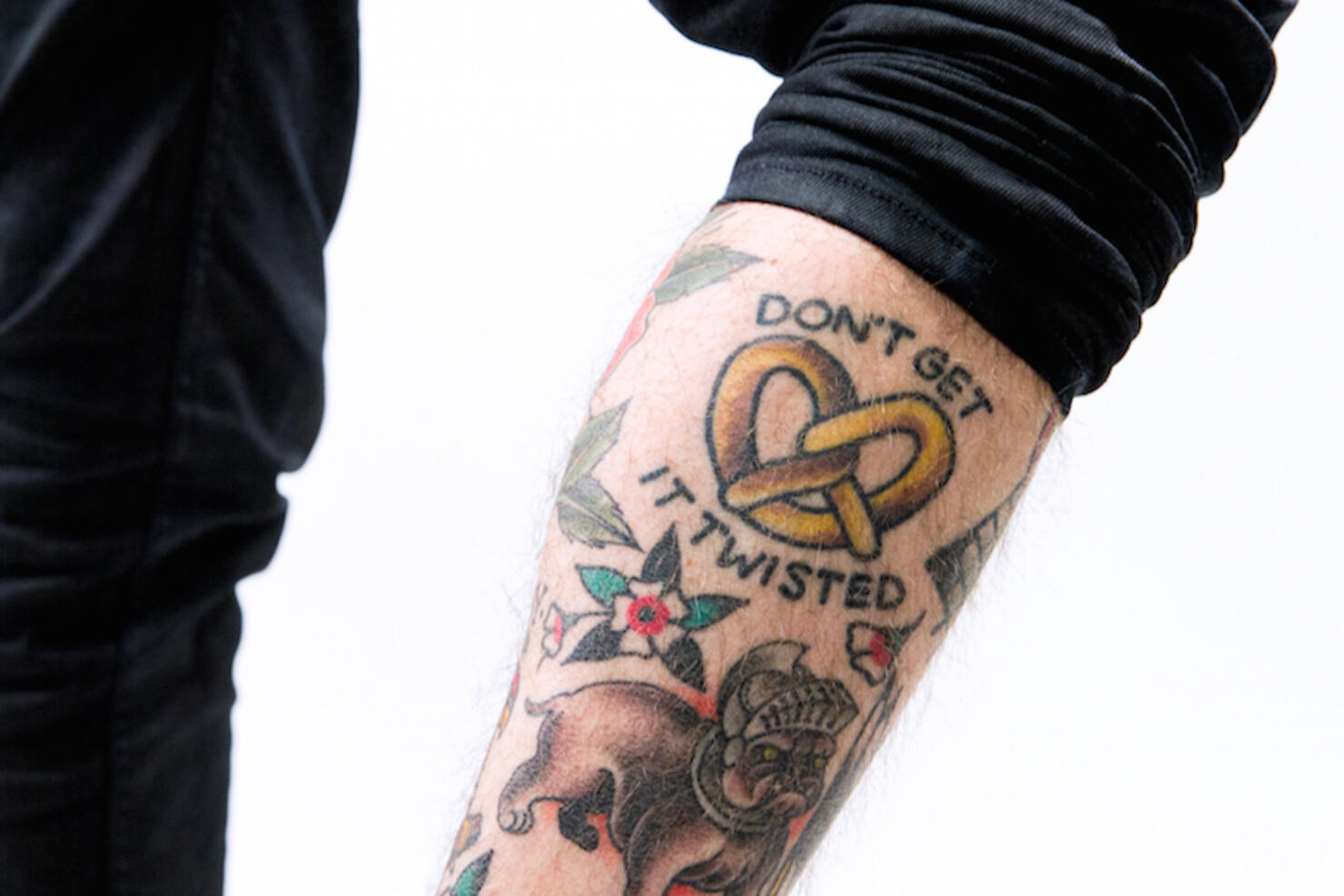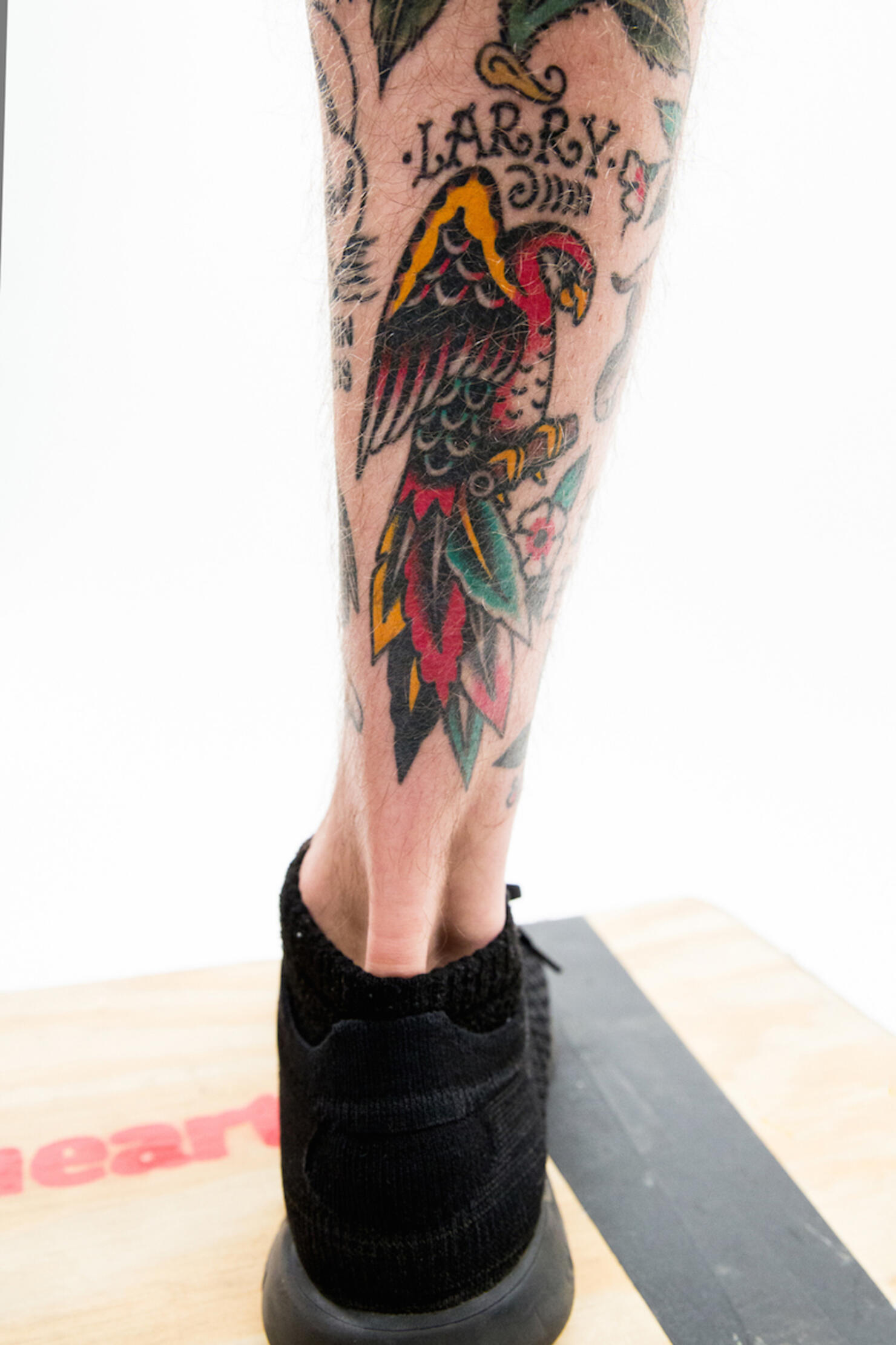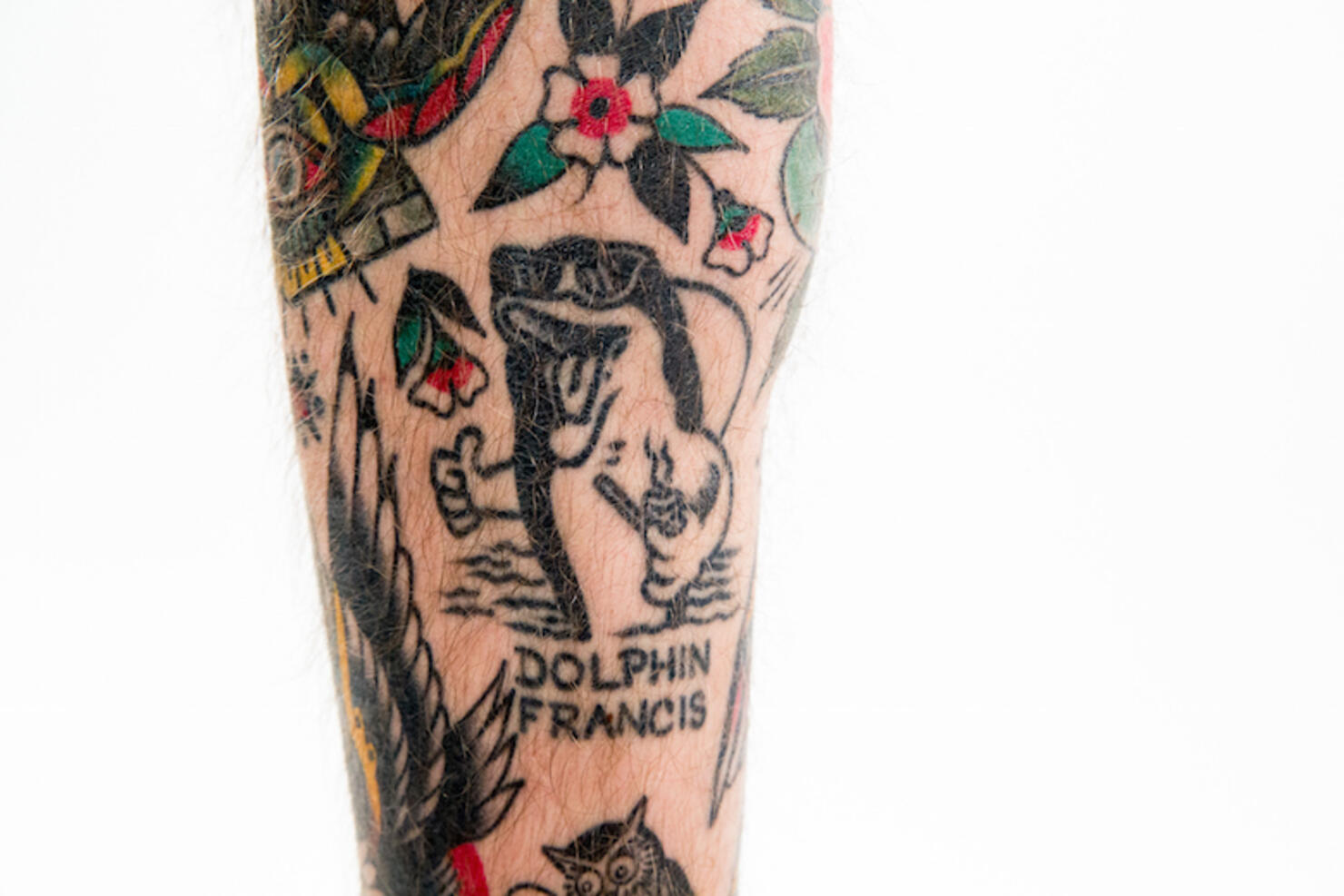 On where he gets his tattoo ideas from:
By this point you might be wondering where Dillon gets the inspiration to think of all of his unique tattoo designs. He tells us that a lot of it comes from other people's art. He explains, "It's just like looking at other people's art and then deciding what you want to get on your body. And then this guy, Mario Desa, does these. They're called 'Desa Birds.' So. Those are the two like actual tattoos that are real tattoos and the rest of them are just stupid. And then I have a dog [tattoo]. I have a dog and then my friend has a cat on his knee. So when we put our knees together, it's a cat and a dog talking because it says 'Bow wow.' [his friend's cat tattoo says 'Meow']."
On the "Mama's Boy" tattoo on his chest:
"That was the reason I got that tattoo was because it would help me get more tattoos. And it did." He adds, "She's like, 'Okay, I guess I'm okay with that.' She doesn't care anymore. She's just like, 'All right. I can't say anything anymore.' And my dad just keeps being like, 'You're not gonna persuade him to stop getting tattoos,' so."
Dillon has another mom-themed tattoo on his right leg. It's a rose with the words "Your Mom" above and below the flower: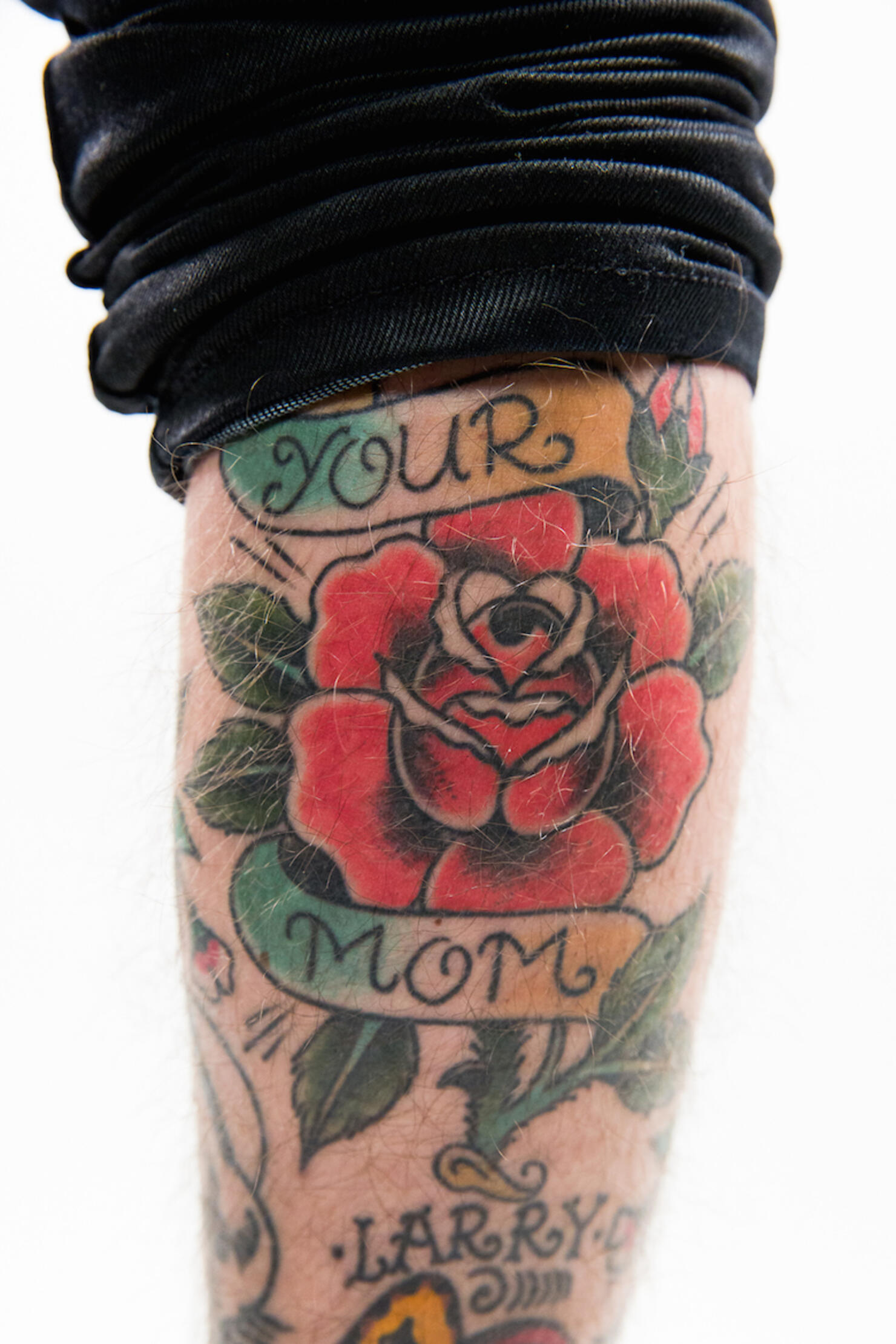 On what his next tattoo will be:
Despite all of the tattoos Dillon Francis already has, he still has plenty of more space for new ink. While he tells us he's going to wait a little while before he gets his next tat, he already has plans for what it's going to look like. He tells us, "I wanna put, like, a forest over here. And I wanna have a girl paragliding, but she has a monkey face. This whole arm is kinda just really weird girls with, like, their not having a woman's face. So that's kinda like just to have the whole theme. It's either women's faces or them having like weird hats on.
He adds, "I wanna have it themed up, 'cause this one's already him [his tattoo artist] just doing his thing. And it all kind of looks the same. But I want this one to have like, 'oh, cool, it's all different girls with different faces.'"