Taylor Swift Plays Surprise Acoustic Performance At Fan's Engagement Party
By Paris Close
February 25, 2019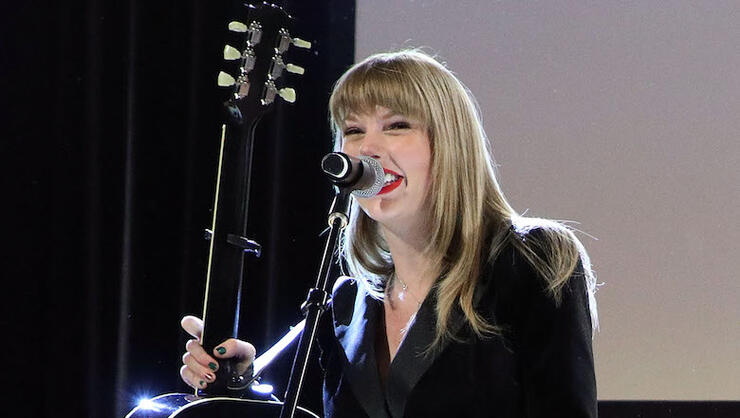 Taylor Swift made one couples' engagement party one they'll never forget.
The pop star made a surprise appearance at her fans Alex Goldschmidt and Ross Girard's engagement gathering in Los Angeles over the weekend. Goldschmidt made the shocking introduction and captured the reactions from their loved ones on video, via Instagram.
"There is one secret that I didn't trust any of you with," he told the partygoers. "There was a person who's not here, who sort of played a part in all of this. So I would like to welcome, and if you would give a warm welcome to, my friend Taylor."
It was at this moment the singer herself appeared from a back room, guitar in hand, to rollicking applause and excitement from the guests. After exchanging hugs with the lovebirds, that's when Swift began serenading the couple with an acoustic version of her song, "King of My Heart," from her 2017 album reputation.
Watch and listen below.
Swift's song also played a significant in the pair's engagement story. "I decided to propose to Ross listening to this song in my car. I can't thank Taylor enough for wanting to help make this day so special," Goldschmidt wrote in the post.
According to CNN, after Goldschmidt popped the question, he reached out to the musician's publicist about proposing to the song and that's when the unforgettable opportunity presented itself. "She reached out wanting to be a part of it," he told the outlet. "It was all her idea."
Congratulations, Alex and Ross!
Photo: Getty Images
Chat About Taylor Swift Plays Surprise Acoustic Performance At Fan's Engagement Party