Nikki Sixx Explains Frustration With KISS Stage Production
By Andrew Magnotta @AndrewMagnotta
February 26, 2019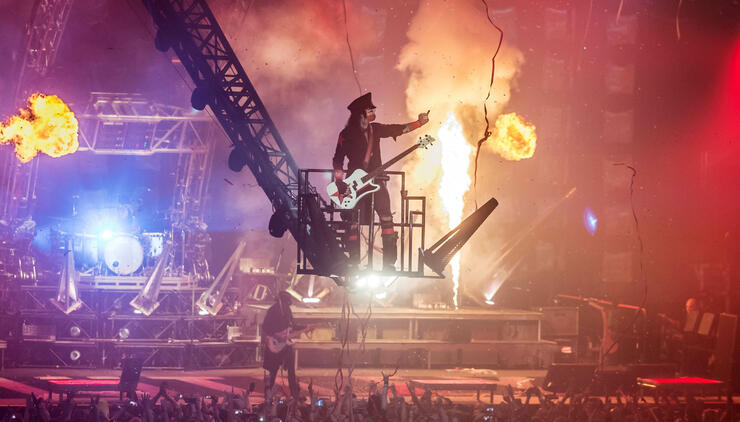 Nikki Sixx is a lifelong KISS fan, but that doesn't mean he can't be frustrated by his childhood heroes.
Kiss and members of Mötley Crüe, including Sixx, have had their disagreements over the years. But Kiss's End of the Road tour has brought about a new level of enmity — at least on the Crüe side of the equation.
Both Tommy Lee and Sixx have said they believe Kiss is using production elements on its "End of the Road" tour that were first seen on Mötley Crüe's "The Final Tour" from 2015. Sixx called one part of Kiss's show in which band members are suspended above the crowd on mechanical platforms an "exact reenactment" of part of Mötley Crüe's farewell tour.
Before elaborating on his critique in a recent interview with Kerrang!, Sixx noted that he considers Kiss an important influence — second only to Aerosmith when it comes to bands that inspired him to write songs.
"But what they did that really bothered me, and my band mates, is, we built these giant arms that fitted in the venue's ceilings, that had lights in them, and we developed these things. It was a lot of work and it cost a lot of money. And these things would hide up there. ... Then at the end of the set these arms would come down from the ceiling and me and Vince [Neil] would jump on them and they would take us out over the arena and that was our grand finale."
The bassist said the production is "exactly our shtick" and added that he also thinks it's "uncool" of the production company to "make the same thing again" for Kiss.
Mötley Crüe wanted its final tour to be a once in a lifetime event, Sixx explained, and now part of the show is "being repeated by Kiss."
Photo: Getty Images
Chat About Nikki Sixx Explains Frustration With KISS Stage Production