Pete Davidson Boots Heckler From Show For Saying Something About Mac Miller
By Hayden Brooks
February 26, 2019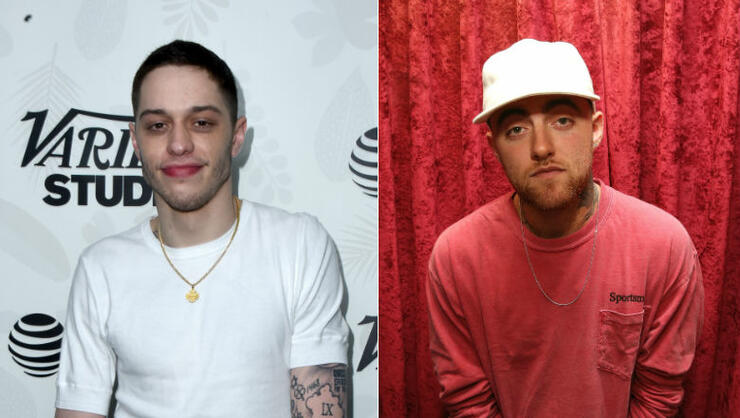 Let it be known: Pete Davidson will not tolerate any kind of hate during his stand-up comedy shows.
On Tuesday (February 26), Page Six reported that Davidson booted a heckler from his Monday show after an attendee made a joke about Mac Miller's death. As per an audience member at the set, which took place at the South Orange Performing Arts Center in New Jersey, the Saturday Night Live comedian kicked off his performance, saying, "So a funny thing happened to me recently in my apartment … My friend died of a heart attack." Davidson's intro turned out to be a joke about a friend who passed out in the apartment, with him mistaking the incident for a heart attack. Either way, the joke prompted someone in the audience to yell out the rapper's name and he didn't entertain any of that foolishness.
"Pete calmly stops his routine and asks the audience to ID the dude that yelled out and that he is going to have to leave. He then asks security to locate the yeller and escort him out," a source told Page Six. "And give him back his money. I don't want his money," the comedian reportedly said. Attendees were "bewildered" at the call to action, but realized soon enough that he wasn't kidding and started to help security identify the heckler. "I'm serious. I'm going to leave [the stage]. So if you want to hear the rest of the show, you'll point out to security who yelled so they can escort him out. If not, I'm going to leave right now. I'm not going to have any of that s**t happening at my show."
As you know, Miller died of an accidental drug overdose in September and dated Davidson's ex-fiancée Ariana Grande months before the two became romantically involved with one another. Despite the fact that the comedian has moved on in the romance department, it's clear that Davidson won't allow for any hating.
Chat About Pete Davidson Boots Heckler From Show For Saying Something About Mac Miller