Billy Corgan Opens Up About Reuniting With Stolen 'Gish' Guitar
By Katrina Nattress
February 28, 2019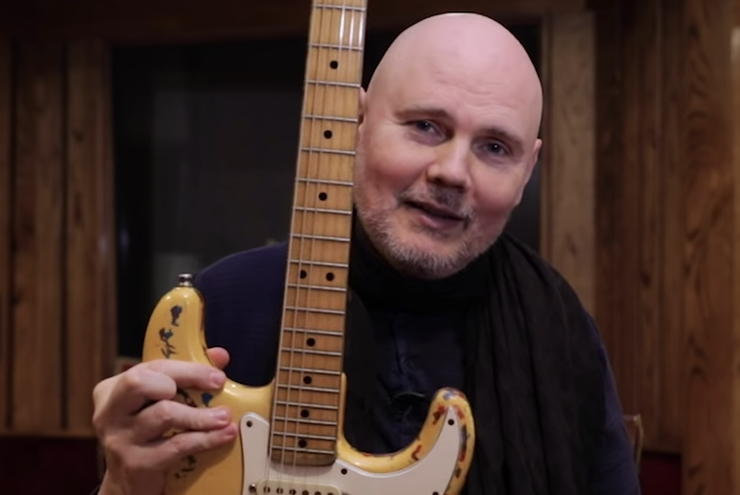 Earlier this month, a crazy story broke about how Billy Corgan reunited with a special guitar that was stolen during a Detroit show in June 1992. As the story goes, the Smashing Pumpkins frontman cherished his hand-painted mid-70s Fender Stratocaster because it changed the way he played, thus heavily influencing the band's sound on its debut album, Gish. For nearly 27 years, he searched for his "lost love," and one fateful day was contacted by a Detroit resident named Beth James, after she realized she was in possession of the sacred instrument.
Now, the rockstar has shared a video explaining his reunion as he plays riffs from Gish on his precious guitar.
"I always felt the guitar would come back to me, I can't say why I felt that way," he admits in the clip. "So, I never really stressed about it too hard."
"It's wild because it's like seeing an old friend after a lot of years," he continues, examining the guitar. "There's things that you don't remember...and there's things that I completely remember and bring me right back to playing on all those stages back in the day."
He then goes into the story, and what the guitar means to him.
"Even though it's just a thing, you know, it's a physical object—it's just a piece of wood and some wires—it means so much more to me because it really symbolizes the beginning of that particular journey," he explains. "I don't think any of us could have figured that we would still be playing—even in some cases playing songs that were written and recorded on this guitar—so I look forward to playing this guitar on stage again; I look forward to recording it, and it just seems to all connect with where everything is headed. This sort of full circle feeling of life and gratitude, really."
Watch the full video below.
Chat About Billy Corgan Opens Up About Reuniting With Stolen 'Gish' Guitar