Post Malone Accuses Fake Fans Of Trying To Ruin His Relationship
By Peyton Blakemore
February 28, 2019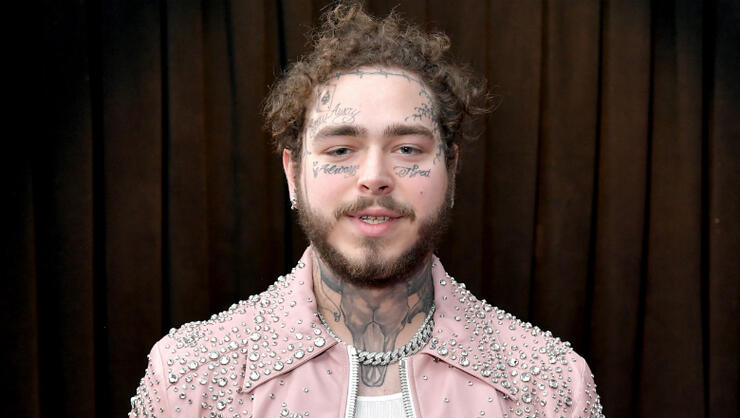 Post Malone isn't here for the fake love.
On Thursday (February 28), the "Sunflower" rapper took to Twitter to call out those he believes are trying to get him to breakup with his new girlfriend. "To my REAL fans I love you to death, to the people trying to dig so f**king hard to try and get me to leave my girl, y'all ain't real fans and it needs to stop," Post wrote. "The past is the past and it has nothing to do with anything.have some respect. who gives a f**k? let us live our lives."
The 23-year-old rapper's Twitter message came after a so-called fan shared risqué photos from his girlfriend's alleged personal Instagram account, which has since been deactivated, to social media. In addition to reposting the private photos on a separate Instagram page, the Internet bully also issued a warning to Post, whose legal name is Austin Post, about his girlfriend's alleged "shady" behavior. "I shared what I had too, I am not a hate account," the so-called fan wrote. "Yes i do strongly dislike her and make jokes about her, buts that bc i have a f**ked up sense of humor. I spreaded the word that she isnt a good person and austin should just be careful with her. She can come up with a million excuses and lies to austin to make him believe shes in the right and threaten suicide to make his fans feel bad. But not my fault his girlfriend is getting what she can out of him. You can think im a hate account all you want but im not hating on kano just keeping people woke to whats going on behind closed doors. I brought awareness to the type of person she really is. Anyone can play the good role if its benefiting them in some sort of way. This sh*t might hurt austin but whats going to hurt him more is loving on a girl who really doesnt love him back."
While details about Post's new girlfriend are scarce, fans noted that she resembles his girlfriend of three years, Ashlen Diaz. As previously reported, Post and Ashlen called it quits around October.
Photo: Getty Images
Chat About Post Malone Accuses Fake Fans Of Trying To Ruin His Relationship