Jordyn Woods Spills The Tea On Tristan Thompson Cheating Scandal
By Peyton Blakemore
March 1, 2019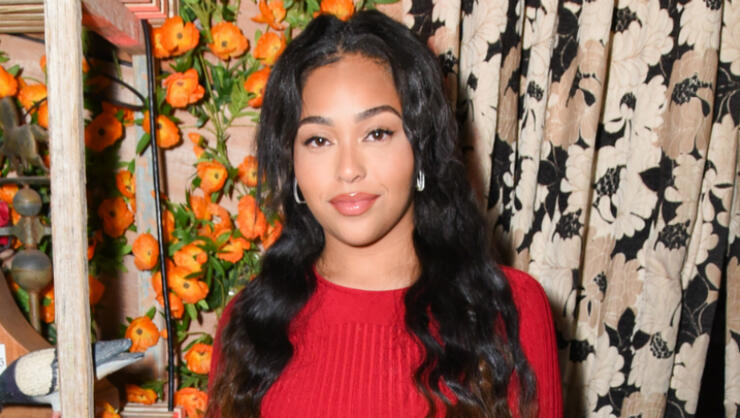 Jordyn Woods has spoken her truth.
The 21-year-old model sat down for a tell-all interview with Jada Pinkett Smith on Red Table Talk Friday (March 1) where she addressed her now infamous cheating scandal with Tristan Thompson.
During the 30-minute interview Jordyn recalled the events leading up to what she confessed was a mere kiss shared between her and the NBA basketball player.
Jordyn said on Sunday, February 17 she went to dinner with some friends and then went to a bar where the party continued. "I was minding my business, dancing, drinking," she recalled. "Tristan was there, he was doing his own thing. That was it."
She then detailed how after they left the bar and then went to a house party, but she admitted she didn't realize it was Tristan's house until someone told her, which she said was when she made her first mistake — she stayed. "I'm not thinking I shouldn't be here," she admitted. "That's my first step where I went wrong. [I wasn't thinking about] how I would feel if someone close to me is hanging out at my ex's house or the father of my child. I didn't think about that. That's the first part of the problem."
"I should have gone home after the party," she admitted. "I shouldn't even have been there."
Jordyn then went into detail about what transpired at the party, denying that the two were cuddling or making out.
"Never once was I giving him a lap dance, making out with him, sitting all over him," she said. "It's just, we're all together, we're in a group. Never once did we leave a public area, go to a bedroom, go to a bathroom. We're all in plain sight."
The 21-year-old then shared that she wound up staying at Tristan's place until 6 a.m. "In my life, in my world, it makes sense," she continued. "Two nights before, I had been on kind of a partying binge. That wasn't the first place I stayed until 6 in the morning. There was always somebody there while I was there. Even up until the moment that I left, there were people there. I finally look outside and I'm like, 'Look the sun's coming up. I need to take myself home.'"
Jordyn then said Tristan suggested she stay over. "He's like, 'Are you sure? It's fine, you can be safe here.' I was like, 'You know what, I need to go,'" she said. "I had a car outside, there was a driver that had been waiting." Jordyn added: "this is where the story gets tricky."
"I feel like I can't point fingers. I can't say you did this, because I allowed myself to be in that position. I allowed myself to be there," she continued. "I never was belligerently drunk to where I can't remember what happened. I was never blacked out. There was alcohol involved. I was drunk, I was not tipsy, I was drunk, but I was not beyond the point of recollection. I know where I was."
That's when Jordyn said Tristan leaned in to kiss her. "On the way out, he did kiss me," she said, adding, "no passion, no nothing … he just kissed me."
"It was like a kiss on the lips, but no tongue kiss, no making out," she said. "Nothing. But I don't think that he's wrong either, because I allowed myself to be in that position. And when alcohol's involved, people make dumb moves or people get caught up in the moment ... "I didn't know how to feel," she said. "I was like, 'That didn't just happen.' I was leaving already so I walked out immediately after. I was in shock. I was like, 'Hmm, let me just pretend like that didn't happen.'"
Jordyn then denied having sex with Tristan. "Never. Never a thought, never a consideration, never happened, and never will I," she said. "And that's why I'm willing to be put up to the test. Attach me to a lie detector, whatever it is. I need people to know the truth, and more importantly, I need the people involved to know the truth."
Jordyn then admitted that she did not tell the Jenners or Kardashians what happened even though she spoke to Khloe about her night the next day. "I had talked to Kylie and Khloé in the morning and I told them I was there," she said. "I had talked to Khloé and she asked me what was going on, if everything was fine. In my head, in trying to forget that part of the story, I was just like, 'No he was chilling, everything was okay. There were girls there but he wasn't all over the girls.'"
"I was honest about being there but I wasn't honest about the actions that had taken place," she continued. "I just knew how much turmoil that was going on that I was like, let me not just throw more fuel on the fire." Jordyn later added that she was "trying to protect Khloé's heart."
"She doesn't deserve this either," she said. "People have dehumanized her in this situation to where they can't feel for her. And it's not fair that she has to deal with this either. And the last thing I wanted to do was be that person. I'm no homewrecker. I would never try to hurt someone's home. Especially someone that I love. And someone who has a beautiful daughter. I would never try to steal someone's man. I don't need your situation. I really just hurt so many more people by not telling the truth."
"I know I am not the reason that Tristan and Khloé are not together," she clarified. "This situation may have made it harder for her to want to be with him, and I understand, that but I know I'm not the reason."
Photo: Getty Images