Kacey Musgraves And CeeLo Green Perform 'Crazy' Collaboration!
By Connor Hachey
March 2, 2019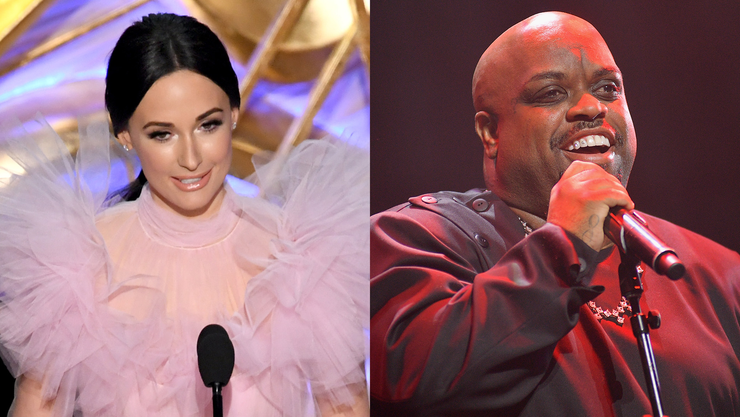 Grammys winner Kacey Musgraves invited recording artist CeeLo Green on-stage in Nashville, Tennessee to perform a collaboration of his hit song "Crazy" while on tour this past week.
The duo harmonized over Green's iconic Gnarls Barkley hit but Musgraves added a honkey-tonk, country spin to the track. Watch their duel performance below. CeeLo is the second artist to join the "High Horse" singer on-stage at the historic Ryman auditorium. On Wednesday February 27th Paramore front-woman and lead singer Hayley Williams popped out to perform a country-fied rendition of Cyndi Lauper's "Girls Just Wanna Have Fun."
Kacey has been fielding collaborations off the stage as well. Musgraves is credited as co-producer on Brooks & Dunn's upcoming new album "Reboot" and she was also featured on Judah & The Lion's song "Pictures," in which she appeared in the accompanying music video as well.
Most notably Musgraves' solo music has garnered some of the biggest accolades in the music industry. Her 2018 album 'Golden Hour' won both Album of the Year and Country Album of the Year at the 2019 Grammy Awards. She also nabbed trophies for Best Country Song and Best Country Solo Performance for songs "Space Cowboy" and "Butterflies," respectively.
While attending the 2019 Academy Awards, she met up with Ryan Seacrest on the red carpet to talk about her wins.
It was a very special night, I didn't see that coming. But you know to be able to represent country music amongst other genres too, really brilliant albums...I don't think that a human knows how to feel the breadth of that kind of recognition, that amount of positivity and love coming your way. Very grateful - kind of unbelievable. I almost can't even think about it, you know what I mean? It's too much. I want to just keep doing what I'm doing and stay inspired. But want everyone to know that I'm very thankful.
Although the Recording Academy has yet to deliver her physical awards, Kacey already has plans for how she'll distribute and display them.
They haven't shipped to me yet. I'm gonna give one to my grandma. Put one on the hood of my car…it was so wild though. But very cool considering this album is very personal to me. It marks a very special chapter in my life - getting married, turning 30.
The "Slow Burn" singer continues on her Oh What A World Tour through September 2019, when it wraps in New Orleans, Louisiana.
Chat About Kacey Musgraves And CeeLo Green Perform 'Crazy' Collaboration!