Grandmother Posing On 'Ice Throne' Drifts Off To Sea
By Dave Basner
December 1, 2019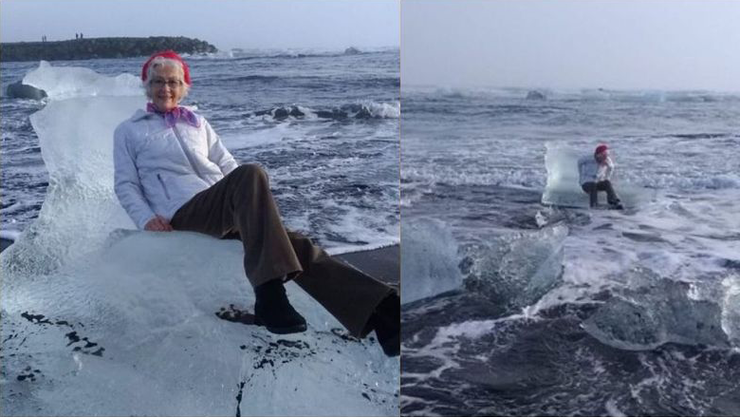 Most people try to get some amazing photographs while they're on vacation so that they can look back fondly on the memories. However, some travelers are endangering themselves with the photos they're taking, and it turns out, this is happening to vacationers of all ages, including 77-year-old Judith Streng. The grandmother from Texas was enjoying a trip with her son Rod to Iceland's black sand Diamond Beach when she spotted a cool-looking iceberg on the shore. Since it looked a lot like a throne, Streng decided to sit on it and pretend she was an Ice Queen, but while she was on it, a wave knocked the iceberg loose and carried it out to sea... while Judith was still on it. Rod, who had been taking pictures of his mom, continued to shoot as she floated away.
According to ABC News, a boat captain from Florida also happened to be at the beach that day and he swam out to pull Judith back to shore. Meanwhile, Rod's daughter, Judith's granddaughter, shared on Twitter the photos her dad took of everything, along with his caption, which read, "Lost her kingdom when she drifted out to see [sic]! No joke. A coast guard rescuer had to save her and bring her back to shore!"
Judith isn't to blame for what happened though - many other tourists had successfully taken pics on the ice throne and a tour guide encouraged people to do it. Judith explained, "One girl had been on it and then two girls at the same time, and it was very secure with them. But I don't weigh very much. So it was a little easier to float off with me, I guess."
And it doesn't seem like she regrets her decision. She stateg, "I thought it [would] be quite fun. You know I always wanted to be queen. I mean, come on, that was my chance."
Photo: Twitter/Xiushook