Miley Cyrus Mourns 'Voice' Contestant Janice Freeman: 'We Lost A Legend'
By Paris Close
March 5, 2019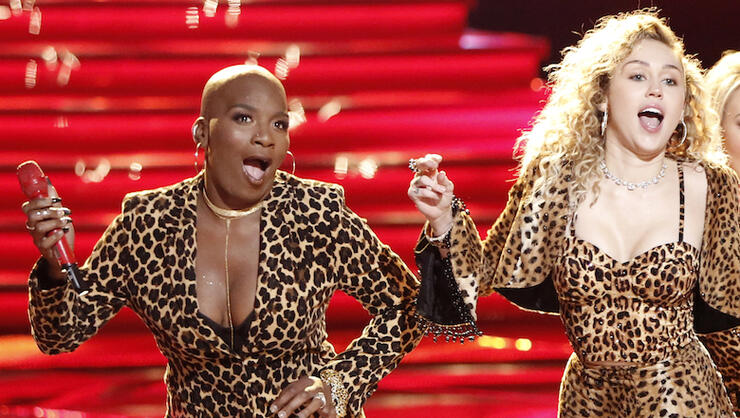 Miley Cyrus is still coping with the death of The Voice contestant Janice Freeman.
Best known for competing on Cyrus' team during the show's thirteenth season, Freeman tragically died at 33 on Saturday (March 2) as a result of combined complications of lupus and a bronchial infection. As we initially reported, it was believed the aspiring singer passed away from an apparent blood clot that had traveled to her heart, according to TMZ.
Last night (March 4), the "Malibu" musician, who had the pleasure of mentoring Freeman in 2017, took to Instagram to pay tribute to the departed vocalist who Cyrus also assisted during times of financial hardship.
"I miss you so much it hurts. Everywhere ….. but so did you. So often. So much pain and no one would ever notice because of the smile and joy you constantly radiated. I am trying my best today to celebrate your existence but I can't help but just deeply mourn over your absence," she wrote beneath a throwback photo of Freeman and Cyrus singing together onstage. "All those texts I would receive, just of you telling me that your praying for ME. How you were so selfless I'll never understand. The way you found the good in everything. You are now a rainbow. Something beautiful that comes after something so gloomy."
The 26-year-old also revealed she was looking to "sign" Freeman to her record label, and that she hopes to honor the late performer's body of work by releasing her unheard music "at an appropriate time."
"Today we lost a legend," Cyrus continued. "Do you hear me. Everyone got it so wrong on our season together of The Voice because no matter what has been recorded or remembered YOU won my angel."
Read Cyrus' heartfelt note in full here.
Chat About Miley Cyrus Mourns 'Voice' Contestant Janice Freeman: 'We Lost A Legend'