Irish Politician Says Twenty One Pilots' Balaclavas Glamorize Terrorism
By Katrina Nattress
March 6, 2019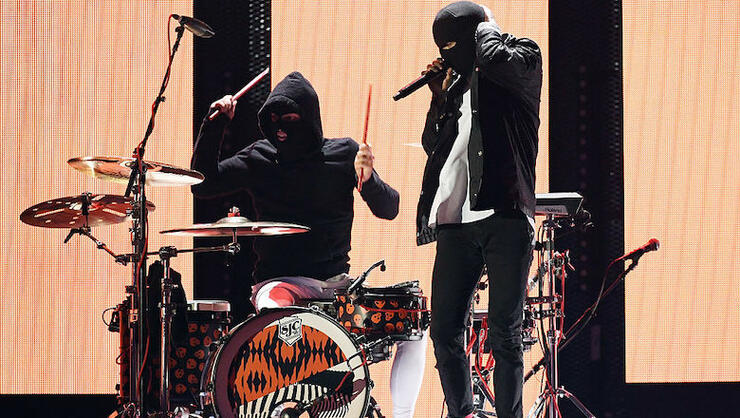 Last Saturday Twenty One Pilots performed at Belfast's SSE Arena, and while fans had the time of their lives, there was one man in particular who found their wardrobe choices "inappropriate."
Jim Allister, the head of the party the Traditional Unionist Voice, was offended by Josh Dun and Tyler Joseph's choice to display a flaming car and wear balaclavas during their set.
"Balaclavas are the stock-in-trade images of terrorism in this part of the world, so to don them at this sort of event inevitably has the consequence of sanitising or glamorising that with which they are associated in this part of the world, namely terrorism," he told the Belfast Telegraph. "Whatever they thought they were doing, this is hardly the sort of imagery that Belfast needs. Balaclavas still speak loudly in Northern Ireland of the evils of terrorism, with many still struggling to cope with the devastation and murder wrought by balaclava-clad killers."
"I would be very surprised if nobody associated with this operation has any knowledge of the Troubles, which has been beamed around the world for decades. We also have to bear in mind the age profile of probably an impressionable audience - that's another reason why this imagery was inappropriate," he continued before pointing the finger at the venue. "It does make you wonder what effort or steps those who manage the SSE Arena took before allowing their premises to be used."
A 19-year-old fan who was at the concert didn't see things the same way as Allister. "I didn't think of terrorism when I saw the flaming car or the balaclava," she stated. "They didn't use any lyrics which I would have considered to be offensive."
"It's up to each person's personal opinion - it didn't offend me, she continued. "But bands do possibly need to be more careful and do more research before coming here."
As for SSE Arena, a spokesperson said the band provided the same imagery here as it has on the rest of the world tour.
The band has not addressed the situation, but chances are Dun and Joseph didn't even realize the connotations their imagery could possess.
Photo: Getty Images
Chat About Irish Politician Says Twenty One Pilots' Balaclavas Glamorize Terrorism