Karamo Brown Gives Ryan Seacrest the Fab 5 Stamp of Approval! Watch
By Sierra Marquina
March 6, 2019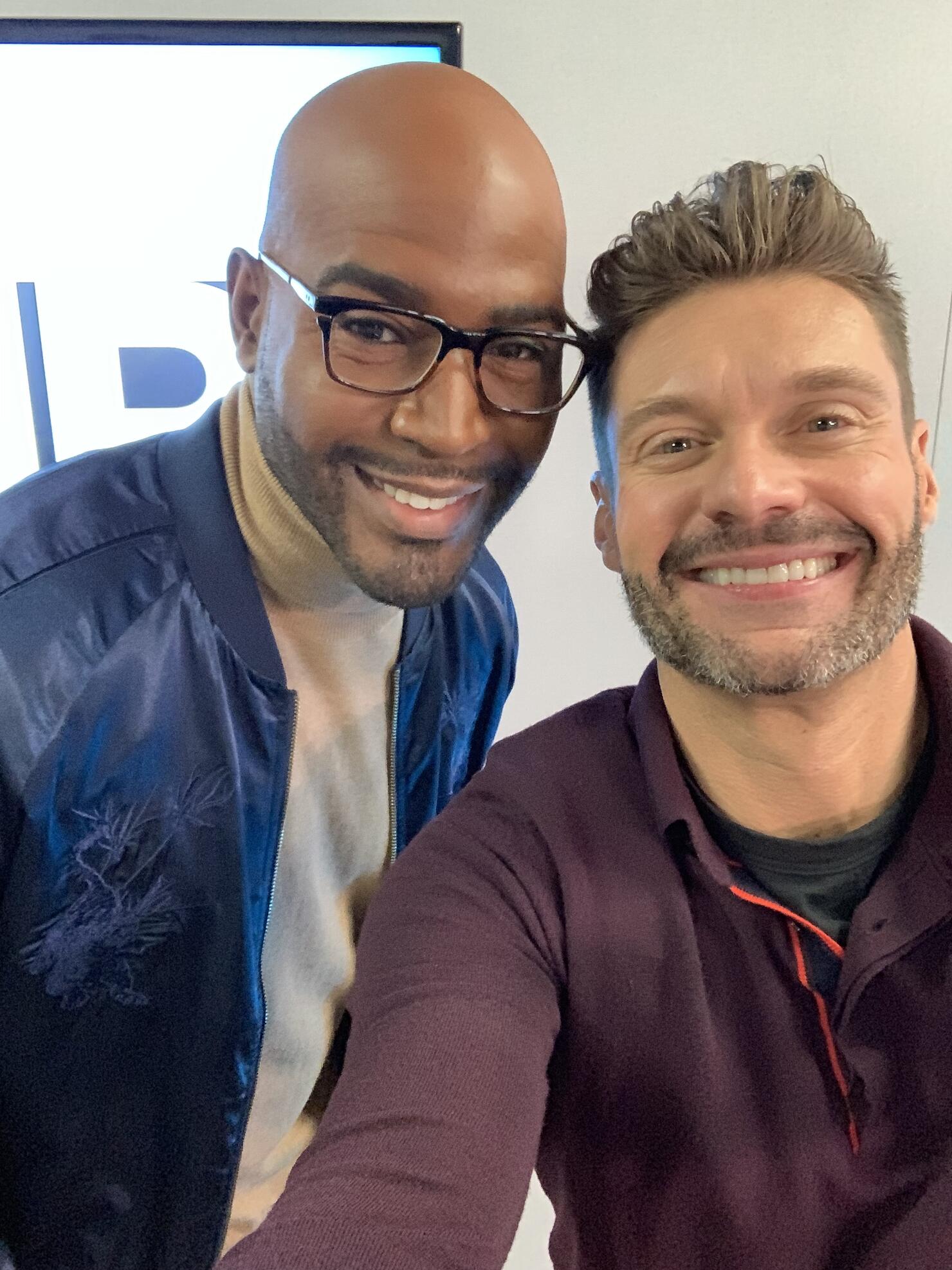 It's official: Ryan Seacrest's facial hair game is on point. Queer Eye culture expert Karamo Brown stopped by the studio on Wednesday, March 6, and gave Ryan Seacrest the Fab 5 stamp of approval and also dished on how his own upbringing helped shape the expert he is today.
"Can I tell you that the Fab 5, we did have a conversation about your beard game [and] it is strong!" Brown told Seacrest. "It is strong! Let me tell you, you've got the Fab 5 stamp of approval! It looks great."
The fivesome have become favorites for helping shape lives. Brown in particular is responsible for diving deep into their subject's issues and has reshaped the role of culture expert.
"I'm a mental health professional," he explained. "I'm a social worker and psychotherapist by training … so when I got to Queer Eye they were like 'You're going to show people the arts.' And I was like 'No … that's not going to help people to grow to be better.' So there was a little push back … of like 'No, you should do arts; You should make photo albums,' and I was like 'That's not going to help someone truly grow …'"
Instead, Brown helps participants find the root of their struggle while the rest of the clan offer their expertise in fashion, wellness, decor, etc.
"[The most common issue I find is that] people are scared," Brown explained to Seacrest of why people are hesitant to change. "Scared of change; scared of people's reactions; scared of judgment — it's fear. I think people too often live in fear-based decisions. They don't know how to make a love-based decisions which is me saying 'I'm going to put myself first; That I believe in myself; That I know I can do it.' We're trained as a culture … that it's easier to say no than it is yes to yourself."
Brown didn't aways have his life put together. The personality, who began his career on MTV's Real World in 2004, was previously known as "crazy Karamo."
"My introduction to the world was on Real World and my nickname on there was .. 'Crazy Karamo' so the cool collected man you see before you today was not the guy I was," he admitted. "I was an angsty 22-year-old who was dealing with the trauma of parents, church and addiction."
His new memoir, Karamo: My Story of Embracing Purpose, Healing and Hope, lays out the lessons he's learned.
"I talk about all of this in my book," he explained. "I had to figure out a way how to grow through all of that and I had the training and it was still hard for me so I can imagine someone who doesn't have the training and language. [It's like] here's the book for you; here's the tips so you can get through it. If I can do it, trust me, anyone can."
Watch back the full interview in the video above to hear more, including Brown's unique journey to fatherhood and what it taught him. Pick up your copy of Karamo: My Story of Embracing Purpose, Healing and Hope and stream season 3 of Queer Eye when the show returns on Netflix on March 15.