Disney Finally Reveals Star Wars: Galaxy's Edge Opening Dates
By Emily Lee
March 8, 2019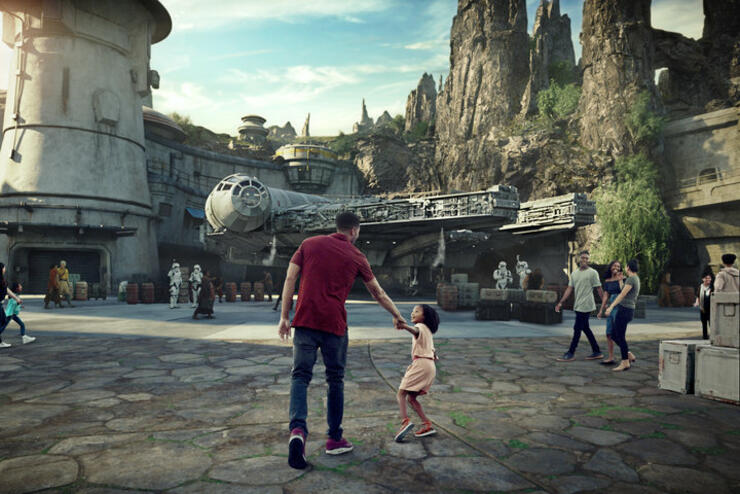 Disney made an exciting announcement yesterday (March 7): the new, immersive Stars Wars lands, in both Florida's Disney World and California's Disneyland, are opening ahead of schedule. Star Wars: Galaxy's Edge was expected to open in late 2019, however, both parks will open the doors to their latest additions this summer. Disneyland's Star Wars: Galaxy's Edge will welcome guests starting on May 31, while Disney World's version is slated to open on August 29.
It's definitely super exciting that Star Wars: Galaxy's edge is coming sooner than expected, however, there's a catch. Rise of the Resistance, the highly anticipated new ride, won't be opening this summer. The ride will be part of Phase 2, which opens sometime later this year. In a press release, the House of Mouse explained their decision, saying they "made the decision to open the land in phases to allow guests to sooner enjoy the one-of-a-king experience that make Star Wars: Galaxy's Edge so spectacular."
Disney also described Rise of the Resistance as "the most ambitious, immersive and advanced attraction ever imagined," so, it's probably worth the wait, TBH.
Even though Rise of the Resistance won't be ready for opening day, park-goers will be able to hop aboard Han Solo's famous ship for Millennium Falcon: Smugglers Run. On this attraction, guests will take up one of three unique flight crew roles and man the Millennium Falcon on an exciting adventure.
According to People, Galaxy's Edge opening day will be a historic day for Disney. It will be the largest single-themed land expansion ever at a Disney park, spanning 14-acres at both U.S. locations. Are you excited to check out Galaxy's Edge?
Photo: Disney
Chat About Disney Finally Reveals Star Wars: Galaxy's Edge Opening Dates