NKOTB Take a Trip Down Memory Lane, Offer Lesson on Boy Bands in New Video!
By Sierra Marquina
March 8, 2019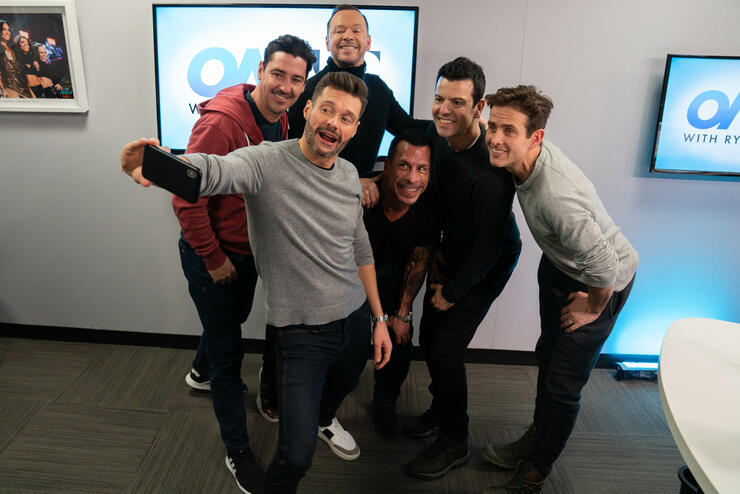 Just a warning that you won't be able to get "Boys In the Band" out of your head after you watch this video. NKOTB Jordan and Jonathan Knight, Joey McIntyre, Donnie Wahlberg and Danny Wood stopped by On Air With Ryan Seacrest on Friday, March 8, and took a trip down memory lane while sharing the creation of their latest jam "Boys In the Band."
The boy band anthem and history lesson comes as the band celebrate the 30th anniversary of their iconic hit album Hangin' Tough.
"The plan was never to get back at 50 years," Donnie admitted to Ryan. "We flirted a lot [with the idea though]."
Donnie explained that when he heard 2008's comeback track "Click Click Click" it just felt right. Fast-forward to 2018 and the group have only gained a whole new fan base who weren't even born yet when they first emerged in the '80s.
"We always just go back to how we felt when we were really young and we just started out and that's the spirit we want to go forward … doing it for the love of it … we just want to have a good time," Jordan added.
And a good time indeed is new track "Boys In the Band." The nostalgic boy band anthem offers a history lesson in boy bands and also pays tribute to newbies including k-pop sensation BTS.
"We always have fun … we were laughing at it so we knew people would like it," the group said of the music video, revealing the song came together naturally after Donnie got in the booth.
"Eventually I just went in the booth and said 'boys in the band' and that was it," Donnie explained of recording the track. "I just knew, like, we get along with other boy bands; We're proud to be a boy band; We have a great repertoire with so many of them; We've toured with boy bands and it just seemed like it's time — let's celebrate boy bands!"
Watch back the full interview and music video above!
Chat About NKOTB Take a Trip Down Memory Lane, Offer Lesson on Boy Bands in New Video!