Are Backstreet Boys And *NSYNC Starting A Supergroup?
By Katrina Nattress
March 9, 2019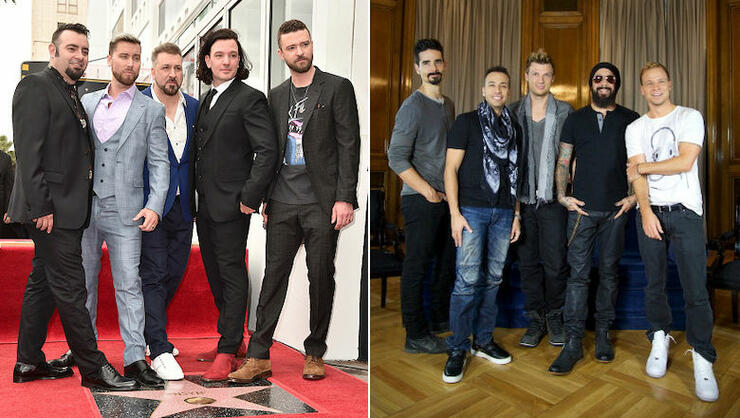 After *NSYNC's Joey Fatone enthusiastically said he'd be down to form a supergroup with the Backstreet Boys, TMZ chatted with Brian Littrell outside of the Los Angeles International Airport to gauge his interest. And he shut it down immediately.
"Not right now," he told the outlet. "I mean, we don't really need that right now."
The sentiment is understandable, considering BSB's latest album DNA became the band's first No. 1 record in nearly 20 years. However, that doesn't mean the singer thinks it's impossible that the two boybands could join forces later on down the road. There's just one caveat: Justin Timberlake would have to be involved, which may be unlikely considering the success of his solo career. After a laugh and a little jab ("You guys are cool, you just ain't Backstreet") Littrell showed love for his rivals.
"No, they're good guys. They're good guys. But, you know, yeah, unfortunately, Justin blew up. I mean, no offense. They're all talented guys," he said, before addressing the rivalry. "As much talk [as there is] about us being against each other, I think the fans would probably love it."
Who knows? Anything's possible," he added. "Just call JT, though."
Watch Litrell's full interview here.
Photo: Getty Images
Chat About Are Backstreet Boys And *NSYNC Starting A Supergroup?