Drake Drops Michael Jackson Song From UK Tour
By Peyton Blakemore
March 11, 2019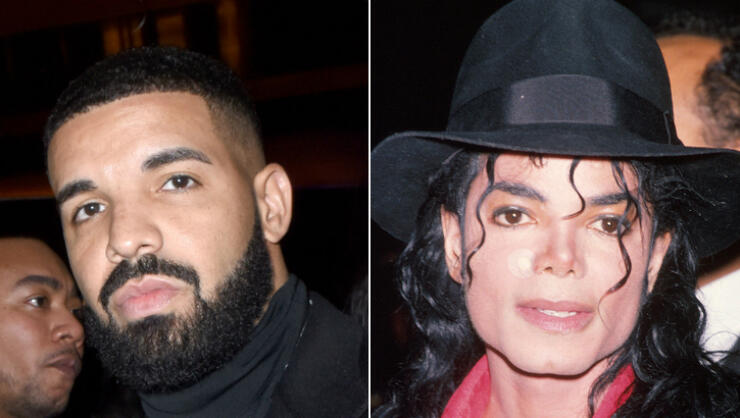 Drake has seemingly canceled MJ's music.
According to TMZ, the "In My Feelings" rapper decided to remove one of his biggest songs featuring Michael Jackson from his UK tour setlist because of Leaving Neverland. Sources told the gossip site Drake took "Don't Matter to Me," which features MJ's vocals, off the "Assassination Vacation Tour" setlist in response to the allegations of sexual abuse against the late singer, which were raised in the two-part documentary.
The Canadian rapper's omission of the track did not go unnoticed in his first show since the airing of the documentary earlier this month. On Sunday (March 10), Drake began his concert with the same opening and closing songs that he performed for his North American tour last year. However, MJ's track was not a part of it.
While Drake has yet to publicly address why he cut the song from his setlist, his actions seemingly speak volumes as many have called for the muting of Micheal's music since the airing of Leaving Neverland. As previously reported, The documentary features James Safechuck and Wade Robson, who detailed their alleged childhood sexual abuse at the hands of Michael.
John Legend recently gave his thoughts on the chilling documentary, saying he found it hard not to believe James and Wade's stories of abuse. "It's a lot. It was hard to watch [...] You watch them and they seem believable," John said on Big Boy's Neighborhood. "If what they're saying is true it's really horrific. Obviously, Michael's not here to defend himself, so, we can't hear both sides of the story — we're just hearing one side. But, man it's hard not to believe what they say [because] it's so graphic, and specific."
Leaving Neverland aired on HBO earlier this month. The two-part documentary was met with tons of criticism as many slammed the network for airing it on the sole grounds the legendary singer is unable to defend himself against their claims.
Michael Jackson's estate denounced the film in a statement even before it aired on HBO. "This is yet another lurid production in an outrageous and pathetic attempt to exploit and cash in on Michael Jackson," a rep for the singer's estate said, per Rolling Stone. "Wade Robson and James Safechuck have both testified under oath that Michael never did anything inappropriate toward them. Safechuck and Robson, the latter a self-proclaimed 'master of deception,' filed lawsuits against Michael's estate, asking for millions of dollars. Both lawsuits were dismissed. This so-called 'documentary' is just another rehash of dated and discredited allegations. It's baffling why any credible filmmaker would involve himself with this project."
Photo: Getty Images
Chat About Drake Drops Michael Jackson Song From UK Tour