Man Picks Horrible Time To Run Marathon Dressed As Big Ben
By Dave Basner
March 11, 2019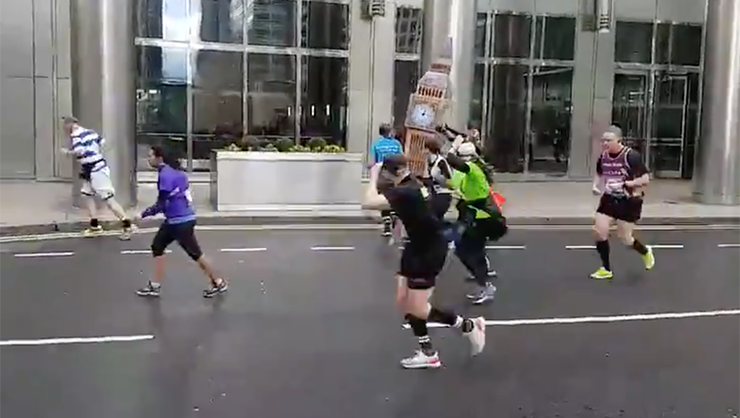 Running a marathon is no easy feat, yet some people choose to do it while wearing some kind of crazy costume. That's what Lukas Bates decided to do when he took part in the Vitality Big Half marathon in London, but it made the race incredibly difficult for him. See, instead of putting on sweatpants or jogging shorts and a t-shirt, Lukas donned a Big Ben costume that rose five feet above his head.
He seemed to do alright even with the cumbersome get-up, but when Lukas reached the Canary Wharf neighborhood, things took a turn for the worse. Lukas and the other runners wound up in a bit of a wind tunnel formed by the skyscrapers lining the streets. While his fellow joggers were able to handle the blowing gusts, it proved much harder for Lukas, who was nearly blown away by the gales.
It was all caught on camera and posted to Twitter with the caption, "Hilarious Big Half scenes this morning when a bloke dressed as Big Ben hadn't factored in his additional surface area when trying to run through the Canary Wharf wind tunnel. Time standing still."
Thankfully, other runners helped guide Lukas through the wind.
It turns out Lukas has been running as Big Ben for a good cause - he's raising money for Alzheimers research. He's also entered the London marathon with the hope of breaking the record for the fastest marathon dressed as a landmark. The current record is 3 hours and 34 minutes. Lukas completed the half in 2 hours and 10 minutes, so he'll have to speed up to beat the record.
Meanwhile, he's doing well with his fundraising and you can help him by donating here.
Chat About Man Picks Horrible Time To Run Marathon Dressed As Big Ben