Will Meghan Markle And Prince Harry's Baby Have A Royal Title?
By Emily Lee
March 11, 2019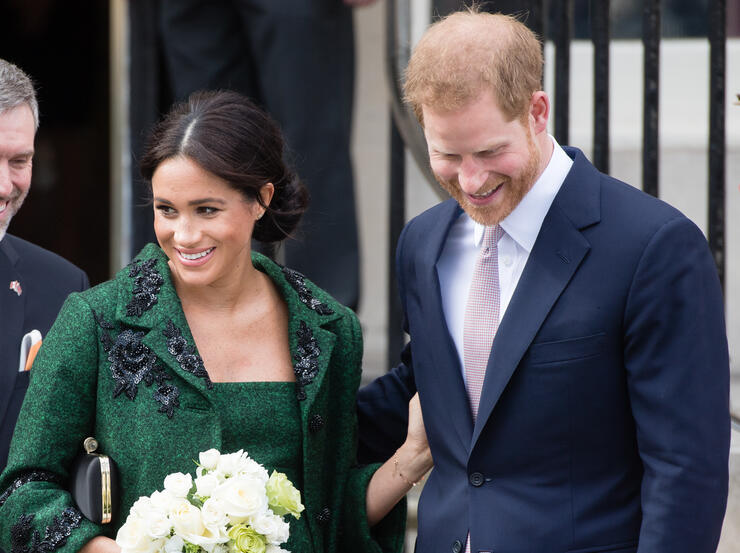 Prince Harry and Meghan Markle are getting ready to welcome their first child together, due some time in late April or early May. While Baby Sussex will be the newest member of the British Royal Family, it's unlikely the child will be granted the same royal titles as Prince Harry.
While Prince Harry is known as His Royal Highness, his child will not be considered a prince or princess because Harry's great-great-grandfather, King George V, limited titles within the royal family back in 1917. George V declared: "The grandchildren of the sons of any such Sovereign in the direct male line (save only the eldest living son of the eldest son of the Prince of Wales) shall have and enjoy in all occasions the style and title enjoyed by the children of Dukes of these Our Realms."
As a great-great-grandchild of Queen Elizabeth, and not directly in line for the throne, Meghan and Harry's child will be granted a lesser royal title. Despite not being known as His/Her Royal Highness, the newest member of The Firm will still have a royal title. Harry and Meghan's oldest son and heir apparent of a duke can use one of Harry's lesser grade peerage titles by courtesy. So, Harry and Meghan's first son will inherit the title Earl of Dumbarton, according to The Mirror. Any subsequent sons would be known as Lord Mountbatten-Windsor, while any daughters would be known as Lady Mountbatten-Windsor.
The Queen, however, can make an executive decision after the child's birth and give them an HRH title. Following the births of Princess Charlotte and Prince Louis, Queen Elizabeth issued a Letters Patent that decreed they would have HRH titles themselves. Only their older brother, Prince George and heir to throne, received the title of prince automatically at birth.
Should Prince Charles ascend the throne before the new royal baby is born, Prince Harry's children would then be entitled to the royal titles of prince and princess as the grandchildren of the ruling sovereign. Royal rules really are complicated, huh? This scenario seems entirely unlikely, though, considering Meghan is already in her third trimester.
We'll just have to wait a few more months to find out what title's Harry and Meghan's children will be given. 
Photo: Getty
Chat About Will Meghan Markle And Prince Harry's Baby Have A Royal Title?