Miley Cyrus Just Posted Screenshots Of Her DMs With Nick Jonas
By Emily Lee
March 12, 2019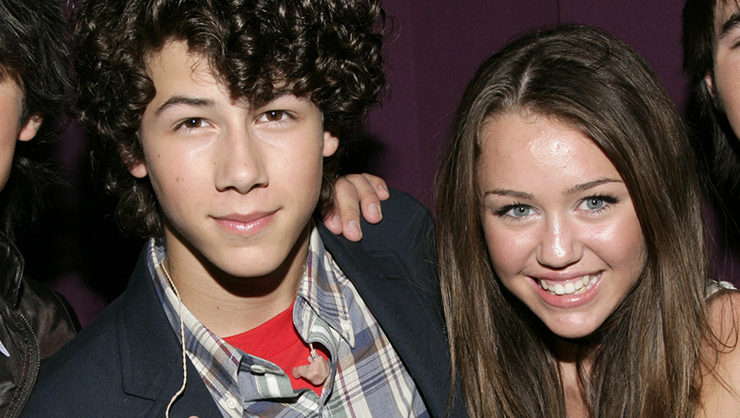 Miley Cyrus has been quite busy on social media over the past few days. The 26-year-old singer has been sharing a slew of nostalgia-packed photos from her Disney Channel days and fans are loving it. The majority of Miley's throwback photos showcase the female stars she rose to fame with, including Emily Osment, Selena Gomez, Demi Lovato, Ashley Tisdale and Taylor Swift, but her most recent post is a shoutout to her childhood sweetheart Nick Jonas.
Miley shared a meme of her dancing at the Grammys overlaid with Ariana Grande's hit song '7 Rings,' which Miley has been showing a lot of love for recently. If you swipe to the next photo on her post, Miley also shared a screenshot of her DMs with Nick. "That moment when even your ex knows your socials have been 🔥🔥🔥🔥🔥🔥🔥🔥," Miley captioned the hilarious post.
It appears Miley sent Nick an old photo showing her rocking a vintage Jonas Brothers t-shirt. "Lols," Miley wrote to Nick. "Amazing. These throwback shots have been 🔥," he responded.
Longtime fans of both Miley and the Jonas Brothers went wild, of course, after putting us back in our Niley (Nick + Miley) feelings. This is the second time in just a few short weeks that we've been reminded of how much we all used to ship these two back in the day. During a recent interview, Nick revealed his favorite Jonas Brothers song is his and Miley's emotional duet "Before the Storm."
"She's a real singer. But we knew that 'cause we grew up with her," Nick raved about Miley. "We had a song with her back in the day called 'Before the Storm,' which is my favorite catalogue song of the Jonas Brothers. And at that point she was 16 and she was singing her *ss off. So, it's no surprise now that people are coming around to [her talent]. But I'm sitting around going, 'Told you so.'"
While Nick and Miley are both happily married now, to Priyanka Chopra and Liam Hemsworth, respectively, that doesn't mean they can't perform "Before the Storm" together again, right? While they're at it, they can bring back the Hannah Montana x Jonas Brothers hit "We Got The Party," too!
Chat About Miley Cyrus Just Posted Screenshots Of Her DMs With Nick Jonas